Discussion
'13 Player Rankings, Offense: 30-21
Originally Published:
August 28, 2013
ESPN.com
ESPN.com is ranking NFL players -- and counting them down on Twitter (@ESPNNFL NFL on ESPN), from No. 100 to No. 1 (with separate lists for offense and defense), 10 per day for 10 days. The top 10 on both sides of the ball will be revealed Friday.
As the rankings are announced, you can also find them here on the pages of ESPN.com.
What is #NFLRank?
#NFLrank is the Twitter hashtag to use if you want to get involved in the discussion or just follow along.
You ...

Read full story
#NFLRANK '13 ON ESPN.COM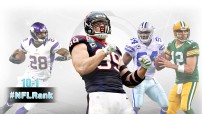 ESPN.com's #NFLrank project lines up the 100 top players on each side of the ball.