Discussion
Top 10 NFL gambling tips
The tips every football bettor should know going into the season
Updated:
September 3, 2013, 12:45 PM ET
By
Dave Tuley
| ESPN Insider
LAS VEGAS -- Pro football is the most popular sport in this country, and it's no small coincidence that it's the most popular betting sport as well. But just because everyone is doing it, doesn't mean they're doing it right.
When I first got out to Vegas in 1998, I certainly could have used some betting tips -- and that's exactly the intention of this article. It should serve as a primer for novice bettors, as well as a refresher course for those who are more familiar with the gambling industry. While this is focused mostly on the NFL, a lot of the lessons apply to college football, as well as sports betting in general.
Here are the top 10 betting lessons I've learned over the years:
1. Don't believe everything you read or hear
One problem that football bettors make is believing they know it all, and it's easy to see why that happens when you consider the fact that the NFL is the most covered league. The smallest details from every team are disseminated and discussed ad nauseum, so much so that everyone thinks they're an expert. Think of the times you've heard a piece of news or a betting trend and thought, "I've got to bet on this team" or "I have to go against that team."
To read Dave Tuley's full list of betting tips for the football season, sign up for Insider today.
Insider
THE NFL ON ESPN.COM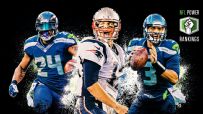 The Patriots are No. 1, but its lackluster Week 16 win allowed the Seahawks to gain support.
ESPN FAN SHOP