Discussion
The rule of three
Don't judge a QB by his first two years in the NFL. After Year 3? Judge away.
Originally Published:
September 19, 2013
By
Peter Keating
| ESPN The Magazine
I HAVE A CONFESSION to make: I'm less excited than just about everyone else on the planet to see Robert Griffin III, Andrew Luck and Russell Wilson play this season. Nothing personal, it's just, well, my statheadedness makes me a curmudgeon: When athletes perform as well as they did last year, I know they'll likely regress, based on the laws of probability. I get even more suspicious when their teams have been unusually fortunate. Last season, for example, the Colts went 11–5 despite being outscored by 30 points because they eked out a 9–1 record in games decided by a touchdown or less. That was more lucky than Luck-y.
Further, while some NFL quarterbacks do improve as sophomores, you can only tell the true, lasting breakouts from the false ones well after the fact. In the past five years, Joe Flacco, Josh Freeman, Mark Sanchez and Matthew Stafford all took big steps forward from their first to second seasons of full-time play. But only two sustained their improvement.
Year 3 is the most significant for young signal-callers. Rookie quarterbacks who start well tend to fall back the next season, and those who start poorly can bounce back; their third years, then, show where their performance likely will settle. And even in cases in which a QB gets better from his first to his second to his third season, QBs generally don't improve much beyond that third season. Career years come along at unpredictable times, but for the most part, after a QB has 1,000 passing attempts in the NFL, he's pretty much a finished product.
All of which means the signal-callers from the class of 2011 are embarking on critical campaigns. So here's what the numbers say about the NFL's third-year starting QBs, in descending order of their upside:
To continue reading this article, you must be an Insider.
Insider
ESPN The Magazine: September 30, 2013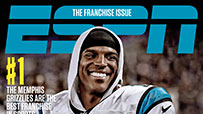 The Mag on Twitter | Facebook | iPad
FEATURES
COLUMNS
MORE