Discussion
The trouble in Tampa Bay
Winless Bucs dealing with MRSA outbreak, tensions with Schiano
TAMPA, Fla. -- He looks as if he could've been one of them at some point, with his beefy arms and gap-toothed smile. There was a time, years ago, when Greg Schiano could have sold a whole room with his conviction. He'd sit on strangers' couches, in Oakland, N.J., or Fort Lauderdale, Fla., and make promises. Give me your boy, he'd say, and I'll bring him back a man. Trust me, he'd say. And they would.
But then there were no boys left, only men. Schiano, former hero at Rutgers University, ...

Read full story
THE NFL ON ESPN.COM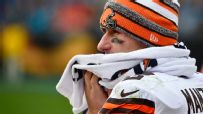 Interviews with Browns sources revealed that Johnny Manziel was a turbulent presence in '14.