Eight trades made in busy 1st round
Updated:
April 27, 2012, 11:22 AM ET
ESPN.com news services
NEW YORK -- With so much wheeling and dealing, maybe the NFL draft should move to Wall Street.
Minutes before Andrew Luck and Robert Griffin III went 1-2 to the Colts and Redskins on Thursday night, the draft at Radio City Music Hall turned into a deal-a-thon.
More On Draft-Day Trades
ESPN.com

Most players involved in draft-day deals feel the pressure. But after all Morris Claiborne has been through, he's just relieved, writes Ashley Fox. Story

The Browns were practically giddy over landing Trent Richardson. But can you really blame them, asks Jamison Hensley? Blog
• Seifert: Spielman restores order
• Yasinskas: Bucs still get their man
---
City Sites


You gotta give the Cowboys credit. They saw a premier player was available and went up to get him, writes Jean-Jacques Taylor. Story

For once, the Patriots focused on getting quality in the first round instead of adding quantity later on, writes Mike Reiss. Story
• Draft Center: Cowboys | Patriots
• More: ESPN Dallas | ESPN Boston
Through the first seven picks, only Indianapolis kept its original draft spot, and a total of eight trades were made in the first round.
The Browns, Jaguars, Cowboys and Eagles all traded up to get players they coveted. The Vikings dropped a spot and still came away with the guy they wanted.
Credit the rookie wage scale for so much buying and selling so early, with general managers making last-minute moves knowing that extravagant salaries for top picks have been replaced by a compensation plan.
Before NFL commissioner Roger Goodell opened the draft, Minnesota swapped its No. 3 choice for Cleveland's No. 4 pick, with the Vikings also getting fourth, fifth and seventh rounders.
After the Browns went for Alabama running back Trent Richardson, and before the Vikings took tackle Matt Kalil, Florida neighbors Tampa Bay and Jacksonville swung a deal.
Cleveland coach Pat Shurmur said the Browns were convinced a team would leapfrog them to take Richardson, so they pulled the trigger on the 4-for-1 trade.
"Unfortunately, we had to make a little trade to secure the pick," Shurmur said. "We knew as we went through the process that he was our guy and so we did what we had to do to secure it. We had pretty good knowledge that there were teams behind that wanted him as well, so we gave up a couple of picks to make sure we got him. We're thrilled a bunch about Trent."
The Jaguars moved up to No. 5 from No. 7 and grabbed wide receiver Justin Blackmon.
The Buccaneers, at No. 7, chose Alabama safety Mark Barron, and also acquired the Jaguars' fourth-round choice.
"It just goes to show you that anything can happen," Blackmon said, referring to the Jaguars going after him.
The St. Louis Rams made a second trade of their first-round pick.
The Rams traded away the No. 2 overall pick to the Washington Redskins last month, and were set to select sixth.
But Dallas traded its No. 14 choice and a second-rounder to the Rams and grabbed LSU cornerback Morris Claiborne with No. 6.
"I didn't see it coming in a million years. I had no idea," Claiborne said. "We didn't talk none, none at all. That's why it was shocking to me when I got the phone call."
The Cowboys came into the draft desperate for defensive playmakers, and Claiborne is considered by most as the best cornerback available.
Claiborne led LSU with six interceptions last season, won the Jim Thorpe Award as the nation's top defensive back, and averaged 25 yards per kickoff return.
Wheelin' And Dealin'
It was a busy night at Radio City Music Hall with a total of eight trades in Thursday's first round:
1. Minnesota traded its first-round pick (No. 3) to Cleveland for the Browns' first- (No. 4), fourth- (No. 118), fifth- (No. 139) and seventh-round (No. 211) picks.
2. Tampa Bay traded its first-round pick (No. 5) to Jacksonville for the Jaguars' first- (No. 7) and fourth-round (No. 101) picks.
3. St. Louis traded its first-round pick (No. 6) to Dallas for the Cowboys' first- (No. 14) and second-round (No. 45) picks.
4. Seattle traded its first-round pick (No. 12) to Philadelphia for the Eagles' first- (No. 15), fourth- (No. 114) and sixth-round (No. 172) picks.
5. Cincinnati traded its first-round pick (No. 21) to New England for the Patriots' first- (No. 27) and third-round (No. 93) picks.
6. Denver traded its first-round pick (No. 25) to New England for the Patriots' first- (No. 31) and fourth-round (No. 126) picks.
7. Baltimore traded its first-round pick (No. 29) to Minnesota for the Vikings' second- (No. 35) and fourth-round (No. 98) picks.
8. Denver traded its first- (No. 31) and fourth-round (No. 126) picks to Tampa Bay for the Bucs' second- (No. 36) and fourth-round (No. 101) picks.
Tampa Bay general manager Mark Dominik said he wanted Barron all along at No. 5, but felt he could deal down and still get the All-American who was a vital cog in the nation's best defense last season.
"I was a little nervous, though, when the Cowboys moved up to No. 6," he said.
Deals weren't done yet. Philadelphia, looking to strengthen its defensive line, moved up three spots to No. 12 by making a trade with Seattle and selecting Mississippi State defensive tackle Fletcher Cox.
"We thought he would be a top-six or seven pick," coach Andy Reid said. "When he started to fall, we got excited about that. We had a price on how much we were willing to spend. Things were crazy. It worked out."
Even the New England Patriots got in on the action with two first-round deals.
The Patriots traded their No. 27 pick and third-rounder for the Bengals' No. 21 spot and took Syracuse defensive end Chandler Jones.
They then dealt the No. 31 choice and a fourth-rounder to Denver and went for Alabama linebacker Dont'a Hightower.
The Vikings added another first-round choice when they acquired the No. 29 overall selection from Baltimore.
The Ravens received the Vikings' second- and fourth-round picks. Minnesota used its pick to grab Notre Dame safety Harrison Smith.
"A couple of teams called us, and we had several players that we liked that are still available for us" Friday, Ravens general manager Ozzie Newsome said. "To be able to pick up that 98th pick from Minnesota, we think is going to be another good player. Or we can take that pick and use it to move into the second or third (round) to go get another player."
In addition to Minnesota trading back into the first round, so did Tampa Bay. The Bucs made a deal for Denver's 31st pick -- acquired earlier in the night from New England -- and selected Boise State running back Doug Martin.
Information from The Associated Press contributed to this report.
2012 NFL DRAFT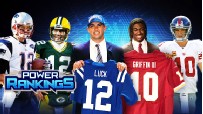 POWER RANKINGS
MEL KIPER/TODD MCSHAY
PICK-BY-PICK ANALYSIS
TEAM-BY-TEAM PICKS
DIVISION DRAFT REVIEWS
ANALYSIS/COMMENTARY
NFC COLUMNS/BLOG POSTS
AFC COLUMNS/BLOG POSTS
ESPN LOCAL COVERAGE

MORE FROM ESPN DALLAS

Check out ESPN Dallas, the place for your local Dallas sports coverage.
MORE FROM ESPN BOSTON

Want to submit a question for Mike Reiss' weekly Patriots mailbag? Click here and come back every Tuesday around noon for the 'bag.
Latest headlines on ESPNBoston.com:
MOST SENT STORIES ON ESPN.COM