Commentary
Colts, Redskins should be nervous
If history is a guide, odds are against both Luck and RG3 becoming great QBs
Originally Published:
April 16, 2012
By
John McTigue
| ESPN Stats & Information
Barring unforeseen circumstances, Andrew Luck and Robert Griffin III will be the first two players selected in the 2012 draft, becoming the fifth quarterback pair to go first and second overall since the NFL and AFL combined drafts in 1967.
[+] Enlarge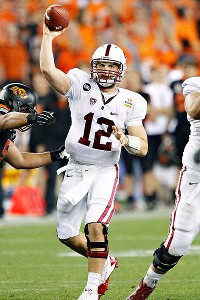 AP Photo/Matt YorkCould the Colts regret drafting Andrew Luck No. 1? History suggests it's possible.
In the past 45 drafts, two quarterbacks went in the top 10 20 times, and three quarterbacks went in the top 10 three times. Two in the top 10 happened six times from 1967 to 1982, but starting with the quarterback-heavy 1983 draft -- the only draft to produce three Hall of Fame quarterbacks in the first round (John Elway, Jim Kelly and Dan Marino) -- multiple quarterbacks have gone in the first 10 picks 14 times.
History suggests that either the Colts or Redskins are going to end up regretting their choice. History further suggests it won't be the Colts.
Success has generally been elusive for one of the two quarterbacks selected in the top 10. A simple way to look at success is games started, as it would stand to reason that getting starts deep into a career would indicate a quarterback was doing something right.
Using 80 starts as a benchmark, the equivalent of five full seasons, only three times since 1967 have both quarterbacks drafted in the top 10 reached 80 starts. Eighteen of the 20 tandems have been in the NFL long enough to reach 80 starts, but only one of the tandems short of having both get to 80 is active, with Byron Leftwich 31 starts short of joining Carson Palmer. Leftwich has been a backup since leaving Jacksonville after the 2006 season.
Two Quarterbacks Drafted In Top 10, 1967-2011
Year
First Taken
Second Taken
Reached 80 GS
2011*
Cam Newton, 1st
Jake Locker, 8th
N/A
2009
Matthew Stafford, 1st
Mark Sanchez, 5th
N/A
2006
Vince Young, 3rd
Matt Leinart, 10th
Neither
2004
Eli Manning, 1st
Philip Rivers, 4th
Both
2003
Carson Palmer, 1st
Byron Leftwich, 7th
Palmer
2002
David Carr, 1st
Joey Harrington, 3rd
Neither
1999*
Tim Couch, 1st
Donovan McNabb, 2nd
McNabb
1998
Peyton Manning, 1st
Ryan Leaf, 2nd
Manning
1995
Steve McNair, 3rd
Kerry Collins, 5th
Both
1994
Heath Shuler, 3rd
Trent Dilfer, 6th
Dilfer
1993
Drew Bledsoe, 1st
Rick Mirer, 2nd
Bledsoe
1990
Jeff George, 1st
Andrew Ware, 7th
George
1987
Vinny Testaverde, 1st
Kelly Stouffer, 6th
Testaverde
1983
John Elway, 1st
Todd Blackledge, 7th
Elway
1982
Art Schlichter, 4th
Jim McMahon, 5th
McMahon
1979
Jack Thompson, 3rd
Phil Simms, 7th
Simms
1971*
Jim Plunkett, 1st
Archie Manning, 2nd
Both
1970
Terry Bradshaw, 1st
Mike Phipps, 3rd
Bradshaw
1969
Greg Cook, 5th
Marty Domres, 9th
Neither
1967
Steve Spurrier, 3rd
Bob Griese, 4th
Griese
*Three quarterbacks taken within top 10
Recent mock drafts suggest Texas A&M quarterback Ryan Tannehill also will be selected in the top 10. Although a small sample, the only instances of a third quarterback taken in the top 10 have produced unflattering results: Dan Pastorini in 1971 (117 GS, negative-58 TD-INT differential), Akili Smith in 1999 (17 GS, five career TD passes) and Blaine Gabbert in 2011 (posted 21.1 Total QBR in rookie season, worst among qualified quarterbacks).
Of the previous four pairs of quarterbacks selected first and second overall, only once did both players make 80 career starts -- Jim Plunkett (144 starts) and Archie Manning (139 starts), drafted in 1971. The other three tandems produced three franchise quarterbacks and three busts.
Drew Bledsoe (first) made 125 more starts than Rick Mirer (second), Peyton Manning (first) has 187 starts more than Ryan Leaf (second), and Donovan McNabb (second) got 102 more than Tim Couch (first).
So does being the first or second off the board matter?
Initially, the second quarterback in the top 10 outperformed the first one. From 1967-82, Bob Griese, Phil Simms and Jim McMahon won Super Bowls and, along with Archie Manning, had 3,000-yard passing seasons. All four eclipsed 80 career starts.
First Two QBs Taken in Top 10, 1967-1982
| | First QB Taken | Second QB Taken |
| --- | --- | --- |
| GS | 378 | 649 |
| Win pct | .532 | .529 |
| Comp pct | 52.1 | 55.0 |
| Yds/att | 6.9 | 6.9 |
| Yds/game | 136.0 | 144.3 |
| TD-INT diff | -68 | -52 |
| 3000-yd seasons | 2 | 9 |
Since 1983, however, the dynamic has shifted. Discounting quarterbacks taken in the past four seasons, only four of the second quarterbacks off the board reached the 80-start benchmark. With the same number of quarterbacks in more than twice as many attempts, that means it has become more difficult to find a franchise guy in the top 10 once the first is taken.
Statistically, the difference between the first and second quarterbacks is great. The first quarterbacks have accumulated 170,000 passing yards and 1,100 touchdowns more than the second quarterbacks.
First Two QBs Taken in Top 10, 1983-2011
| | First QB Taken | Second QB Taken |
| --- | --- | --- |
| GS | 1,677 | 1,003 |
| Win pct | .522 | .496 |
| Comp pct | 59.1 | 56.7 |
| Yds/att | 7.0 | 6.6 |
| Yds/game | 214.2 | 185.5 |
| TD-INT diff | +526 | +140 |
| 3000-yd seasons | 65 | 23 |
Following a quarterback who was taken first overall also factors into the equation of success for multiple top-10 quarterbacks.
Thirteen quarterbacks had to follow a first overall selection in the top 10. The 13 combined for a TD-Int differential of plus-48 and just three eclipsed 80 starts (Philip Rivers, McNabb and Archie Manning), with two yet to play enough games (Mark Sanchez and Jake Locker). Nine of the 11 who went first overall who could reach 80 did so, with the 13 first overall selections combining for a plus-462 TD-INT differential.
When the first of multiple quarterbacks in the top 10 isn't the first overall pick, the dynamic shifts. There have been seven instances of this happening since 1967, and in this scenario, the first quarterback selected reached 80 starts once, with the group combining for a minus-4 TD-INT differential. The quarterbacks following reached 80 starts five times and combined for a plus-40 TD-INT differential.
When there are two top quarterback prospects taken in the top 10, success, maybe not surprisingly, tends to favor the first one taken. Griffin certainly possesses the skills to buck the trends and equal, if not better, the success of Luck, though.
But if the evidence wasn't piling up enough against Griffin, here's one more tidbit that's working against him. Griffin would be the third Heisman winner to be the second quarterback taken in the top 10. The first two? Matt Leinart and Andre Ware, who have combined for 24 career starts.
SPONSORED HEADLINES
MORE NFL HEADLINES
MOST SENT STORIES ON ESPN.COM
The NFL on ESPN.com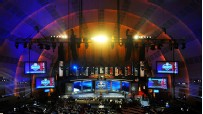 NFL DRAFT ON ESPN
NFL DRAFT PROFILES
HOT BUTTON: KIPER-MCSHAY DEBATES
NFL DRAFT TEAM NEEDS
MORE NFL COVERAGE
MORE NFL DRAFT