Commentary
Johnny Manziel will benefit from slide
In terms of motivation, slipping to Cleveland at No. 22 is best thing for celebrity QB
Originally Published:
May 9, 2014
By
Ashley Fox
| ESPN.com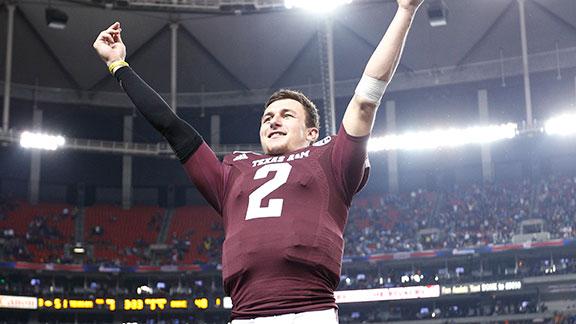 Manziel Lands With Browns At No. 22
Cleveland traded up to stop the Johnny Manziel free fall. Todd McShay looks at the busy first round for the Browns and what this means for their offense.
Manziel Lands With Browns At No. 22
NEXT VIDEO
Manziel Lands With Browns At No. 22

Manziel Lands With Browns At No. 22

Cleveland traded up to stop the Johnny Manziel free fall. Todd McShay looks at the busy first round for the Browns and what this means for their offense.

Browns Staff Erupts After Manziel Selection

Browns Staff Erupts After Manziel Selection

Sal Paolantonio describes the atmosphere at the Browns facility after the team drafted Johnny Manziel.
NEW YORK -- It took an interminable, embarrassing, gut-wrenching two hours and 43 minutes. Johnny Football was exposed, passed over time after time after time on national television.
ESPN Radio
Browns QB Johnny Manziel talks about being selected by Cleveland with the No. 22 pick in the NFL draft, dealing with criticism, waiting to hear his name and more.
He wasn't the No. 1 overall pick in the National Football League draft. He didn't go No. 2 to the St. Louis Rams. Cleveland traded down, then traded back up and still didn't want him. Even the Dallas Cowboys and the New York Jets, two franchises with a history of inviting controversy for the sake of inviting controversy, passed.
No one wanted Johnny Football. He dropped and dropped and dropped, experiencing the type of public free fall on draft night that only a select few, including Aaron Rodgers, have experienced. He wasn't the first quarterback taken. Heck, he wasn't even the first or second player from Texas A&M taken. That honor belonged to tackle Jake Matthews, who went sixth to the Atlanta Falcons, and wide receiver Mike Evans, who went one pick later to the Tampa Bay Buccaneers.
But a funny thing happened. This probably was the best thing for Johnny Football. Hopefully, Johnny Football stayed in the green room at Radio City Music Hall on Thursday night. Hopefully, Johnny Manziel emerged humbled, hungry and, as Rodgers did all those years ago, dedicated to prove to every team that passed on him -- and, ultimately, 19 did -- that they made a horrible decision.
The Browns and their long-suffering fans deserve as much.
[+] Enlarge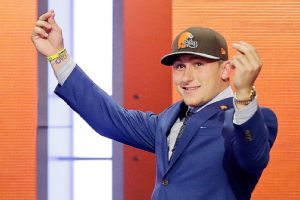 AP Photo/Frank Franklin IIThe Browns are hoping Johnny Manziel can eradicate the ghosts of Tim Couch and Brandon Weeden.
"Does it make a chip I already have on my shoulder grow and grow and grow?" Manziel asked. "I don't think so."
But, he added, "It does add fuel to the fire."
That it should.
Cleveland passed on Manziel twice. First, it swapped first-round picks with Buffalo, moving from No. 4 to No. 9 and picking up the Bills' first- and fourth-round picks in 2015. Then, it traded with Minnesota to move up from No. 9 to No. 8 to select Oklahoma State cornerback Justin Gilbert.
Manziel slid further down the board. With Philadelphia on the clock at No. 22, Kansas City, Cincinnati and San Diego sat between the Eagles and the Browns at No. 26. The Browns decided to make a move.
When commissioner Roger Goodell finally said those words -- "The Cleveland Browns select Johnny Manziel" -- Manziel exhaled. When he arrived on the stage at Radio City, he put his fists in the air as if to say, "Finally," hugged the commissioner, took the brown Cleveland No. 1 jersey with his name embossed on the back and smiled.
Rodgers had a similar reaction in 2005 after he slid to No. 24 before Green Bay selected him. Relief, yes, but there was more to it. Revenge.
More from ESPN.com

Johnny Manziel will bring a jolt of excitement, but also heightened scrutiny to Cleveland, writes Pat McManamon. Story
From the second he entered the NFL, Rodgers had a boulder on his shoulder, and he used it to motivate him, to push him, to drive him to become one of the best quarterbacks in the league. And with hard work and the right coaching and the right collection of teammates around him, Rodgers did. He won a Super Bowl. He won a Most Valuable Player trophy.
Rodgers became one of the standard-bearers of what a good quarterback looks like, how he acts, how he carries himself and, most important in a results-driven league, how he wins.
That would be a terrific example for Manziel to follow, one that should fit naturally in the narrative that Thursday night helped create.
Of course, the difference is that Rodgers went to the Packers, a franchise steeped in history. Manziel went to the Browns, a franchise that hasn't hit on a franchise quarterback in forever and has been mired in controversy since Jimmy Haslam bought the team. They have been the picture of instability. They've been a franchise adrift and unable to rebuild and make smart decisions. From Tim Couch to Brandon Weeden, they've made one mistake after another.
More NFL Draft Coverage

Mel Kiper examines the teams that did well in the first round of the draft, those that did not, and the Browns' moves. Story

---

ESPN.com's NFL Nation reporters weigh in on the first round, including a team-by-team look at the picks. Nation Reax
• Clayton: Five things we learned
• Round 2 mock draft


• Best available: Kiper | McShay


• Inside Slant | Thumbs up?
• DraftTracker

| Trade Tracker
• Polls: 1st-round thoughts | Busts?
And now Manziel steps in, a Heisman Trophy winner with moxie and confidence.
Browns fans will love the pick. There were a handful of them at the draft, and as Manziel spoke to the media they howled and chanted in the background, calling Manziel "Johnny Cleveland" and calling him "a legend."
There will be high expectations on Manziel for sure, but the good news is that he is going to be working with an offensive coordinator in Kyle Shanahan who had success with another dynamic quarterback who made astounding plays with his legs. Shanahan helped Robert Griffin III become the offensive rookie of the year two years ago. There's no reason to think he can't do the same with Manziel.
For his part, Manziel said he is dedicated to reaching his "ceiling." He said that there was "no list or bitterness or grudge" against the teams that passed on him. He also acknowledged that there were decisions he made in his past that he would like to have back, decisions that taught him valuable lessons about celebrity and responsibility.
We will see if that is true. It is up to Manziel to show that Thursday night made him better. Whether he wants to admit it or not, it probably was the best thing that could have happened to his upcoming NFL career.
ESPN.com NFL columnist
Joined ESPN in 2011
Also worked at Sports Illustrated, Philadelphia Inquirer and Louisville Courier-Journal
'14 NFL DRAFT ON ESPN.COM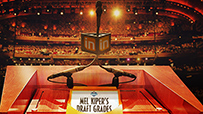 Mel Kiper, Todd McShay, Insider experts and NFL Nation have the '14 NFL draft covered.
EDITORS' PICKS
The Bears have agreed to send WR Brandon Marshall to the Jets pending a physical, a source said.
Story »

Expect Chip Kelly's Eagles to stay busy when free agency begins. We predict each team's activity level.
NFL Nation »

When it comes to free agency, discretion is key. Here are 10 pricey options teams should probably avoid.
Sando

MOST SENT STORIES ON ESPN.COM