Thursday, February 11 2016
The Best Man?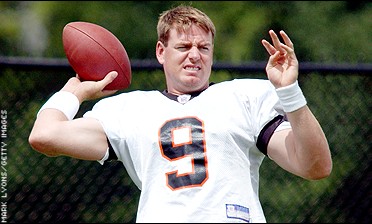 Palmer carried a clipboard in '03. Now can he carry the team?


Incumbent Bengals starting QB Jon Kitna lost his job to Carson Palmer and Jimmy Williams appears on the verge of being replaced as the 49ers punt return man. But are the
newcomers actually better
than the players they're replacing or do they simply fill the "Flavor of the Month" quotient?
Ravens: Pressure on QB | Postcard | Lewis still the key
Eagles: All covered | D-line hurting | Westbrook ready
Browns: Warren's warning | Offensive playmakers
Mueller:
Happy returns
| Warner no shoo in
Pasquarelli: Title run for Ravens?

If the offense improves, Baltimore could be in the title mix.

Clayton: Inside Cards camp

Coach Green needs QB McCown to emerge as leader.


Scouts, Inc.: Complete 2004 NFL Scouting Manual
Draft Features

Pasquarelli: Battle zone
Veterans Morten Andersen and Tyrone Poole are among the players trying to retain their jobs this preseason.

Darling enters NFL with heavy heart
As Devard Darling works his way into the Ravens offense, not a moment goes by without thinking of his twin Devaughn.

Scouts: Penetration vs. protection


When identifying the premier defensive linemen in the NFL, schemes and alignment are rarely taken into account.

Pasquarelli: Running man
If Jamal Lewis misses any time this season because of his drug trial, the Ravens could be in trouble on offense.

Rookie diary: Jonathan Vilma
Stepping on the field with players like Peyton Manning and Edgerrin James was a great experience.

Scouts: Emerging tight ends


Scouts, Inc., examines a group of TEs who are looking to knock Tony Gonzalez off his pedestal as the NFL's best.
End text -------------------------
Aug. 19, 2004

PFW: Fast on their feet


Only 13 teams in the NFL enter the 2004 campaign with the same undisputed No. 1 running backs as last season.

Russell: Making a mark
Rookie Fred Russell made a big splash in his first preseason game with the Dolphins.

Clayton: Running man
QB Josh McCown's scrambling abilities should help the Cardinals compensate for the lack of depth in their running attack.

Clayton: Matter of execution
The Seahawks have plenty of firepower on offense, now they just need to execute better.

Pasquarelli: Duce is loose
It's still early, but Duce Staley appears to have to the inside track on the starting running back job.

Pasquarelli: Low expectations?
The Jets struggled to a 6-10 record last season, but with Herm Edwards pulling the strings, don't be surprised if they're back in the playoff hunt.

Clayton: Looking good
Warren Sapp looks good playing at defensive end in Oakland's new 3-4 defense.

Mueller: Weekend observations


Insider's Randy Mueller sounds off on several topics, including the QB situations for both New York teams.

Pasquarelli: Line 'em up
The Saints have consciously sought to build up solid numbers on both line units and the efforts are paying off nicely.

Rookie diary: Jonathan Vilma
Jets rookie linebacker Jonathan Vilma had an impressive debut in the preseason loss to the Saints.

Scouts: Committee members


Scouts, Inc., examines the teams that will employ the running back-by-committee approach this season.

Pasquarelli: Camp horror stories
Injuries happen, but there has been an increasing number of serious non-contact ailments suffered this summer.

Clayton: Blasts from the past
Coach Bill Parcells has brought in a number of his former players in an attempt to improve the offense.

Russell: Premature burial
Contrary to reports that the team "is done," rookie Fred Russell wrote that the Dolphins have not given up.

Pasquarelli: Thing of beauty
Byron Leftwich put on a passing display in Monday's practice that strongly suggests the Jags QB is the real deal.

Ratto: 'I told you so'
As QB Philip Rivers and the Chargers squabble over contract terms, the Mannings just keep smiling.

Clayton: Ready, set, go
The Vikings had the No. 1 ranked offense last year and more of the same is expected this season.

Pasquarelli: Old school
Jon Gruden's Bucs have the feel -- and look -- of the veteran-laden Raiders he once coached.

Pasquarelli: Fully loaded
The Texans have finally surrounded QB David Carr with talent and depth at running back and wide receiver.

Pasquarelli: Biding time
While Kurt Warner will probably open as the starter, Eli Manning has been impressive in Giants camp.

Clayton: Observations from Titans camp
While WR Tyrone Calico looks much improved in his second season, rookie DEs Travis LaBoy and Antwan Odom have a lot to learn.

Clayton: Learning curve
After spending a year learning on the sidelines, Carson Palmer is ready to lead the Bengals.

Russell: Focus on the field
Rookie Fred Russell can't think about Ricky Williams not being in Dolphins' camp. He's just trying to make the team.

Clayton: On the offensive
With a healthy Edgerrin James things couldn't be better for Peyton Manning and the Colts.

Pasquarelli: Carrying the load
T.J. Duckett has been a disappointment in two seasons, but he has his eyes set on bigger things in 2004.

Clayton: Shrinking window of opportunity
Retirement talk and pending free agency have created a sense of urgency in Packers camp.

Pasquarelli: Proving ground
Panthers QB Jake Delhomme got the big dollars this offseason, but his focus is on proving he's not a one-year wonder.

Clayton: First and foremost
The Lions' upgrade in team speed has coach Steve Mariucci hoping to go from worst to first in offense.

Clayton: On the attack
Under Lovie Smith the Bears will be more aggressive on offense and defense. But that might not translate into wins right away.

Clayton: Change of plans
After years of being criticized for not running more, coach Mike Martz wants to increase the Rams' ground production.

Pasquarelli: History lesson
Bill Belichick knows that for the Patriots to make history, they have to forget about last season's Super Bowl championship.

Rookie diary: Jonathan Vilma
Jets rookie linebacker Jonathan Vilma talks about his first contract and looking forward to training camp.

Clayton: Broncos have lofty goals


The Broncos need Ashley Lelie and Quentin Griffin to step up, if they are to reach the Super Bowl.

Clayton: Champ-ions in Denver?
Coach Mike Shanahan believes the addition of CB Champ Bailey makes the Broncos a legitimate Super Bowl threat.

Clayton: Observations from Broncos camp
Quentin Griffin is small, but he looks comfortable as Denver's starting running back.

Pasquarelli: Sweating buckets
Wiith NFL teams set to report back to work, there remains this inalterable truism: Preparation means perspiration.

PFW: AFC optimism
There is a reason for optimism for every AFC team and PFW finds it.

PFW: NFC optimism
There is a reason for optimism for every NFC team and PFW finds it.

Clayton: Camp First ... and 10
New England's addition of Corey Dillon and Miami's loss of Ricky Williams are among the top training camp storylines.

Gallo: Camp predictions
NFL training camps are opening up this week, and we've got plenty of predictions.

Pasquarelli: Fried fish
Ricky Williams' surprise retirement is just the most recent event in a rocky offseason in Miami.

Mueller: Better late than never


Ideally, NFL teams want their rookies in camp on time, but the occasional holdout is not cause for major concern.

Pasquarelli: Ready to run
With Eddie George headed to Dallas, Chris Brown will be on the spot Tennessee.