NFL Training Camp 2012
Pure Magic
You can't take your eyes off Calvin Johnson, who does something amazing every Sunday. Merrill » Scouts' Top 200: Megatron is ...

Most irreplaceable players

New! Inside Slant podcast

FANTASY FOOTBALL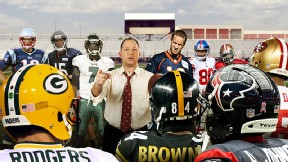 Matthew Berry reveals his loves and his hates for the 2012 fantasy football season. Love/Hate
MUST-SEE NFL COVERAGE
Who is the top player in the NFL? Scouts Inc. has graded them all, and the choice is ...

Andrew Luck and Robert Griffin III looked good in their debuts, but let's have perspective.

Multi-receiver sets have forced defenses to make the switch to man coverage.