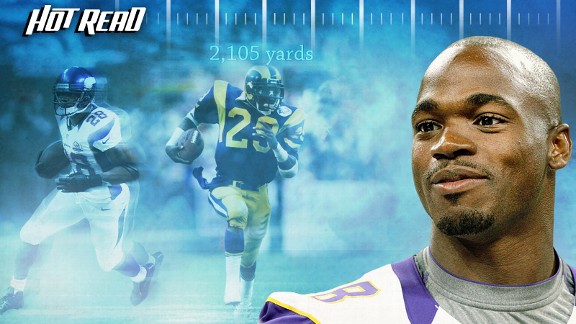 Best Season Ever?
Vikings superstar Adrian Peterson defies the odds and opposing defenses in pursuit of NFL history.
Jeffri Chadiha » Top 10 seasons in history » Rank 'em: Best seasons » Peterson gallery

ESPN.com Illustration

NFL PHOTO GALLERIES
LATEST GALLERIES
Evan Habeeb/USA TODAY Sports
14 Photos
AROUND THE LEAGUE
Despite losing to the 49ers, the Seahawks aren't afraid of any team. Terry Blount »

Also see:
•
Barnwell: Changes to the playoff picture
•
Legwold: Broncos give cold shoulder to Titans
•
Walker: Hungry Dolphins are good -- and lucky
•
Rodak: Bills take step backward vs. Bucs
•
Chadiha: Clowney or Bridgewater at No. 1?
•
Reilly: Dwight Clark's comeback route
•
Fagan: NFL execs connect with LGBTQ youth
ALERTS

ESPN ALERT: Cowboys LB Sean Lee won't return to game vs. Bears after suffering neck injury in third quarter
NFL DRAFT 2014
Solid Addition


Rookie DT Sheldon Richardson has helped make the Jets more stout on D. Kevin Weidl

2014 Key Dates
Feb 18-25: Scouting combine, Indianapolis
March 11: Free agency period begins
May 8-10: NFL draft, New York
NFL AUDIO