Cincinnati Bengals wide receiver Chad Johnson is scheduled to have arthroscopic surgery on both ankles Wednesday that he's been needing since last season, a source close to the player confirmed on Tuesday.
Johnson's ankle problem was the subject of an all-day distraction last Thursday at the Bengals' minicamp. Johnson told the team he couldn't practice because of the injury. The team snapped back and said he was simply refusing to practice.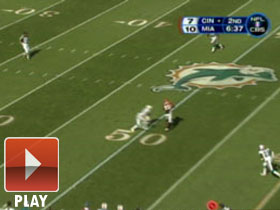 NFL.com Video
2007 Highlight: Carson Palmer 70-yard TD pass to Chad Johnson.
Although the team later confirmed a letter sent to Johnson indicated he needed an ankle procedure, the debate about his ability to participate in minicamp made headlines all day. The procedure, which is going to be done by the team doctor, according to a source, will remove painful bone spurs.
Johnson is expected to be ready for the start of training camp, and it does appear that he is leaning toward showing up at training camp. Johnson was present at the Bengals' three-day minicamp and even participated in the final day of work on Saturday. Throughout the offseason, Johnson has been demanding a trade.
Senior writer John Clayton covers the NFL for ESPN.com.