SAN DIEGO -- It took 10 months, 24 pairs of shoes and 40
pounds of flesh, but former New York Giant George Martin can finally rest
after taking the final steps of a cross-country walk to raise money
for people with health problems linked to the Sept. 11 attacks.
Martin began walking from New York to California on Sept. 16 to
draw attention to the plight of rescue and recovery workers who
developed respiratory problems after working in the dusty ruins of
the World Trade Center.
He marched the final 4½ miles Saturday, arriving at a finish
line in San Diego, where he was met by police officers,
firefighters and other NFL alumni.
The trip began on the George Washington Bridge in Manhattan and
covered 3,003 miles, winding south to Tennessee, west through
Texas, and through high plains and desert to California.
Along the way, Martin trudged through rainstorms, winter ice and
brutal heat, averaging 22 miles per day. He lost 40 pounds, burned
through 80 pairs of socks, and raised more than $2 million,
organizers said.
"These heroes need our collective support," Martin said in a
written statement. "Many who answered our nation's call for help
now cannot even walk up the steps in their own homes due to severe
respiratory and other ailments. Some are dying. They deserve our
help."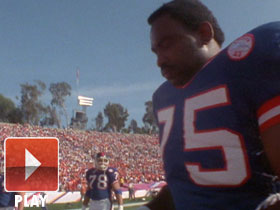 NFL.com Video
Former Giants DL George Martin walks across America in effort to raise money for his foundation, Journey for 9/11.
Martin was a co-captain of the Giants team that won Super Bowl
XXI. A defensive end who played in the NFL for 14 years, he is now
an executive at AXA Equitable, a financial services firm. He lives
in New Jersey.
Some medical studies have indicated that thousands of people may
have been sickened by exposure to toxic World Trade Center dust.
The number of people who suffered permanent damage is still
unknown.
Martin's walk wasn't without hitches. High winds forced him to
walk some segments of his route backward, from west to east,
because headwinds were exhausting him.
He had originally planned to head for the Golden Gate Bridge,
but adjusted his route part way through to finish in San Diego.