NASHVILLE, Tenn. -- The Tennessee Titans' Jevon Kearse wouldn't talk Tuesday about being charged with drunken driving, saying instead that he is trying to concentrate on practice.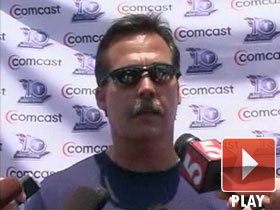 NFL.com Video
Titans head coach Jeff Fisher comments on DE Jevon Kearse's DUI arrest.
The 31-year-old defensive end was stopped at 4:42 a.m. Sunday by Vanderbilt University police after they saw the SUV he was driving weave across the road.
After Kearse failed a field sobriety test and refused a breathalyzer test, he was taken to the Metro Nashville Criminal Justice Center and booked on the DUI charge.
Asked if it was difficult to concentrate on football with the charges pending, Kearse said it was tough and that he was trying to stay positive.
Coach Jeff Fisher said he was disappointed in the arrest. He said the Titans are trying to eliminate the embarrassing incidents that have plagued them over the past few seasons.