Week 1: Texans get a jump on AFC South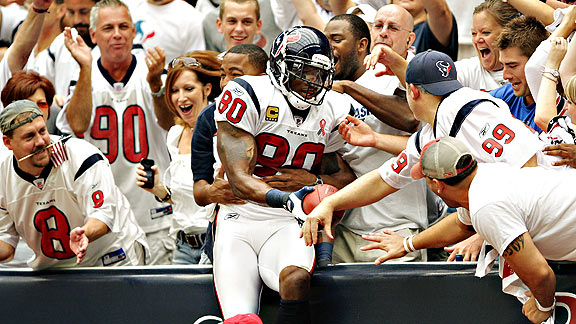 Troy Taormina/US PresswireThere was plenty to cheer about in Houston, where Andre Johnson (7 catches, 95 yards, 1 TD) and the Texans rolled over the Peyton Manning-less Colts 34-7.
Week 1 leaders
Week 1 was wild, wacky and exhausting.
There were plenty of big plays and injuries. In the 12 afternoon games, seven quarterbacks threw for 300 or more yards. Eight receivers had 100-yard games. There were long kickoff returns for touchdowns and great punt returns. The Bills upset the Chiefs. The Texans blew out the Colts. The Eagles gutted out a win against the Rams. The Lions proved they are, indeed, for real with a win on the road against the Bucs.
Here are five things I learned from Week 1:
1. AFC South goes through Houston: Since 2002, the Houston Texans, then an expansion team, have been looking up at a Peyton Manning-led Indianapolis Colts team that has dominated the division.
In a matter of a week, all that changed.
In the Texans' 34-7 blowout of the Colts on Sunday, the only Manning to touch the football was Texans safety Danieal Manning, who returned the opening kickoff 46 yards; everything went downhill from there for the Colts. Peyton Manning underwent neck surgery last week and he's out for two or three months. From the look of the Colts, if they go 3-7 or 4-8 without Manning -- which looks likely -- it would not be a surprise if they let him sit out the season and recover.
Colts management isn't conceding the season, but the team scouted Andrew Luck in the Duke-Stanford game on Saturday. Kerry Collins, taking over for Manning, opened the game in a two-tight end set after the Colts decided to deactivate wide receivers Anthony Gonzalez and Blair White. With only three receivers active, the Colts made rare negative plays. Collins was sacked three times and pressured all day.
With Jacksonville dumping David Garrard for Luke McCown and Blaine Gabbert on Tuesday, and Mike Munchak's Titans looking sluggish, the division could be there for the Texans -- finally.
"It's totally different,'' Colts tight end Dallas Clark said after the Texans won only their third of 19 games against the Colts. "I remember when we were on the other side of the scoreboard. It hurt.''
Wade Phillips' 3-4 defense, the addition of cornerback Johnathan Joseph and the drafting of J.J. Watt, a defensive end with Howie Long-type quickness, are three more reasons the Texans are poised for a playoff run.
2. NFC South takes a hit: With QBs Drew Brees, Matt Ryan and Josh Freeman, the NFC South was considered the glamour division in football.
But Aaron Rodgers of the Green Bay Packers outdueled Brees' New Orleans Saints in Thursday's opener. Jay Cutler of the Chicago Bears cut down Ryan's Atlanta Falcons 30-12. The Detroit Lions looked better than last year's 10-win Tampa Bay Buccaneers by dominating the Bucs in Tampa, 27-20. That's a 3-0 record by the NFC North over the South.
Nowadays, quarterbacks determine how good a division is. Cutler and Matthew Stafford of the Lions have elite potential, but whether it's red-zone mistakes or injuries, both are on the on-deck circle for elite status. Ryan, Brees and now Freeman have become elite.
Well, on Sunday, Cutler and Stafford had elite performances. In fact, three of the top performances in Week 1 were from NFC South quarterbacks. Rodgers was unstoppable, particularly in no-huddle, throwing for 312 yards and three TDs against the Saints. Cutler was 22-of-32 for 312 yards and two TDs against the Falcons, who did a poor job of tackling. Stafford completed 24 of 33 passes for 305 yards and three TDs on the Bucs.
The Falcons had a five-for-one swap of draft choices with the Browns to add Julio Jones to the offense. The Saints put up $16 million in contracts for Darren Sproles and Olin Kreutz. The Bucs didn't spend anything except draft choice money, and the lack of additions showed as the Lions dominated the Bucs' defense.
The Bears, Lions and Packers did very little to their offenses, but all their quarterbacks started out great.
[+] Enlarge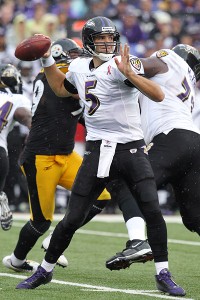 Mitch Stringer-US PresswireJoe Flacco threw three TD passes in the Ravens' convincing victory over the Steelers.
3. So long to smashmouth rivalry? The Pittsburgh Steelers and Baltimore Ravens have been known for their no-nonsense, hard-hitting games. But good quarterback play is changing that. The Ravens' Joe Flacco outdueled Pittsburgh's Ben Roethlisberger in a 35-7 victory. Both quarterbacks were able to mix in some no-huddle plays and plenty of shotgun snaps, but the days of conventional running in this series are just about over.
The change started a couple of years ago when Ravens offensive coordinator Cam Cameron decided it was crazy to just try to run against the Steelers' 3-4 defense. Stopping the run has been part of the Steelers' defense for decades. Flacco used 18 passing plays and 14 running plays to establish a 21-7 first-half lead. He kept the Steelers' defense off balance all day.
"That was a physical, executed beat down,'' Ravens halfback Ray Rice said.
The Steelers rarely give up 100-yard rushing games. Rice had 107 yards on 19 carries. According to ESPN Stats & Information, Rice and Ricky Williams had 88 yards on 16 carries up the middle of the Steelers' defense.
4. Can we stop the two quarterback idea? If you don't count Brad Smith, who is a receiver-returner trying to be the Bills' third quarterback, the only team that had an active third quarterback was the Vikings with Joe Webb.
Sunday showed just how dangerous that can be.
Fortunately for teams, no one lost two quarterbacks to injuries. But more quarterbacks got banged up than in a typical Sunday. Andy Dalton of the Cincinnati Bengals suffered a wrist injury. Sam Bradford of the St. Louis Rams suffered a nerve injury in a finger on his right hand. The Bucs' Freeman had cramps and had to go to the locker room. The Colts' Collins didn't miss a play but he dislocated the pointer finger of his left hand. Doctors popped it back in place and he was fine.
5. Surviving opening-week pressure: Two teams that couldn't afford to lose were the Washington Redskins and San Diego Chargers.
Although the Chargers struggled to beat the Minnesota Vikings 24-17, they at least got the victory. Norv Turner's teams have been noted for having slow starts. With three home games in the first four weeks, the Chargers need to have a 3-1 start. Special teams slowed the Chargers last year and it didn't help when Percy Harvin broke a kickoff return for a touchdown and kicker Nate Kaeding had to be carted off the field with a knee injury.
But the quarterback leadership of Philip Rivers was once against the key. He completed 33 of 48 passes for 335 yards and turned a 17-7 halftime deficit into a victory.
There was plenty of pressure on Redskins coach Mike Shanahan, but his team responded with a 28-14 victory over the Giants. How embarrassing would it have been for the Redskins to lose to a Giants team that didn't have defensive ends Osi Umenyiora and Justin Tuck, defensive tackle Marvin Austin, linebackers Jonathan Goff and Clint Sintim, and cornerbacks Terrell Thomas, Brian Witherspoon and Bruce Johnson?
Remember, owner Dan Snyder would have preferred Shanahan to keep Donovan McNabb at QB. Instead, Shanahan let Rex Grossman battle with John Beck in preseason, and Grossman completed 21 of 34 passes for 305 yards and two touchdowns. It worked.
Short Takes
The Rams suffered the biggest blows with five injured players, including two very serious injuries. Danny Amendola, who led the Rams with 85 catches last year, suffered a dislocated elbow and will miss time, leaving St. Louis' thin receiving corps in a bind. Amendola was Sam Bradford's main option from the slot. Rams right tackle Jason Smith will miss several weeks with a high-ankle sprain. Bradford injured a nerve in his finger and couldn't grip the ball. Cornerback Ron Bartell suffered a stinger, and running back Steven Jackson suffered a quad injury after only two carries. … The Texans got by the Colts easily without running back Arian Foster (hamstring), but they may have problems for the next few weeks. Starting running back Derrick Ward suffered an ankle injury and wide receiver Kevin Walter suffered a broken shoulder and could miss eight to 12 weeks. … Rank doesn't have its privileges. The Colts deactivated defensive end Jerry Hughes, a 2010 first-round pick who is a third-stringer at the moment. The Rams deactivated first-round pick Robert Quinn, who hasn't even moved to the second string yet because of inconsistent play. … Of the first-year coaches debuting Sunday, Ron Rivera of the Panthers did best. I'd give him the edge over Jim Harbaugh, who had a fundamentally sound 33-17 victory over the Seahawks, a team that was vulnerable because of its offensive line problems. With rookie Cam Newton at quarterback, Rivera's Panthers battled the Cardinals to the very last play in a 28-21 loss. They almost took the game into overtime. It was a tough day for new Browns coach Pat Shurmur, whose team had a mistake-filled 27-17 loss to the Bengals. Bruce Gradkowski, subbing for injured starter Andy Dalton, led Cincinnati's comeback. "I don't care if you've been in this thing for 12 years and I don't care if this is your last game. You can't make mistakes, and I think there were a lot of unforced errors there,'' Shurmur said of his team. First-year Titans coach Mike Munchak's offense struggled, generating only 47 run and pass plays against a Jaguars defense that didn't have high-priced defensive end Aaron Kampman, who was inactive with a knee injury. … The Kansas City Chiefs played so flat in the preseason that their 41-7 loss to Buffalo Bills was somewhat predictable. Kansas City QB Matt Cassel, who suffered a rib injury in the preseason, passed for only 119 yards. The Chiefs missed a big piece of their offense in tight end Tony Moeaki, who blew out a knee in the preseason and is out for the season. And then safety Eric Berry hurt his knee early in the loss. Buffalo may not be in the Andrew Luck sweepstakes after all.
John Clayton's game balls
• Offense: Who would have believed Carolina Panthers QB Cam Newton would become the first quarterback in NFL history to throw for 400 yards in his debut? In a 28-21 loss to the Arizona Cardinals, Newton completed 24 of 37 passes for 422 yards and two touchdowns against the Cardinals. Tom Brady's high for a regular-season game is 410 yards. Wow.
• Defense: Statistically, this could go to Baltimore Ravens linebacker Terrell Suggs, who had three sacks, three quarterback hits and two forced fumbles in a 35-7 rout of the Pittsburgh Steelers, but Haloti Ngata did all the dirty work. The nose tackle blew up Steelers' running and passing plays. How he didn't get a contract extension is amazing. Ngata had four tackles, two fumble recoveries and some of the best hits of the day.
• Special teams: Ted Ginn Jr. took a major pay cut to stay with the San Francisco 49ers, but he didn't have a discounted performance in a 33-17 win over the Seattle Seahawks. Ginn had 268 return yards and two touchdowns. He averaged 18.4 yards on punts, 44 yards on kickoffs.
Week 1 rundown
• Green Bay 42, New Orleans 34
Super Bowl hangover? Not for the Green Bay Packers' offense. The New Orleans Saints' offense was pretty good too (477 total yards).
• Chicago 30, Atlanta 12
Hardly anyone batted an eye after the Atlanta Falcons went winless in the preseason. Is there cause for concern now?
• Cincinnati 27, Cleveland 17
Another Week 1 dud for the Cleveland Browns, who are 1-12 in openers since 1999. Cincinnati Bengals rookie A.J. Green's only catch was a big one -- a 41-yard TD that proved to be the game-winner.
• Buffalo 41, Kansas City 7
Is it too early to buy into the Buffalo Bills as a surprise team? Probably, but Ryan Fitzpatrick (4 TD passes) and Co. were impressive nonetheless.
• Philadelphia 31, St. Louis 13
A disappointing and costly loss for the St. Louis Rams. By the time Sam Bradford (throwing hand) left the game, St. Louis had already lost Jason Smith, Steven Jackson, Danny Amendola and Ron Bartell.
• Detroit 27, Tampa Bay 20
One of the more entertaining games of Week 1. The Matthew Stafford-Calvin Johnson connection was a big reason why.
• Jacksonville 16, Tennessee 14
Maybe the Jacksonville Jaguars don't need David Garrard after all. As long as Maurice Jones-Drew (97 rushing yards, TD) is healthy and productive, Jacksonville figures to be competitive.
• Baltimore 35, Pittsburgh 7
It's only one game, but already a huge weight has been lifted off Baltimore Ravens QB Joe Flacco. A Terrell Suggs sack and forced fumble set the tone early for the Ravens' D.
• Houston 34, Indianapolis 7
A rough opener for the Peyton Manning-less Indianapolis Colts. Will this become the norm, or does fill-in QB Kerry Collins just need more time?
• Arizona 28, Carolina 21
He came up short of the win, but Cam Newton (422 passing yards) didn't seem overwhelmed in his first regular-season start. He already seems to have a nice rapport with Steve Smith (8 catches, 178 yards, 2 TDs)
• San Diego 24, Minnesota 17
Will the San Diego Chargers ever be able to fix their special-teams woes? Luckily for them, Philip Rivers had the hot hand in the second half.
• San Francisco 33, Seattle 17
It was a pretty boring game -- until the fourth quarter (27 combined points). Ted Ginn (two return TDs) added the most excitement and sealed the victory for the Niners.
• Washington 28, N.Y. Giants 14
Injuries are piling up. The offense is under siege. It's only Week 1, but there's already a sense of panic surrounding the Giants.
• N.Y. Jets 27, Dallas 24
The vibes are a lot different for the other New York team. Darrelle Revis' first interception since 2009 helped the Jets complete an impressive comeback win.
-- ESPN.com
MONDAY NIGHT FOOTBALL
•
New England at Miami (ESPN, 7 p.m. ET)
• Oakland at Denver (ESPN, 10:15 p.m. ET)
Looking ahead
An early look at next weekend's biggest games:
• Chicago (1-0) at New Orleans (0-1): Drew Brees and Co. should be well-rested, but the Bears' D was on in Week 1.
• Green Bay (1-0) at Carolina (0-1): Cam Newton's strong debut makes this a much more intriguing game than it was a week ago.
• Philadelphia (1-0) at Atlanta (0-1): Michael Vick returns to Atlanta. Can the Falcons bounce back from a disastrous Week 1?