Sunday Countdown: Your weekly NFL guide
Weekly Picks

Ditka

Johnson

Carter

Jackson

Pittsburgh @ Green Bay

Packers

Steelers

Steelers

Packers

Conference championship Record

1-1

1-1

1-1

1-1

More picks: Experts' picks | Mike & Mike | SportsNation: Pick SB XLV
Countdown Confidential
Rodgers safe from harm? Twice this season, Green Bay quarterack Aaron Rodgers has suffered concussions, and the Packers have suffered the consequences.
They are 0-3 this season in games in which Rodgers suffered a concussion or was unable to play because of one. Their Super Bowl challenge is protecting Rodgers from James Harrison -- whose illegal hits, many to the head, have made him the NFL's most heavily fined player (13).
[+] Enlarge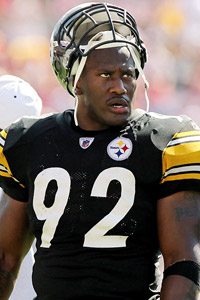 Kim Klement/US PresswireContaining James Harrison is a daunting challenge for the Packers' offensive line.
"I don't think he's out there to knock guys out of games or give them concussions or injuries,'' Packers rookie right tackle Bryan Bulaga said. "I mean, that's not what it's about. He's a physical player. He wants to inflict a little pain on people.''
Rodgers has spent a lot of time in his hotel room at night watching tape of the Steelers' defense. Much of his pre-snap attention will be used to determine where safety Troy Polamalu and Harrison will be positioned and whether they will be used to pressure or drop into coverage. Harrison is one of three NFL Defensive Player of the Year winners who will be on the field Sunday. Harrison has proven his big-play ability in Super Bowls.
"I'm glad it's Chad Clifton's job and not mine,'' guard Daryn Colledge said of stopping Harrison. "That's not a guy you want to be facing every day. That's a hard job.''
Clifton agreed
"[Harrison] comes into each and every game looking to impose his will on people, to dominate the offense, so my work is cut out for me, no doubt,'' Clifton said.
While refraining from making accusations, the Packers have not deluded themselves into believing the Steelers want Rogers to finish the Super Bowl against them.
"I doubt they do,'' Bulaga said. "But I think it's more than saying we want somebody to get hurt, hurt. Nobody wants somebody to get hurt. But I'm sure they wouldn't mind it.''
Wide receiver Greg Jennings said he hopes Harrison will think about the $100,000 in fines he's accumulated this year before lowering his helmet against the Packers.
"Think about the fines,'' Jennings pleaded. "Definitely tell him to think about the fines so he can let up a little bit.''
Harrison made few plays and drew no fines when Rodgers threw for 383 yards against the Steelers in a Green Bay loss last season. Clifton handled Harrison so well in that game that if anybody would have fined the Steelers' most feared player it would have been Pittsburgh defensive coordinator Dick LeBeau.
Super Bowl XLV: Number Crunching
By Aaron Schatz, FootballOutsiders.com
Steelers vs. Packers, Sunday, 6:29 p.m. ET
It's hard to think of a better and closer Super Bowl matchup than this one. The Pittsburgh Steelers finished second overall in the Football Outsiders ratings this season, while the Green Bay Packers were third. Pittsburgh also led the league in defense, with Green Bay second. And Green Bay led the league in pass defense, with Pittsburgh second. (You can learn more about the Football Outsiders DVOA ratings here.)
The biggest difference between the two teams is run defense, in which Green Bay was only average and Pittsburgh led the league. The Steelers allowed an absurdly low 3.0 yards per carry and just 2.8 yards per carry on first down. (Green Bay, by comparison, allowed 4.9 yards per carry on first down.) You may have read a lot of reasons why the Packers might want to spread things out and use a pass-heavy game plan -- the game is on turf, Aaron Rodgers is red hot, the Steelers cornerbacks are not the strength of their defense -- but the biggest reason why Green Bay wants to pass the ball -- by far -- is that running against the Steelers will likely prove fruitless. The Packers need to run a couple times to keep the Steelers defense honest, but not much more.
It may even make sense to take to the air in short-yardage situations, because Green Bay only converted runs in those situations 55 percent of the time (25th in the NFL) and Pittsburgh allowed a conversion rate of just 59 percent (10th).
(Lest you protest that James Starks has brought a new dimension to Green Bay's running game in the postseason, I will mention that Starks is averaging only 3.6 yards per carry on first downs and really has not played well since the first game of the playoffs against the Philadelphia Eagles.)
Green Bay should make sure to leave in extra protection against the Pittsburgh pass rush, particularly on first downs. Green Bay's adjusted sack rate on offense (sacks per pass play, adjusted for situation and opponent) went from 6.0 percent in Weeks 1-9 to 8.7 percent in Weeks 10-17. The Green Bay offense and the Pittsburgh defense have a significantly higher sack rates on first down than on second or third down.
• More Packers-Steelers: Intel Report | Madden Sim
More Super Bowl XLV analysis from Football Outsiders

First & Goal
By John Clayton
Close to a week of Super Bowl hype hasn't changed anything: The No. 6 playoff seed that has only two players with Super Bowl experience remains a 2.5-point favorite over an experienced No. 2 seed filled with plenty of veterans who own two Super Bowl rings.
Plenty of other things don't make sense in Super Bowl XLV.
On 'Sunday Countdown'
Sunday, 10 a.m. to 2 p.m. ET, ESPN
• Ben Roethlisberger scrambles differently than most QBs. Scrambling quarterbacks past and present lack Big Ben's ability to make plays of improvisation. Steve Young has the story.
• Aaron Rodgers sits down for a conversation with Trent Dilfer -- with topics ranging from pregame pranks to what a Super Bowl win would mean to him.
• Mike Tomlin uses the Phil Collins song "In The Air Tonight" as a source of motivation for his Saturday night meetings with the Steelers. Rachel Nichols reports.
• Clay Matthews and Green Bay outside linebackers coach Kevin Greene share a ton of similarities. Ed Werder sits down with both to find out the ties that bind player and coach.
• Over the years, the names may have changed, but Pittsburgh's commitment to the run remains. Rachel Nichols reports on the signature run plays that have defined each era.
• What is the origin of the Cheesehead? And why do Packers fans hold it so dear? ESPN.com's Greg Garber tracks the history and mystique of the Cheesehead.
• Twenty-five years ago, William "The Refrigerator" Perry captivated a nation during the 1985 Bears Super Bowl run. Tom Friend details the recent struggles in Perry's life.
• Packers coach Mike McCarthy is facing his childhood Steelers team in the Super Bowl. The Mayne Event travels to Greenfield, Pa., to see how the locals remember McCarthy.
• Follow all the happenings on "Sunday NFL Countdown" on Twitter here.

Chat Wrap with Chris Mortensen

Young
• Tony (Atlanta):Why can we rule out the Vikings now for VY [Vince Young]?
• Mort: Just the word coming out of the Vikings front office. Nothing decided. I believe there's more background work they'll want to do and I'm not sure he's a fit for what new OC Bill Musgrave wants to install, but I will reiterate that it's premature.