Week 11: Can anyone even slow the Pats? T.O. torches Redskins
Scott A. Miller-US PRESSWIRE
Week 11 Observation Deck
By Mike Sando, ESPN.com
Anything you can do, New England can do better. Hours after Dallas'
Terrell Owens
caught four touchdown passes against Washington, the Patriots'
Randy Moss
caught four
in the first half
against Buffalo. The Cowboys scored 28 points in their victory over the Redskins. The Patriots, 56-10 winners in Buffalo, scored their 28th point with more than six minutes remaining before halftime. The two best teams in the NFC -- Dallas and Green Bay -- combined for 59 points in defeating their Week 11 opponents. New England scored its 56th point against the Bills barely a minute into the fourth quarter, enough for coach Bill Belichick to sit quarterback
Tom Brady
. Only the Patriots are good enough to run up the score in the second and third quarters. Their victory, featuring the most points by a road team since 1973, drove home a point that needed no more driving home. In 2007, there's the Patriots, and then there's everyone else. At 10-0, the Patriots could lose twice and still secure home-field advantage throughout the AFC playoffs. But they won't need more than 12 or 13 victories, if Week 11 was any indication. While the Patriots cruised in Buffalo, AFC mortals Indianapolis, Cleveland and Pittsburgh lived -- and died -- by high-drama kicks.
Phil Dawson
needed a ricochet and an officiating reversal to help Cleveland get past Baltimore, while the Jets'
Mike Nugent
stunned heavily favored Pittsburgh with a 38-yarder in overtime -- the game's seventh field goal without a miss. We couldn't fault Indianapolis for calling a quarterback sneak on fourth-and-1 from the Kansas City 3 with two minutes remaining in a tie game. Anything to forestall the drama of another
Adam Vinatieri
chip shot. Vinatieri got his chance eventually, and this time the NFL's highest-paid kicker earned his $61,000 game check, lifting the Colts to a 13-10 victory over the Chiefs in the RCA Dome. Vinatieri's 24-yarder with four seconds remaining ended two unlikely streaks. The Colts had lost two in a row following a 7-0 start, while Vinatieri had missed four consecutive field goal attempts for the first time since 1996, his rookie season. The Colts still aren't the team they were before a wave of injuries struck key players. New England, meanwhile, seems to be better than ever. More observations from Week 11:
1. Jags flatten Chargers
Jacksonville has the toughness San Diego lost when management fired no-nonsense coach Marty Schotteneheimer. The Chargers have the offensive talent the Jaguars need to become a championship contender. Toughness prevailed over talent when the Jaguars took down the Chargers, 24-17. One third-quarter play was particularly symbolic. Diminutive Jaguars running back
Maurice Jones-Drew
flattened hulking Chargers linebacker
Shawne Merriman
to foil a San Diego blitz, giving quarterback
David Garrard
time to find tight end
Marcedes Lewis
for a 1-yard touchdown. Jones-Drew set both feet, crouched and launched his 5-foot-7 frame into Merriman's upper body. The impact sent the 6-foot-4, 272-pound Merriman onto his back. Lewis' touchdown stretched the Jaguars' lead to 24-10. The Chargers still are the best team in the AFC West, but that isn't saying much.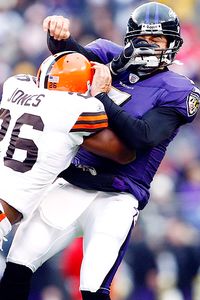 Jamie Squire/Getty Images
Kyle Boller was sacked six times against the Browns and had little success on third down.
2. The better team won in Baltimore
Cleveland needed a fortunate bounce to force overtime during the Browns' 33-30 victory over the Ravens, but the Browns were the better team most of the way. Baltimore converted only two of 12 third-down chances.
Kyle Boller
took six sacks and tossed two interceptions. The Ravens' defense continued to do its part, and then some, but it's looking like coach Brian Billick might never field a dynamic offense. Baltimore has thrown six more touchdown passes than interceptions (151-145) since Billick took over as head coach in 1999. The Ravens have finished with more interceptions than touchdowns in three of the six previous seasons, a trend that is continuing in 2007. It gets worse. The Ravens have 27 touchdown passes in 26 games since the start of the 2006 season. Cleveland's
Derek Anderson
has 25 during the same span, despite starting only 12 games.
3. The worse team won in the Meadowlands
New England won't need any help securing home-field advantage throughout the AFC playoffs, but Pittsburgh is lending assistance, anyway. The Steelers' stunning 19-16 defeat at the hands of the Jets was remarkable on multiple fronts: • The Steelers allowed a 100-yard rusher for the first time since
Edgerrin James
gained 124 yards for Indianapolis on Nov. 28, 2005.
• The Steelers lost even though Jets quarterback
Kellen Clemens
completed only 14 of 31 passes with a 58.8 rating.
• The Steelers allowed seven sacks to a team that had managed a league-low nine all season.
For more observations, click here.
Heard in the press box (in Jacksonville)
By Len Pasquarelli, ESPN.com
• Denver coach Mike Shanahan scored big points with his players last week by defending tailback Travis Henry, who is fighting to avoid a one-year league suspension for a repeat violation of the NFL substance abuse policy. But Shanahan's remarks, including his contention that Henry passed a lie detector test, didn't sit well with league officials. He received a call from the NFL offices about his public comments.
• With tailback
Adrian Peterson
sidelined by a sprained knee ligament, and his return to the Minnesota lineup uncertain, it might be time to start considering Cleveland left offensive tackle
Joe Thomas
as a viable candidate for offensive rookie of the year. The third overall choice in the draft, Thomas is having a spectacular season at the offensive line's most challenging position, even if most fans around the NFL don't realize it. • The
Atlanta Falcons
have made more than their share of errors at wide receiver in recent years -- in the draft and in free agency -- and the addition of veteran
Joe Horn
appears to be the latest misjudgment. There was a reason New Orleans coach Sean Payton didn't play Horn much last year, even when he was healthy late in the season, and the Falcons are seeing why. At 35, Horn, who got a $4 million signing bonus from the Falcons, can't consistently separate from cornerbacks, and injuries have become a problem. He has averaging just 9.2 yards per catch, exactly half of what he averaged for the Saints in 2006, which was considered a bad year for him. • The
Chicago Bears
haven't given up entirely on
Rex Grossman
yet. If the 2003 first-round quarterback can somehow resuscitate the Chicago offense in the remaining games, there is some chance the Bears might offer him a one-year deal for 2008. And given that a short-term contract is probably all Grossman can expect as an unrestricted free agent, he might think about returning for one more year if he feels he can be the Bears' starter. • San Diego officials are more optimistic than they were a week or two ago that standout center
Nick Hardwick
will be able to return for the final month or so of the season. The four-year veteran has missed four games with a foot injury, and there were concerns that he might be out for the rest of the year. But Hardwick visited a foot specialist last week, has begun to do some limited work at practice and is making pretty solid progress toward returning to the lineup. • First-round free safety
Reggie Nelson
is starting to create the kind of big-play and big-hitting presence in the middle of the field that the
Jacksonville Jaguars
envisioned when they chose him out of Florida. It took Nelson awhile to fully grasp the scheme of coordinator Mike Smith. But now that he's better prepared mentally, Nelson is displaying his excellent football instincts. • Even though quarterback
Alex Smith
and coach Mike Nolan seemed to have cleared the air in San Francisco, there is still some tension there. Smith feels the coach and the organization didn't do nearly enough to defend him during his stretch of poor play. He also believes the aggressive approach San Francisco trainers took during his rehabilitation from a shoulder injury contributed to the tendinitis in his forearm. Another problem with the limp San Francisco passing game: The wide receivers have had far too many drops. And that includes
Arnaz Battle
, the only wideout in the NFL last season with 40 or more catches and no drops. • Philadelphia tailback
Brian Westbrook
, whose importance to the Eagles' offense has never been more evident than this season, still has three years remaining on the contract extension he signed in November 2005. But there are rumblings that Westbrook wants an upgrade over the five-year deal, wort h nearly $25 million, and that he will push for more in the offseason. • As much as his players contend they enjoy working for coach John Fox, the
Carolina Panthers
aren't displaying much sense of urgency. Although he will never use it, Fox has a legitimate excuse for his team's tailspin, given the loss of quarterback
Jake Delhomme
to a season-ending elbow injury after three games. But unless the Panthers begin to exhibit a little more spirit, Fox could be in trouble at the end of the season
Len Pasquarelli's game balls

Owens
• Offense: Dallas star WR Terrell Owens demonstrated that he still ranks among the game's premier playmakers. In a 28-23 victory over Washington, the Cowboys' wide receiver scored four times, on catches of 4, 31, 46 and 52 yards. The final two touchdowns came in the fourth quarter and allowed Dallas to hold off a Washington rally. All three of Owens' second-half catches were for touchdowns.
For the day, he had eight receptions for 173 yards, and all but one of his catches resulted in a first down or a touchdown. The performance continued a red-hot streak for Owens, who has four straight 100-yard games. In the four-game stretch, he has totaled 31 receptions for 575 yards and eight touchdowns.
• Defense: As the eighth overall player selected in the 2005 draft, Arizona Cardinals cornerback Antrel Rolle has been a bit of a disappointment, with the first three seasons of his career marked by injuries and inconsistency. But Rolle more than made up for that in Sunday's 35-27 victory at Cincinnati, as he notched three interceptions and returned two for touchdowns.
The former University of Miami standout, playing as the nickel cornerback, scored on returns of 55 and 54 yards. He had a third return for a touchdown nullified by a penalty. Rolle, who entered the game with only two career interceptions, also had three tackles and three passes defensed.
• Special teams: Cleveland kicker Phil Dawson sent the Browns into overtime at Baltimore on Sunday with a field goal on the final play of regulation, then won the game in the extra stanza with a 33-yard field goal. But the game ball actually goes to his Cleveland teammate, return ace Joshua Cribbs, not just for setting up both kicks but for an extraordinary overall performance.
The former college quarterback totaled 306 yards on 11 combined kickoff and punt returns. In the third quarter, his 26-yard punt return set up a
Derek Anderson
1-yard quarterback sneak for a touchdown. In the fourth quarter, Cribbs had a 50-yard kickoff return and later, with the Browns trailing 30-27, he set up Dawson's tying field goal with a 37-yard kickoff runback. Cribbs then opened the overtime with a 41-yard kickoff return that provided the Browns with excellent field position. Nine plays later, Dawson kicked the winner.
Writer's bloc
• From his sartorial selection to his precision passing, Jaguars QB David Garrard looked sharp in his return from injury.
Len Pasquarelli
• The Browns and Ravens played a game in Baltimore on Sunday, but an episode of "The Twilight Zone" broke out.
John Clayton
• Why aren't the Lions getting WR Calvin Johnson more involved in the offense?
Jeffri Chadiha
• Terrell Owens decided it was time to bring back fiery TO, and the results were stunning in the Cowboys' win over the Redskins.
Matt Mosley
ESPN video
Week 11 rundown
•
Tampa Bay 31, Atlanta 7
After watching
Byron Leftwich
struggle, perhaps Falcons coach Bobby Petrino is finally ready to admit that
Joey Harrington
is the best QB on his roster.
Photos
•
Arizona 35, Cincinnati 27
Career day.
Antrel Rolle
's 3-INT, 2-TD performance helped the Cards match their win total (5) from each of the past two seasons.
Photos
• N.Y. Giants 16, Detroit 10
Under fire for most of the season, the Giants' secondary secured a big win with two huge plays in the closing minutes. Photos
• Green Bay 31, Carolina 17
Brett Favre outplayed Vinny Testaverde in a battle of old-school QBs. Considering Favre is outplaying most QBs these days, this one wasn't hard to predict. Photos
• Indianapolis 13, Kansas City 10
What's up with Adam Vinatieri? Sure, he nailed the chip-shot game winner Sunday, but he has missed four field goals in the past two games. Photos
• Minnesota 29, Oakland 22
Running smoothly. With Adrian Peterson sidelined, Chester Taylor (202 yards, 3 TDs) seized his opportunity to carry the Vikings' ground game. Photos
• Philadelphia 17, Miami 7
A second-quarter lead. An injury to Donovan McNabb. The stars were aligned for a Dolphins victory, but it wasn't meant to be. Is 0-16? Photos
• Jacksonville 24, San Diego 17
At 5-5, the talented Chargers are one of the league's biggest disappointments. Luckily for Norv Turner, San Diego plays in the pathetic AFC West. Photos
• Cleveland 33, Baltimore 30 (OT)
Two overtime victories in three weeks. A third straight nail-biter. The Browns are becoming the drama kings of the NFL. Photos
• Houston 23, New Orleans 10
Houston's MVP. Simply put, the Texans are a much different team when Andre Johnson (6 catches, 120 yards, 1 TD) is healthy. Photos
• N.Y. Jets 19, Pittsburgh 16 (OT)
Two words: suicide pool. You get the feeling a lot of people were blindsided by this result. Photos
• Dallas 28, Washington 23
The Redskins proved they have the ability to air it out. They just couldn't quite keep pace with the Tony Romo-TO aerial show. Photos
•
St. Louis 13, San Francisco 9
The Rams, winners of two straight after opening the season with eight straight losses, can relate to a lot of what the 49ers are going through right now.
Photos
•
Seattle 30, Chicago 23
What's happened to the vaunted Bears' defense? Chicago has allowed 30 or more points four times this season.
Photos
•
New England 56, Buffalo 10
More proof that the Patriots don't care what people think: Up 35-7 in the third quarter, the Pats threw for a touchdown on fourth-and-goal.
Photos
-- ESPN.com
Looking ahead
An early look at next weekend's biggest games:
• Green Bay (9-1) at Detroit (6-4): The Packers would pretty much lock up the NFC North with a Thanksgiving Day victory over the rival Lions.
• Washington (5-5) at Tampa Bay (6-4): Losers of two straight and three of four, the Redskins need a victory to remain a viable playoff contender.