Week 10: Ryan, Flacco ahead of schedule; Pats find winning formula
Jonathan Ferrey/Getty Images
Week 10 analysis: Ryan, Flacco bucking trend
By John Clayton, ESPN.com
No one can forget the impact
Ben Roethlisberger
had as a rookie in 2004. Protected by a solid running game, a good defense and smart coaching, Roethlisberger guided the Steelers to a 15-1 record and quickly established himself as an elite, playoff-caliber quarterback. For things to work that well for a rookie quarterback -- which is rare -- the head coach and general manager have to handle the transition to a rookie as if they were handling plutonium. Handled incorrectly, the rookie experience can blow up in the face of a franchise. Ryan Leaf,
David Carr
and
Joey Harrington
are just a few of the rookie QBs rushed into service whose failures caused collateral damage to their franchises. That's why it's so pleasantly surprising to watch
Matt Ryan
and
Joe Flacco
evolve in Atlanta and Baltimore. They've beaten the odds because they landed with the right franchises and are doing the right things.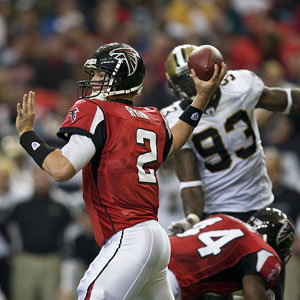 Paul Abell/US Presswire
Falcons QB Matt Ryan threw for 248 yards with two TDs and no interceptions against the Saints.
Thanks in part to Ryan and Flacco, the Falcons and Ravens have a chance to go from worst to first in their divisions. Both teams sit at 6-3 because Ryan and Flacco are success stories -- major success stories.
Drew Brees
may be the first-half MVP, but his Saints are 4-5 despite Brees' 2,985 yards and 17 touchdown passes in nine games. Ryan simply outplayed him in Sunday's 34-20 victory because he's outgrown his rookie status. Ryan plays like a veteran. He gets into his third and fourth reads. He'll run a no-huddle. He'll call audibles.
Peyton Manning
had those skills as a rookie. Ryan's doing a remarkable job by not trying to exceed his limitations. Offensive coordinator Mike Mularkey is making sure the running offense takes pressure off his young quarterback. In the first half against the Saints, Mularkey called 18 runs and 13 passes. Ryan completed 10 of 13 passes for 145 yards and a touchdown, and the Falcons led 17-6 at halftime. "Our quarterback is maturing each week,'' Falcons coach Mike Smith told reporters after the game. "As long as he continues to develop, we will continue to add to what we can do offensively.'' In Baltimore, less is expected from quarterbacks because the Ravens win with defense. The Ravens blew out the Texans 41-13 because Flacco can come up with the big plays when needed. Sunday wasn't particularly pretty for Flacco. He was sacked three times and he netted only 157 passing yards on 23 attempts. But Flacco kept bouncing back from bad plays to make good plays. "Early in the game, I was giving Joe a hard time,'' Ravens coach John Harbaugh said. "I was getting at him a little bit and he doesn't get flustered. I think momentum swings don't affect him too much. He comes out and plays the next series. He takes care of business. That's the kind of person he is, and it's a credit to his parents.'' Flacco hit
Yamon Figurs
with a 43-yard touchdown pass in the second quarter on a third-and-13. He also had third-and-19s and third-and-17s, and none of it flustered him. "I think Coach Harbaugh already stated it before, just the demeanor that [Flacco] brings to the huddle,'' tight end
Todd Heap
said. "We could have had a horrible play. We had a couple of second-and-25s, third-and-20s, a couple of tough situations to overcome, and he just comes in the huddle and we don't get flustered. We just go about our business. And that's kind of how we play."
Five things I learned in Week 10
By John Clayton, ESPN.com
1. Titans take flight
The Titans can adjust if you take away the run. Those who didn't watch Sunday's 21-14 victory over the Beas must understand what Chicago was doing defensively. The Bears' linebackers run-blitzed between the defensive ends and tackles, and safety
Mike Brown
came up to the line of scrimmage, giving the Bears eight defenders between the tackles. Every running lane was blocked on most plays. The Titans tried 29 running plays, gaining only 20 yards. Offensive coordinator Mike Heimerdinger got together with QB
Kerry Collins
on the sidelines and went to Plan B. Figuring the Bears would try to take away the run, Heimerdinger called more three- and five-step drops, and Collins completed 30 of 41 passes for 289 yards and two touchdowns. Collins went 8-0 as a starter without having a 200-yard passing day. The ninth win came as a result of Collins' arm. "We like to carry balance in the ballgame between the run and the pass, but obviously it wasn't working today,'' Titans coach Jeff Fisher said. "Footing was an issue, so we picked it up and threw it. That's what you have to do sometimes. We've done it before. We did it a little last week and at the Baltimore game [in Week 5].''
2. Edwards' misplaced aggression
When he was with the Jets, coach Herm Edwards gave his famous speech about playing to win games. Sunday's decision to go for the two-point conversion in the final seconds of the Chiefs' 20-19 loss to the Chargers was an attempt to win the game, but it was the wrong decision. If the Chiefs were playing to win, they could have tried to convert a fourth-and-2 toward the end of the third quarter. Chargers QB
Philip Rivers
had just thrown an interception. The game was tied at 13. The Chiefs had the ball at their 46-yard line and had the momentum. But on fourth down, Edwards called for a punt. Rivers then marched the Chargers 94 yards on 14 plays to take a 20-13 lead. To his credit, Edwards has his young Chiefs playing hard. They've been competitive the past three weeks with QB
Tyler Thigpen
running a version of the college spread-option offense. But in this case, he should have gone for the extra point and tried to win overtime. The Chiefs are 1-8, and they gave life to the Chargers, who are trying to claw their way back in the AFC West race at 4-5.
3. Pats writing short story
The Patriots have learned what
Matt Cassel
can and can't do as a quarterback. With that knowledge, coach Bill Belichick and offensive coordinator Josh McDaniels will let Cassel try to win the AFC East by being a dink-and-dunk expert. Fifteen of Cassel's 23 completions came on throws shorter than 10 yards. On those short throws, he gained 104 yards. He completed 8 of 12 passes for 130 yards on attempts longer than 10 yards. The key is that the coaching staff developed a system and a personality for the offense with Cassel filling in for the injured
Tom Brady
. Since getting the starting job, Cassel has been going to
Wes Welker
six to 10 times a game. Over the past four games, he's been getting five to seven passes to
Randy Moss
. The system is working.
4. Vikings, Childress survive
Sunday was a tough day for those in Minnesota who want Brad Childress out as head coach. Childress received a game ball from ownership following the Vikings' thrilling 28-27 victory over the Packers. Although the game may not have been pretty because of the Vikings' three interceptions, it was a gutsy win in which the Minnesota exposed some flaws in the Packers. Minnesota DE
Jared Allen
had one of the bravest performances of the season. Wearing a harness to protect a third-degree shoulder separation, Allen had a sack and a quarterback pressure against
Aaron Rodgers
. The normally calm Rodgers had only 110 net passing yards and was sacked four times. He completed only 15 passes. As always, the Vikings took away an opponent's running attack, holding the Packers'
Ryan Grant
to just 75 yards on 16 carries. The Vikings survived their own mistakes to win. The Packers scored all but three of their points on defense or special teams. But on offense -- the supposed strength of the team -- the Packers converted only 1 of 9 third downs and couldn't generate long drives. Say what you want about the Vikings, but they are tied with the Bears for first place in the NFC North, one game ahead of the Packers.
5. Big Ben forcing the issue
Ben Roethlisberger
's inability to consistently throw the ball downfield because of his injured right shoulder allowed the Colts to jump back into the AFC playoff race. Roethlisberger, who threw three interceptions
after
establishing a 17-7 lead, is probably throwing too much for a quarterback with a slight shoulder separation. Those picks allowed
Peyton Manning
to pull off a 24-20 come-from-behind victory. Because of injuries to
Willie Parker
and
Rashard Mendenhall
, the Steelers have only
Mewelde Moore
to handle the running attack. Moore was bottled up for 57 yards on 24 carries against Indianapolis. Although Roethlisberger's numbers looked good (30-of-42 for 284 yards), his turnovers gave Manning a chance to get into a rhythm against the Steelers' blitzing defense. Manning had only four second-half possessions, but they resulted in 10 points. He turned two of Roethlisberger's interceptions into touchdowns. It was clear Sunday that the shoulder is clearly affecting Big Ben's throwing ability.
John Clayton's game balls

Peterson
•
Offense:
It's amazing to think
Adrian Peterson
has lost three games in which he's rushed for 100 or more yards. Had he lost on Sunday -- his finest day of the season -- it would have been sinful. Peterson rushed for 192 yards on 30 carries to lead the Vikings in a wild 28-27 victory over the Packers. Like all great backs, Peterson kept getting stronger as the game went on. Peterson had 112 yards on 16 carries in the second half. In the fourth quarter alone, he averaged 7.9 yards a carry. The more Peterson touches the ball, the better he gets. For the season, Peterson is averaging 6.4 yards a carry after his 21st touch in the game. With 1,015 yards, Peterson is the best runner in the NFL.

Peppers
•
Defense:
If there were a betting service figuring out defensive game balls, this might have been the lock of the year.
Julius Peppers
is one of the most aggressive, hard-to-block pass-rushers in football. The
Oakland Raiders
have one of the worst pass-blocking lines in football, and to make matters worse, starting quarterback
JaMarcus Russell
was out with knee tendinitis, so the immobile
Andrew Walter
had to start. Peppers had the defensive line of the day: three sacks, seven tackles, three tackles for loss, one quarterback hit, two pass defenses and two forced fumbles. Panthers coaches moved him from side to side and even dropped him into coverage. He was a one-man destroyer Sunday and the best defensive player of the day.

Heintrich
•
Special teams:
After Sunday's 21-14 victory over the
Chicago Bears
, Titans punter
Craig Heintrich
discussed his strategy in trying to kick to
Devin Hester
, the most dangerous return specialist of his era. Heintrich's plan was to punt the ball about 35 yards in the air. He didn't want any low line drives, because Hester can return those for touchdowns. He wanted to pin Hester inside the Bears' 20-yard line and make sure Tennessee's coverage units stopped him. Heintrich had eight punts -- five pinned Hester inside the 20. Two were fair catches, and only two were returned for 13 yards. Heintrich's gross average was 37.8 yards. His net was 36.1. In an age in which good punters net 40, those numbers don't seem great, but Heintrich clearly won the special teams battle against Hester, and helped keep the Titans undefeated.
ESPN video
Week 10 rundown
•
Atlanta 34, New Orleans 20
The Falcons continue to amaze. The Saints, who clearly aren't the same team without
Reggie Bush
, continue to be one of the league's biggest enigmas.
Photos
• Tennessee 21, Chicago 14
Turns out Kerry Collins is more than just a game manager. On a day when the Titans' running game struggled, Collins (289 passing yards, 2 TDs ) delivered his best game of the season. Photos
• Jacksonville 38, Detroit 14
Are the Lions staring at 0-16? Take a glance at their schedule. Detroit (0-9) plays nothing but potential playoff teams from here on out. Photos
• Miami 21, Seattle 19
It doesn't work every week, but the Wildcat formation is a big reason the Dolphins are above .500 for the first time since 2005. Photos
• Minnesota 28, Green Bay 27
Now that the Vikings have lifted a giant monkey off their backs (they had lost five straight to the Packers), it'll be interesting to see what they can accomplish down the stretch. Photos
• New England 20, Buffalo 10
Early in the season, QB Trent Edwards was lauded for his ball security. Over the past three weeks, Edwards (5 INTs, 2 lost fumbles) hasn't given the Bills much of a chance against their three divisional rivals. Photos
• N.Y. Jets 47, St. Louis 3
So much for interim coach Jim Haslett resurrecting the Rams. The past two weeks have seen St. Louis lose in classic Linehan-esque fashion. Photos
• Baltimore 41, Houston 13
There's good news on many fronts for the Ravens. The team won its fourth straight, RB Willis McGahee (112 yards) looked healthy and TE Todd Heap recorded his first multiple-TD game since 2005. Photos
• Carolina 17, Oakland 6
Panthers QB Jake Delhomme picked the right time for his worst game of the season. Only the Raiders can hold an opposing QB to 72 yards, intercept him four times and still never really have a chance to win. Photos
• Indianapolis 24, Pittsburgh 20
Byron Leftwich proved he's capable. So why won't the Steelers give Ben Roethlisberger (eight interceptions in the past three games) a couple of weeks off to rest his ailing shoulder? Photos
• San Diego 20, Kansas City 19
The Chiefs' Herm Edwards gambled on a two-point conversion and lost. Was it the right call? Probably not, but when you're coaching a one-win team, conventional wisdom doesn't really apply. Photos
•
N.Y. Giants 36, Philadelphia 31
The most effective blueprint for beating the Eagles? Contain
Brian Westbrook
. The Giants did just that Sunday night.
Photos
•
Monday Night Football: San Francisco at Arizona (ESPN, 8:30 ET):
It's November and the Cardinals (5-3) are still relevant. Shocked? Don't be. Here are three reasons why Arizona is rolling heading into its MNF game against the Niners.
Mike Sando
•
Watch MNF booth preview: How good are Cards?
•
Animations: Deep In, WR Cross
|
Discuss

•
Preview podcast

|
Win $1M
|
MNF Surround
-- ESPN.com
Looking ahead
An early look at next weekend's biggest games:
• N.Y. Jets (6-3) at New England (6-3): Who's the class of the AFC East? The winner of this matchup officially earns that distinction.
•
Chicago (5-4) at Green Bay (4-5):
A must-win situation for the Packers? Chances are a lot of folks in Green Bay are ready to make that argument. •
Dallas (5-4) at Washington (6-3):
Tony Romo
will likely return at QB for the Cowboys. Can he stop the bleeding? •
Week 11 schedule