Week 3: Offenses cranking it up; Cassel-led Pats far from perfect
AP Photo/Winslow Townson
Week 3 analysis: Offenses setting blistering pace
By John Clayton, ESPN.com
Scoring is up. Defense is down, and it's forcing teams -- especially the Broncos -- to manage a different type of game. Broncos coach Mike Shanahan has thrown caution to the Mile High winds. His Broncos barely beat the Saints 34-32 because his offense scored 34 points on only 58 plays. Even though the Broncos jumped out to a 21-3 lead in the first 16 minutes, Shanahan couldn't get conservative because he knows his defense has flaws. "You try to score,'' Shanahan said of how to manage a high-scoring game. "You're going to have games like that. You don't want to settle for field goals. You want to settle for touchdowns. We had that freak fumble [
Tony Scheffler
's at the Saints' 8 with 5:44 left] there at the end, but I thought we moved the ball good and had momentum going. Unfortunately, it was a fumble, and our defense made a play when they had to.'' Shanahan was giving his defense too much credit. The Broncos' D stopped the Saints on a third-and-1, but not before New Orleans drove to the Denver 24. Fortunately for the Broncos,
Martin Gramatica
missed a 43-yard field-goal attempt with two minutes left that could've given New Orleans the victory. Scoring is now at 43.8 points per game, the highest-scoring start since 2002. The normally low-scoring NFC, which for years conceded quarterback play to the AFC, has only four teams scoring fewer than 20 points a game. The idea of running downhill and wearing down a defense seems to be a lost offensive art. Here are some samples of the offensive excess. • The Bengals put together scoring drives of 82 and 71 yards in the final 4:39 to send their game with the Giants into overtime.
Carson Palmer
hit
T.J. Houshmandzadeh
with a 17-yard touchdown pass to give the Bengals a 20-16 led. Then Giants QB
Eli Manning
drove 68 yards and connected with tight end
Kevin Boss
on a 4-yard touchdown with 1:50 left. The Bengals ended up losing 26-23 in overtime because Palmer had to settle for a 21-yard field goal at the end of regulation. •
Brian Griese
had drives of 63 and 79 yards in the final 3:11 to put up 10 points and send the Bucs-Bears game into overtime. Then he orchestrated a 90-yard drive, which culminated with a 21-yard field goal by
Matt Bryant
, to give Tampa Bay a 27-24 victory. Three drives for 232 yards. That's a good game for the Chiefs' offense.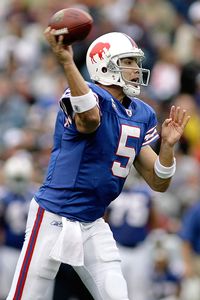 Rick Stewart/Getty Images
Trent Edwards used some fourth-quarter heroics to lead Buffalo to a narrow victory over Oakland.
• Bills QB Trent Edwards led touchdown drives of 96 and 69 yards in a four-minute spurt in the fourth quarter. Then he beat the Raiders with a 46-yard scoring drive, capped by a Rian Lindell 38-yard field goal, to complete a 24-23 win.
•
Peyton Manning
was too efficient for the Colts in their loss to the Jaguars. Trailing 20-14 with 2:33 left, Manning completed 5 of 10 passes for 75 yards and the Colts took the lead on a 2-yard touchdown run by
Joseph Addai
. Still, Manning left 1:07 on the clock, which was enough time for Jaguars QB
David Garrard
to put together a drive for the winning field goal in a 23-21 victory that may have saved Jacksonville's season. As for the Broncos, they beat the Chargers last week after referee Ed Hochuli blew a call on a fumble late in the game. On Sunday, Gramatica missed a pivotal field goal. Expect to see the Broncos play a lot of these types of games -- unless their defense makes a miraculous turnaround.
Five things I learned in Week 3
By John Clayton, ESPN.com
1. Ryan gives Falcons fighting chance
The Falcons taught the Chiefs a lesson in rebuilding a franchise. Even though the Chiefs had a great draft this year, teams can't win in this league without a quarterback. The Falcons have a quarterback. The Chiefs don't.
Matt Ryan
completed 12 of 18 passes for 192 yards in Sunday's 38-14 victory over Kansas City. Give the Falcons credit for giving Ryan
Michael Turner
(23 carries for 104 yards) and a Pro Bowl-caliber receiver in
Roddy White
(five catches for 119 yards) to help in his development. The Falcons may not win more than five or six games this year, but they manipulated the offseason better than the Chiefs, who are 0-3 and appear to be heading for a 13- or 14-loss season.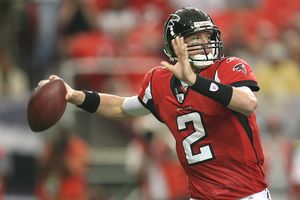 Doug Benc/Getty Images
Falcons rookie QB Matt Ryan did not throw an interception for the second time in three games.
Don't underestimate the Chiefs draft, though. Glenn Dorsey should be a dominating defensive tackle. Rookie cornerbacks Brandon Flowers and Brandon Carr should be the backbone of their secondary for years, Branden Albert should be solid at left tackle, and DaJuan Morgan should move into a starting safety spot next year, if not later this season.
Like the Falcons, the Chiefs have a powerful running back (
Larry Johnson
) and a talented wide receiver (
Dwayne Bowe
), but it means nothing without a quarterback. After three weeks, the Chiefs are averaging 10.7 points a game. The Falcons are averaging 27, although their two wins were against the Falcons and Lions at home.
2. Vikings mired in mediocrity?
Vikings fans shouldn't view Minnesota's 20-10 victory over the Panthers as the start of something big. Although it's been well documented how the Giants won a Super Bowl after starting 0-2 last season, the Vikings aren't the Giants. The Giants had a franchise quarterback,
Eli Manning
, who got hot at the right time. I can't see the Vikings generating enough points on offense to get to 10 wins, not with a backup quarterback (
Gus Frerotte
) masquerading as a starter. Over the past five years, the three teams that made the playoffs after 0-2 starts had a couple of things in common: a favorable schedule and a good quarterback. The Giants had a .516 schedule (based on 2006 records) and averaged 23.3 points a game with Manning at quarterback. The 2006 Chiefs had a .492 schedule, had
Trent Green
and
Damon Huard
at quarterback, and averaged 20.7 points a game. The 2003 Eagles had a .477 schedule, and
Donovan McNabb
's offense averaged 23.4 points. Based on last year's records, the Vikings play a .551 schedule, average only 18 points a game and need Frerotte (16-of-28, 204 yards) to handle the job like a starter for 14 more weeks. The best hope for the Vikings may be a nine-win season, but it's probably going to take 10 or more wins to get a wild card.
3. Cassel needs support
The Patriots, 38-13 losers to the Dolphins, look truly vulnerable without
Tom Brady
. Face it: For
Matt Cassel
to put up a 30-point game, he's going to need 14 points from the Patriots' defense or special teams. As he did in Week 2 against the Jets, Cassel can win if the Patriots run the ball well, play good defense and he doesn't screw it up. He's a lot like the Bears'
Kyle Orton
during his rookie year (2005). What's scary for New England is how teams can now take away
Randy Moss
, who has only six catches for 47 yards over the past two games. Compared to last year, that's like having no Moss. "There is not too much to say here,'' Bill Belichick told reporters after the game. "I thought that Miami played a real good football game. They did everything a lot better than we did. They outplayed us. They outcoached us. They certainly dominated on offense and defense.'' The Patriots were without running backs
Laurence Maroney
and
LaMont Jordan
, gaining only 79 rushing yards against Miami. Still, don't count out the Patriots. If they beat the 49ers on Oct. 5 after the bye week, they'll be 3-1, but it's becoming clear the league has caught up to the Patriots thanks to the loss of Brady.
4. Martz's revenge
If you needed further evidence of how screwed up the Lions are, just look at what Mike Martz did to them. The Lions fired the offensive coordinator -- who added six points per game to their offense over two years -- because he didn't run the ball enough. Detroit head coach Rod Marinelli felt Martz's pass-happy style put the Lions' precious Cover Nobody defense in adverse situations. So what did Martz do on Sunday? He dialed up 27
Frank Gore
running plays for 130 yards in a 31-13 embarrassment of the Lions. Showing great balance, the 49ers had 39 running plays and 24 passing plays. Martz's offense has put up 64 points in the past two games. The problem in Detroit was that he didn't have a great offensive line and didn't have a truly healthy running back.
Kevin Jones
was nicked up during Martz's two seasons. Now, Jones is gone. Martz is gone. The offense is gone. What's next?
5. Eagles adjust on the fly
How impressive have the Eagles been over the past week? On Monday night, the Eagles went on the road and proved they could play in a shootout with the Cowboys, losing one of the best Monday night games in years, 41-37. On Sunday, they played a physical, hard-hitting defensive game against the Steelers, winning 15-6. Normally, teams that feature the West Coast offense don't get credit for physical play. Over the past week, Eagles defensive coordinator Jim Johnson took some criticism for not blitzing enough against the Cowboys. So on Sunday, Johnson blitzed and dogged quarterback
Ben Roethlisberger
for eight sacks and eventually sent him to the locker room for some brief treatment. The Eagles also had one sack of backup QB
Byron Leftwich
. Johnson got 5½ sacks from his defensive linemen and 2½ from safeties and linebackers. What also was impressive is how well the Eagles stopped the run, limiting the Steelers to 33 yards on 19 carries.
John Clayton's game balls

Griese
•
Offense:
Drew Brees
may have thrown for more yards, but no quarterback topped the day of the Bucs'
Brian Griese
. He completed 38 of 67 passes for 407 yards and two touchdowns. If those stats aren't impressive enough, here is the topper: Griese wasn't sacked. Bears defenders were scratching their heads all week wondering why Bucs coach Jon Gruden would start Griese over the more mobile
Jeff Garcia
. The Bears felt they could have a big sack day against Griese, but if anything, Griese outlasted the Bears. He kept Chicago's defense on the field for 84 plays. The Bears didn't have a lot of faith in Griese, trading him to Tampa Bay for a sixth-round choice in the offseason. Griese, considered one of the best backups in the league, made them pay with a 27-24 overtime victory.

Porter
•
Defense:
Dolphins LB
Joey Porter
talks a big game, but he's usually been able to deliver. Leading up to Sunday's game against the Patriots, Porter stated the obvious, but the comment didn't sit well in New England. "I just know he's not a
Tom Brady
," Porter said of New England backup Matt Cassel. "So if it's not Tom Brady, it shouldn't be that hard." The Dolphins' 38-13 blowout of the AFC champs backed up his words. Porter sacked Cassel three times, had three more quarterback hits and forced a fumble. Porter vowed to treat him like a backup. After the victory, a satisfied Porter didn't try to rub it in. "It's not really about me,'' Porter said. "I am happy that we went out there and did not give up a big play. I said all week if we don't give up the big play and spot somebody 14 to 17 points, we have a chance to win the game."

Kluwe
•
Special teams:
Chris Kluwe
had a phenomenal day in helping the Vikings beat the Panthers 20-10 in a game of field position. He had five punts and a solid 52.6 average. The Vikings and Panthers knew they were going to be in a defensive struggle, and Kluwe put Minnesota's defense in favorable situations. Kluwe was particularly sharp in the second half. In the third quarter, he got off a 54-yarder from his own 13. In the fourth quarter, he bombed a 55-yarder to the Panthers' 11 that was returned to the 18.
ESPN video
Week 3 rundown
•
Atlanta 38, Kansas City 14
The Falcons scored more than 30 points only once last season (Week 17). They've already done it twice in 2008, even though QB
Matt Ryan
has yet to throw for more than 200 yards in any game.
Photos
• Buffalo 24, Oakland 23
Does Raiders coach Lane Kiffin live to see another week? Kiffin, who's seemingly operating with no margin for error, can't be feeling very secure after watching his team blow a nine-point, fourth-quarter lead. Photos
• Tampa Bay 27, Chicago 24 (OT)
If the Bears knew how to finish games, they would be 3-0 and positioning themselves as legitimate contenders. Instead, they're 1-2 after blowing double-digit leads in each of the past two games. Photos
• Tennessee 31, Houston 12
The bad news for the Texans? They're 0-2. The good news? They might have finally found a running back in rookie Steve Slaton (18 carries, 116 yards, TD). Photos
• Minnesota 20, Carolina 10
New starting QB Gus Frerotte (16-of-28, 204 yards) wasn't great, but he got a lot of help from Antoine Winfield (19-yard fumble return for a TD) and the Vikings' D. Photos
• Miami 38, New England 13
Would things have been different if the Patriots had Tom Brady? Maybe, but Brady doesn't play defense, which was New England's biggest problem Sunday. Photos
• N.Y. Giants 26, Cincinnati 23 (OT)
The Bengals finally showed some life. But with the game on the line, the Giants showed the same resolve and focus they had during last season's Super Bowl run. Photos
• Washington 24, Arizona 17
Are the Redskins flying under the radar in the ultra-competitive NFC East? The Cardinals, done in by two costly turnovers, came up short in their first real test of the season. Photos
• Denver 34, New Orleans 32
Another week, another shootout in Denver. The Broncos have been impressive, but their defense will need to show up at some point this season. Photos
• San Francisco 31, Detroit 13
Niners offensive coordinator Mike Martz used a balanced attack -- which his critics say he didn't use nearly enough in Detroit -- to keep his former team winless. Photos
• Seattle 37, St. Louis 13
Last season, the Rams didn't get their first victory until Week 10. By the looks of things, it might take them that long this year just to play a competitive game. Photos
•
Jacksonville 23, Indianapolis 21
A season-saving victory for the Jags? Maybe. The running back duo of
Fred Taylor
and
Maurice Jones-Drew
(228 combined yards) made it possible.
Photos
•
Philadelphia 15, Pittsburgh 6
The season is young, but it has already taken quite a toll on
Ben Roethlisberger
. Big Ben, sacked eight times Sunday, now has a sore throwing hand to go along with his tender shoulder.
Photos
•
Baltimore 28, Cleveland 10
A one-year wonder? Through three games, Browns QB
Derek Anderson
has yet to show the form that made him a breakthrough star last season.
Photos
•
Dallas 27, Green Bay 16
How dangerous are the Cowboys? Terrell Owens was held to two catches for 17 yards, yet Dallas was able to win comfortably in a hostile environment.
Photos
•
Monday Night Football: Jets at Chargers
(ESPN, 8:30 ET)
Philip Rivers and Brett Favre may be headliners, but it's the San Diego defense that's on the hot seat Monday. Will it deliver for the 0-2 Bolts?
Bill Williamson
•
Outsiders: Sproles steps up
|
Watch: Favre
•
Play animations
|
Podcast preview

-- ESPN.com
Looking ahead
An early look at next weekend's biggest games:
• Minnesota (1-2) at Tennessee (3-0): The Titans are rolling. Will Tennessee's defense be able to corral Adrian Peterson?
•
Washington (2-1) at Dallas (3-0):
The Skins have looked strong since their opening-night loss to the Giants. They can make a big statement by knocking off the Cowboys. •
Week 4 schedule