Week 6: QBs losing third-down mojo; carelessness costing Cowboys
Dilip Vishwanat/Getty Images
Week 6 analysis: Tide turning on third down
By John Clayton, ESPN.com
SEATTLE -- In recent years,
Tom Brady
of the Patriots and
Peyton Manning
of the Colts turned third-down efficiency into an art form. Since 2003, the league numbers for quarterback efficiency on third down have been improving each year, going from 37.3 in 2003 to 39.51 in 2007, much of it having to do with Brady and Manning working at 50 percent efficiency. Whether it's the complexities of nickel defenses or the result of more than 15 wide receivers being inactive because of injuries, defenses are starting to win back the passing wars. That was very apparent Sunday. Quarterbacks were successful on only 37 percent of their third-down plays. Several of those attempts weren't even close, and it led to a little less scoring than we saw in the first five weeks of the season.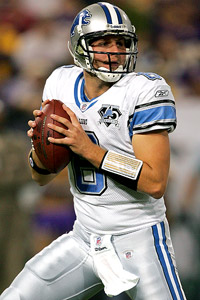 Matthew Stockman/Getty Images
The Lions' Dan Orlovsky was one of many QBs who were plagued by third-down woes in Week 6.
It was no wonder the Vikings were barely able to squeak out a 12-10 victory over the Lions even though Adrian Peterson rushed for 111 yards. Lions QB Dan Orlovsky was only 2-for-13 on third down. The Vikings' Gus Frerotte was just as bad, going 3-for-15.
It's no wonder the 49ers couldn't hold a 26-17 second-half lead over the Eagles. San Francisco QB
J.T. O'Sullivan
converted only 2 of 12 third downs.
Chad Pennington
of the Dolphins was 2-for-10 in a loss to the Texans. The Rams-Redskins game had a combined 8-for-26 third-down rate. Ravens rookie QB
Joe Flacco
was 3-for-13 against the Colts. If you can't move the chains on third down, it's hard to win games. "That has been going on the last five years in this league,'' Packers coach Mike McCarthy said. "The wide-open defenses and combination coverages go against the formations you have. Defenses aren't scared in trying to take away your pass concepts.'' McCarthy said offenses have to have the "corresponding concept to the base concept.'' What does that mean? Nickel pass defenses have developed aggressive coverage schemes that enable them to shut down certain parts of passing formations. In other words, they have answers for what offenses want to do. It's a great chess match. The Eagles made enough adjustments against Mike Martz's scheme to shut down O'Sullivan in the second half and come back with 23 unanswered points in the fourth quarter. The Eagles forced three turnovers during that comeback. "We made a couple of little adjustments,'' Eagles coach Andy Reid said. "I thought the defensive line upped its game. I thought we played on their side of the ball more than just in that neutral zone there. I thought we were able to get some penetration. They tried the tight end screen a couple of times and we were able to shut that down and get pressure on the quarterback.'' Packers quarterback
Aaron Rodgers
was 10-for-18 on third-down conversions, the best rate so far in Week 6. Wide receiver
Greg Jennings
credits that to not having many third-and-long situations and instead being able to concentrate on third-and-6s or third-and-5s. "We were able to put us in comfortable situations and call plays to our liking,'' Jennings said. So many of Sunday's games went in favor of the teams that did the best on third down.
Five things I learned in Week 6
By John Clayton, ESPN.com
1. Cowboys in giving mood
The Cowboys are too sloppy for their own good, and if they don't tighten up their performance, the most talented team in the NFC will end up being a wild card -- or not making the playoffs at all. In a weird 30-24 overtime loss to the Cardinals,
Tony Romo
had three fumbles, receivers dropped four passes, Dallas was flagged 12 times for 93 yards and a blocked punt was returned three yards for the game-winning touchdown. The Cowboys are the gift that keeps on giving. Technically, they had a plus-2 turnover margin, but they are minus-2 for the season. Referee Peter Morelli had to evoke the fabled "Tuck Rule" to save the Cowboys from a Romo fumble that would have given the Cardinals a touchdown. Things are getting so bad that
Terrell Owens
is yelling at big offensive linemen for not falling on fumbles. Heck, they should know what to do -- they're getting enough practice. If this keeps up, NFL Charities commercials are going to feature only Cowboys.
2. Error of their ways
Here's the deal in the NFC South: The team that makes the fewest mistakes should win the division. The Panthers and Saints are the sexy picks because of their styles, but both teams are letting the Bucs and, yes, the Falcons, slip into the mix because the latter two teams aren't making many mistakes. Sunday's easy win over the Raiders notwithstanding -- by the way, Al Davis' coaching change didn't help -- the Saints have driven their fans crazy with too many penalties, too many turnovers and a defense that has given up too many big plays.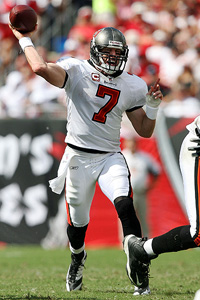 Doug Benc/Getty Images
The steady Jeff Garcia guided Tampa Bay to a convincing victory over Carolina.
The Panthers draw too many false-start penalties. And on Sunday, Jason Baker had another punt blocked -- his third this season. A blocked Baker punt in the first quarter handed the Bucs a seven-point lead in what turned out to be an easy 27-3 victory.
Meanwhile, the Bucs and Falcons are each 4-2 because they are boring but efficient. Bucs coach Jon Gruden probably stayed with
Brian Griese
a week too long as the starting QB.
Jeff Garcia
played well Sunday and the Bucs are tied for the division lead. Atlanta coach Mike Smith is running an efficient offense and defense. Rookie QB
Matt Ryan
is playing like a six-year veteran and the defense isn't giving up big plays. The Falcons won ugly -- 22-20 over the Bears -- but it was pretty for Falcons fans.
3. Storm clouds over Seattle
The sun is setting in the NFC West for Mike Holmgren and the
Seattle Seahawks
. After winning four NFC West titles, the Seahawks are 1-4 and trail the
Arizona Cardinals
by 2½ games. The Seahawks looked extremely vulnerable in Sunday's 27-17 loss to the Packers. "It's early in the season, but let's not kid ourselves,'' Seahawks linebacker
Julian Peterson
said. "We need to get some of these wins, too." It's not as though the Seahawks don't have excuses. Quarterbacks
Matt Hasselbeck
and
Seneca Wallace
were hurt, leaving third-stringer
Charlie Frye
to run an offense that produced only 177 yards on 49 plays. Though the defense played hard, Packers receiver
Greg Jennings
beat Seahawks cornerback
Marcus Trufant
for a 45-yard touchdown that gave the Packers a 17-10 third-quarter lead. Holmgren benched injured and struggling cornerback
Kelly Jennings
. That didn't help. "Emotionally, the guys are pretty good that way,'' Holmgren said when asked about the mood of his 1-4 team. "But they are not dumb. We don't have the ability right now like we had had in the past to overcome those things and score a lot of points, so the game has to fall a certain way right now.''
4. Wake-up call for Skins?
The Redskins learned a valuable lesson Sunday: Don't play down to your opponent. Coming off road wins over the Cowboys and Eagles, the Redskins must have felt as though they were going to coast to a 7-1 start, running off three easy wins against teams -- the Rams, Browns and Lions -- with a combined record of 1-11 entering Sunday's action. The Rams played like a wounded animal Sunday. Interim coach Jim Haslett instilled a little toughness and resilience in a team that usually folds under pressure. The Redskins' biggest sin? They let the Rams hang around. The Redskins had the ball for 31 minutes. They outgained the Rams, 368 yards to 200. The Redskins didn't finish drives. And when safety
O.J. Atogwe
returned a fumble 75 yards for a touchdown before the half, the Redskins were suddenly trailing 10-7. "I think it's a focus thing," Redskins halfback
Clinton Portis
told reporters after the game. "The previous four games the focus was there. We knew that we couldn't go out and put ourselves in that position. We come out today and all of the sudden you start to get patted on the back and you feel like you're a better team.'' They learned.
5. Garrard, Jags prove their mettle
The Broncos still have a better record, but the 3-3 Jaguars proved to be more playoff-worthy than the Broncos on Sunday. Jacksonville's 24-17 win at Denver was a major step in the right direction for Jack Del Rio's team. I'm starting to get the feeling Broncos QB
Jay Cutler
has too much confidence in his arm. It was stupid of him to say he has a stronger arm than
John Elway
. That would be as silly as
Ben Roethlisberger
saying he has a stronger arm than Terry Bradshaw. He doesn't. Cutler was 21-of-37 for 192 yards and his longest completion was 21 yards. He didn't have wide receiver
Eddie Royal
and his favorite tall target in tight end
Tony Scheffler
, but there were several times Cutler had open receivers and overthrew them. Jaguars quarterback
David Garrard
doesn't have as strong an arm, but he spread the ball among eight pass-catchers and was 25-of-34 for 276 yards. Garrard gutted out a great road victory. He's now 22-14 as a starter and is 9-6 on the road. You get the feeling the Broncos will start to fall back because of their defensive problems. If that's the case, the Broncos' loss to the Jaguars could cost them a wild-card spot because of the tiebreaker.
John Clayton's game balls

Brees
•
Offense:
Should we just name Saints quarterback
Drew Brees
MVP now? During Sunday's easy 34-3 victory over the Raiders, Brees completed his first 16 passes for 171 yards. For the game, he was 26-of-30 for 320 yards and three touchdowns. "Drew was something else,'' Saints coach Sean Payton said. "He was making all the right reads and giving a lot of different guys a chance to contribute." With Brees, it doesn't matter who he has catching his passes.
Marques Colston
,
David Patten
and
Jeremy Shockey
were inactive and injured. Brees threw to nine receivers and no one noticed the difference. At this pace, Brees is going to break records. Last year, he set the NFL record for completions in a season (440). He's going for Dan Marino's single-season record of 5,084 yards. After six games, Brees has 159 completions on 224 attempts for 1,993 yards and 12 touchdowns, and a quarterback rating of 105. If he continues this blistering pace, he will complete 424 of 597 passes for 5,314 yards and 32 touchdowns.

Williams
•
Defense:
Opponents know it's impossible to run against the middle of the Minnesota Vikings' defensive line. But if defensive tackle
Kevin Williams
has more games like this, opponents may not want to pass the ball either. Williams had one of the most unbelievable games for a defensive tackle in recent memory in a 12-10 win over Detroit. He had four sacks, five tackles for losses, four quarterback hits and eight solo tackles. No wonder Lions quarterback
Dan Orlovsky
ran behind the end line in the end zone for a safety. It's one of the few times he was out of Williams' hands. Williams is challenging
Albert Haynesworth
of the Titans in the early balloting for defensive player of the year. Williams has six sacks, while Haynesworth has five. Those are high numbers for interior linemen. Maybe it's the year of the defensive tackle.

Elam
•
Special teams:
Falcons owner Arthur Blank should be proud. His new management team has done everything right, from the signing of
Michael Turner
to the drafting of
Matt Ryan
. Include in that list the signing of kicker
Jason Elam
, who made five of six field goals in a 22-20 victory over the Bears. Elam's clutch 48-yarder with no time left won the game. It seemed a little odd for a team that is rebuilding to sign a 38-year-old kicker to a four-year, $9 million deal, but Elam has been one of the best. "I'm really happy that one went through," Elam said of his game-winner. "Our guys have been fighting so hard for so long. I hate to even mention what happened last year, but to hear some of the stories, I know the guys are really hungry to get some wins on the board and show our fans what we're all about." Elam had field goals of 29, 32 and 41 yards, and two for 48 yards. Sure, he missed an easy 33-yarder, but he made up for it in the final seconds.
ESPN video
Week 6 rundown
•
Atlanta 22, Chicago 20
Matt Ryan
to
Roddy White
. It's not Montana to Rice or Manning to Harrison, but the young Falcons' combo (nine catches for 112 yards and one TD on Sunday) has a lot of potential.
Photos
• Indianapolis 31, Baltimore 3
Home sweet home. The Colts finally won at their new stadium by returning to their old explosive ways. Photos
• Minnesota 12, Detroit 10
Living dangerously. For the second straight week, the Vikings came out on top in a game they probably didn't deserve to win. Photos
• New Orleans 34, Oakland 3
Well, Al Davis can't blame this one on Lane Kiffin. Has the Tom Cable Watch begun? In Davis' world, you never know for sure. Photos
• New York Jets 26, Cincinnati 14
Brett Favre mixed in plenty of bad (three turnovers) with some good. That's fine against the winless Bengals, but Favre's gunslinging ways could be an issue down the road. Photos
• Tampa Bay 27, Carolina 3
So much for the Panthers' taking control of the NFC South. Does QB Jeff Garcia put up huge numbers? No. Does he continue to prove he's the right fit for the Bucs? Yes. Photos
• St. Louis 19, Washington 17
The most relieved man in St. Louis? Offensive lineman Richie Incognito, who nearly cost the Rams their first victory of the season with a foolish unsportsmanlike conduct penalty. Photos
• Houston 29, Miami 28
Has any team had a stranger season than Miami? Two losses, followed by victories over last season's AFC title game representatives, followed by a loss to the previously winless Texans. What gives? Photos
• Jacksonville 24, Denver 17
The Jaguars' defense (three takeaways) deserves credit, but it was playing against a Broncos offense missing three valuable contributors: WR Eddie Royal (ankle), TE Tony Scheffler (groin) and RB Selvin Young (groin). Photos
• Arizona 30, Dallas 24 (OT)
The Cardinals have shown they can play with anyone at home. Their upcoming road test (three of the next four on the road) will likely determine if they'll be real players in the NFC. Photos
• Philadelphia 40, San Francisco 26
With the Eagles' offense missing some key weapons, most notably Brian Westbrook, their defense picked the right game to make some big plays. Photos
•
Green Bay 27, Seattle 17
The Seahawks had Super Bowl aspirations entering the season. Now they're tied for last place in the NFC West -- with banged-up QBs and a patchwork WR corps to boot.
Photos
•
San Diego 30, New England 10
Don't put all the blame on
Matt Cassel
, Pats fans. New England seems slower and more vulnerable on defense than it has in years.
Photos
•
Monday Night Football: Giants at Browns
(ESPN, 8:30 ET)
Distractions? The Giants don't worry about any stinkin' distractions, star defensive end Justin Tuck says. That's why they're 4-0. Meanwhile, Cleveland must win ... or disappear into the AFC North muck.
Blog network: NFC East
|
AFC North blog
•
FB Outsiders: Injuries, drops cripple Browns
•
Play animations
|
Streak For The Cash: Win $1M
•
Podcast

|
MN Surround
|

Jaws
-- ESPN.com
Looking ahead
An early look at next weekend's biggest games:
• New Orleans (3-3) at Carolina (4-2): Can Carolina slow down Drew Brees? Will the Panthers' running game show up?
•
Indianapolis (3-2) at Green Bay (3-3):
Both of these offenses had big games in Week 6. Will the momentum carry over? •
Denver (4-2) at New England (3-2):
The Broncos historically play well against the Pats. The Chargers'
Philip Rivers
torched New England's D in Week 6. Will
Jay Cutler
follow suit? •
Week 7 schedule