John Clayton's Last Call: QB switches raise questions in Bay Area
AP Photo/Ed Reinke
Week 7 observations: Five things I learned
By John Clayton, ESPN.com
1. Benchings by the Bay:
Struggling quarterbacks
Shaun Hill
(49ers) and
JaMarcus Russell
(Raiders) were benched Sunday. Neither team's coach would say anything about next week's quarterback decision, but it's pretty clear
Alex Smith
has won back his right to be the 49ers' quarterback. Smith rallied the 49ers from a 21-point deficit against the Texans and made Sunday's 24-21 loss respectable. Smith has a stronger arm and is a better athlete than Hill, who has the ability to win low-scoring games but doesn't have the arm to make huge comebacks. Hill led the league with 25 three-and-outs heading into Week 7. Smith came off the bench to complete 15 of 22 passes for 206 yards. He found tight end
Vernon Davis
three times for touchdowns. Expect Smith to start next week against the Colts.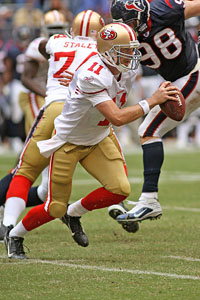 Thomas Campbell/US Presswire
Alex Smith sparked the 49ers' offense, but came up just short of beating the Texans.
Raiders coach Tom Cable's problems aren't as easy to solve. Cable benched Russell after a 6-for-11, two-interception start in a 38-0 loss to the Jets. Fans booed loudly as Russell struggled mightily. Unless the Raiders decide to re-sign Jeff Garcia, they might have to go back to Russell next week. Bruce Gradkowski and Charlie Frye are the only other options for Cable.
The other quarterback who might be on the verge of being benched is Carolina's
Jake Delhomme
, who threw three interceptions in Sunday's 20-9 loss to the Bills and has 13 picks in six games. After Sunday's loss, Panthers coach John Fox didn't rule out a quarterback change. His options are
A.J. Feeley
and
Matt Moore
. Picking one of them is probably a good idea.
2. Red-zone woes:
The red zone is becoming a dead zone because of defensive adjustments. Chargers halfback
LaDainian Tomlinson
, who has rushed for 127 touchdowns in his career, had nine rushing attempts inside the Chiefs' 7 Sunday, but didn't score a touchdown and was held to 8 yards. Browns quarterback
Derek Anderson
came up with only three points on two trips inside the Packers' 5-yard line, which added to the embarrassment of Cleveland's 31-3 loss. On one red-zone series in the final seconds of the first half, Anderson fumbled a snap, threw an incompletion and forced coach Eric Mangini to settle for a field goal. Toward the end of the third quarter, Anderson failed on four plays that started at the 1. No wonder the Browns are 1-6. And then there's the Steelers' strange 27-17 victory over the Vikings.
Brett Favre
and
Ben Roethlisberger
entered the game as the two best red-zone quarterbacks in the game. Favre had five trips inside the Steelers' 20, but four didn't go well, including two in the fourth quarter that resulted in long touchdown returns by the Steelers' defense. In the third quarter, the Steelers stopped the Vikings on three consecutive plays from the Steelers' 1, an
Adrian Peterson
run and two Favre passes. The Vikings had to settle for a field goal to cut the Steelers' lead to 13-10. Pittsburgh also had some issues, as
Rashard Mendenhall
lost a fumble at the Vikings' 9 early in the fourth. "In general, it's harder than it used to be because you don't see zero coverage or don't see matchups like you used to,'' Favre said. "Why do it? Defensively speaking, the defense will say, 'We'll give up the field goal, we'll just not give up the touchdown.' There is less room to cover, so you can drop more people and not worry about a 50-yard pass play.''
3. Safety concerns?
The Vikings still might be the most talented team in the NFC, but they appear to have a serious flaw in their secondary. Roethlisberger exposed coverage problems with Minnesota's safeties, particularly late in the second half. The Vikings let
Darren Sharper
go in free agency, opting to have
Madieu Williams
and
Tyrell Johnson
handle the two starting jobs. In the final two minutes of the first half, the Steelers picked apart to the Vikings' Cover 2 scheme. Trailing 7-3 and starting at the Steelers' 9, Roethlisberger noticed Williams and Johnson were split wider in the deep half of the field than most Cover 2 safeties. He also noticed how a linebacker would stay with wide receiver
Hines Ward
when he was running from the slot, so Roethlisberger decided to get fast rookie
Mike Wallace
behind the linebackers and between the Vikings' safeties. On a second down from the Steelers' 38, Roethlisberger hit Wallace for a 22-yard gain. Two plays later, Wallace ran the same post route and got a 40-yard touchdown because Williams and Johnson took bad angles to tackle him. A week ago, Baltimore QB
Joe Flacco
had drives of 75, 73, 33 and 41 yards in the fourth quarter against the Vikings' secondary.
4. A call to AFC arms:
The AFC's top quarterbacks still have an edge on the NFC's. The AFC went 6-2 against the NFC Sunday, thanks mostly to the quarterbacks. Sure, some of the games were easy, but the AFC's elite signal-callers impressed nonetheless.
Tom Brady
threw for 308 yards and three touchdowns in a 35-7 victory over the
Tampa Bay Buccaneers
in London.
Peyton Manning
was 23-of-34 for 235 yards and three touchdowns in a 42-6 blowout of a bad
St. Louis Rams
team.
Philip Rivers
had three touchdowns and completed 18 of 30 passes for 268 yards in the Chargers' 37-7 dismantling of the
Kansas City Chiefs
.
Matt Schaub
was 20-of-30 for 264 yards and two touchdowns in the Texans' victory over the 49ers. Roethisberger didn't win the statistical battle, but he got the win over the Vikings.
Carson Palmer
of the Bengals was 20-of-24 with five touchdowns in a 45-10 blowout of the Bears. Quarterback play is the key in this league, and AFC quarterbacks are getting hot.
5. Wildcat not enough:
Once again, the Dolphins learned that the Wildcat may be productive, but it can't hide their biggest problem: quick-striking quarterbacks. Saints QB
Drew Brees
was able to rally from a 21-point deficit and beat the Dolphins 46-34. As the Dolphins found out when they lost to the Colts in Week 2, the Wildcat can only do so much. On Sunday, it wasn't able to wear down New Orleans' defense. Instead, the Saints only got stronger as the game went on, and Brees got hotter. Brees put up 22 points in the fourth quarter and 36 points in the second half. Good running teams don't let that happen. Brees, Rivers and Manning carved up Miami's defense. The Dolphins want to win games by running the ball and playing good defense. But their defense isn't doing its part, and the Wildcat's effectiveness is suffering as a result.
Clayton's short takes
By activating and starting
Michael Crabtree
, the 49ers caused an interesting shake-up at receiver.
Brandon Jones
, who signed a five-year, $16.5 million contract, was inactive for the fourth consecutive week.
Jason Hill
, once a promising third-round choice in 2007, was also inactive. Neither player has a reception this season. Crabtree was solid in his first start. He had five catches for 56 yards. … Colts safety
Bob Sanders
started against the Rams but didn't put up great numbers. He had one tackle in a 42-6 victory. … I'm not sure the
Tampa Bay Buccaneers
will win a game this season. After their Week 8 bye, the Bucs have five division games, trips to Miami and Seattle, and home games against the Packers and Jets. …
Miles Austin
is for real. The Cowboys' wide receiver, who had 250 receiving yards in Week 5, caught six passes for 171 and two touchdowns in Sunday's 37-21 victory over Atlanta.
Roy Williams
, who cost the Cowboys a ransom in draft choices, had one catch for 15 yards. … Once again, the Falcons couldn't get much going for halfback
Michael Turner
. He had 18 carries for 50 yards and is averaging only 3.4 yards a carry. … The season-ending ankle injury to Jets RB
Leon Washington
is another reminder of how cruel this game can be. Washington turned down $4 million-a-year contract extension in the offseason. He was hoping for much more. Now his season is over, and he's making only $535,000.
John Clayton's game balls

Palmer
•
Offense:
Bengals QB
Carson Palmer
executed six touchdown drives and one field goal drive in a 45-10 destruction of the
Chicago Bears
. His performance was flawless. He was 20-of-24 for 233 yards and five touchdowns. He connected with
Chad Ochocinco
for 10 completions, including two touchdowns, for 118 yards. His passing success opened up easy running lanes for
Cedric Benson
, the former Bear who had 189 yards on 37 carries.

Byrd
•
Defense:
Even though the Bills had plenty of depth at safety, they invested a second-round pick on
Jairus Byrd
of Oregon because he was considered a ball hawk. He had two interceptions in the Bills' 20-9 victory over the Panthers, and both came at key times. He set the tone of the game by intercepting
Jake Delhomme
with 5:16 to go in the first quarter. The interception set up a 7-yard touchdown run by
Marshawn Lynch
, giving the Bills a 7-2 lead. His third-quarter interception, which he returned 30 yards to the Panthers' 27-yard line, was the game-breaker. Six plays later,
Ryan Fitzpatrick
hit
Lee Evans
for a 2-yard touchdown to open a 14-2 lead.

Harvin
•
Special teams:
For the second consecutive week,
Percy Harvin
was playing with a shoulder injury. But Harvin is a gamer and a game-breaker. He returned five kickoffs for 167 yards and scored his second touchdown of the year on a return. His spectacular 88-yard kickoff return for a touchdown cut a 10-point Steelers lead to three. Even though the Vikings lost 27-17, Harvin gave them momentum heading into the fourth quarter. Harvin said there were two other returns in which he felt he was only one or two steps away from breaking a long touchdown. As
Brett Favre
said after the game, Harvin is a game-breaker and one of the most exciting young players in football.
Week 7 rundown
•
Houston 24, San Francisco 21
Alex Smith
's three TD passes in relief are one more than he threw over the past two seasons combined (he didn't play in 2008).
• Green Bay 31, Cleveland 3
Trap game for the Packers, who play host to Brett Favre and Minnesota in Week 8? Not quite. The Browns' offense simply isn't capable of competing against above-average teams.
• Indianapolis 42, St. Louis 6
A predictable result for teams going in opposite directions. The Colts have now won 15 straight regular-season games. The Rams are mired in a 17-game losing streak.
• San Diego 37, Kansas City 7
The most underrated WR in the league? Here's a vote for the Chargers' Vincent Jackson, who now has three 100-yard receiving games and has caught four passes or more in every game this season.
• Pittsburgh 27, Minnesota 17
Big plays in big games. That's becoming the trademark of the Steelers' defense.
• New England 35, Tampa Bay 7
The Bucs' ineptitude probably made some of the fans in London think they were witnessing a World League game.
• N.Y. Jets 38, Oakland 0
Has JaMarcus Russell hit rock bottom? Well, being benched for Bruce Gradkowski is never a good sign -- especially if you're a former No. 1 draft pick.
• Buffalo 20, Carolina 9
Are the Bills (two straight road wins) a playoff contender? Probably not, but they're definitely taking some heat off their head coach.
• Cincinnati 45, Chicago 10
The Bengals' offense has improved, but it's far from a juggernaut. What does that say about the Bears' once-mighty defense?
• Dallas 37, Atlanta 21
No fluke. Cowboys WR Miles Austin (6 catches, 171 yards, 2 TDs) backed up his scintillating Week 5 performance with another strong game.
• New Orleans 46, Miami 34
Still going strong at 32, Miami's Ricky Williams tied a career high with three rushing TDs, including a 68-yarder, the longest run of his career.
• Arizona 24, N.Y. Giants 17
The Cardinals improved to 3-0 away from the desert, matching their road win total from 2008.
MONDAY NIGHT FOOTBALL
•
Philadelphia at Washington (ESPN, 8:30 ET)
-- ESPN.com
Looking ahead
An early look at next weekend's biggest games:
• Denver (6-0) at Baltimore (3-3): Probably the toughest road test yet for Josh McDaniels and the unbeaten Broncos.
•
N.Y. Giants (5-2) at Philadelphia (3-2):
Can the Giants stop the bleeding? •
Minnesota (6-1) at Green Bay (4-2):
Brett Favre returns to Lambeau Field. Let the hype begin -- again. •
Week 8 schedule