Sunday Countdown online: Your weekly NFL guide
Weekly Picks

Ditka
Johnson
Carter
Jackson
Miami @ Carolina
Miami
Carolina
Miami
Carolina
Washington @ Dallas
Dallas
Washington
Dallas
Dallas
Cleveland @ Detroit
Detroit
Detroit
Detroit
Detroit

San Francisco @ Green Bay
Green Bay
Green Bay
Green Bay
Green Bay
Pittsburgh @ Kansas City
Pittsburgh
Pittsburgh
Pittsburgh
Pittsburgh
Atlanta @ NY Giants
Atlanta
NY Giants
NY Giants
Atlanta
New Orleans @ Tampa Bay
New Orleans
New Orleans
New Orleans
New Orleans
Buffalo @ Jacksonville
Jacksonville
Jacksonville
Jacksonville
Jacksonville
Indianapolis @ Baltimore
Indianapolis
Baltimore
Indianapolis
Indianapolis
Seattle @ Minnesota
Minnesota
Minnesota
Minnesota
Minnesota
Arizona @ St. Louis
Arizona
Arizona
Arizona
Arizona
NY Jets @ New England
New England
New England
New England
New England
Cincinnati @ Oakland
Cincinnati
Cincinnati
Cincinnati
Cincinnati
San Diego @ Denver
San Diego
San Diego
San Diego
San Diego
Philadelphia @ Chicago
Philadelphia
Chicago
Philadelphia
Chicago
Tennessee @ Houston
Houston
Houston
Houston
Houston

Week 11 Record
12-4
9-7
13-3
10-6
Overall Record
102-58
109-51
109-51
111-49
Mike & Mike's Stone Cold Lead Pipe Locks | More picks: Experts picks | SportsNation: Pick Week 11
Countdown Confidential
Ravens must slow Manning, Colts: Good news for the Baltimore Ravens, who face their personal nemesis, Peyton Manning, on Sunday. It looks like Pro Bowl defensive tackle Haloti Ngata, who has missed the last two games with an ankle injury, will play against Indianapolis.
But the bigger news is that the Ravens' best pass-rusher, Terrell Suggs, has been ruled out Sunday with a badly sprained right knee after getting hit on an illegal low block from Browns quarterback Brady Quinn on Monday night.
The league fined Quinn. But Ravens linebacker Ray Lewis, who blasted Quinn's "cheap shot," said "no dollar amount" is suitable reparation. Suggs will be missing Baltimore's biggest game of the year.
The Ravens -- who just cut their first-year kicker, Steve Hauschka, for failing to come through in the clutch -- have scored only 23 points in their past two games. Against the Browns on Monday night, Baltimore was shut out in the first half.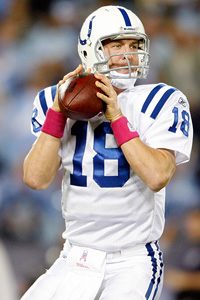 Andy Lyons/Getty Images
The Ravens will look to slow Peyton Manning and the Colts' No. 3-ranked offense.
Facing the Colts on Sunday, that's not a good trend. Believe it or not, the Colts' defense is ranked No. 1 in the league in points allowed (17.8 points a game) -- a perch normally reserved for the Ravens (19.3 points allowed per game).
What's more, the Colts' offense averages four touchdowns a game. And Manning has been surgically precise, so unforgiving against the Ravens. In short, he's owned them. The Ravens have lost six straight to Manning, who during that stretch has 11 touchdown passes and just three picks. In the last three games alone, the Colts have outscored the Ravens 99-29, with the Ravens failing to score a touchdown in two of the three losses.
And that was with Suggs, who leads the Ravens' D-linemen with 42 tackles. Without Suggs, this game comes down to Manning and Lewis trying to decipher each other's moves and codes.
"You know he's going to be pointing and giving fake messages," said Lewis. "We'll adjust. He'll change. We'll change. It's back and forth. Sometimes we'll smile at each other like two old soldiers playing a chess match."
-- Sal Paolantonio
Giants refreshed, ready for second-half push: Brandon Jacobs went to a boxing match. Justin Tuck went hunting. Eli Manning went to see his alma mater play. The Giants were told to clear their heads and rest their bodies during their bye week, and now that they're back on the field, they promise that taking time out for those extracurricular activities will indeed bear positive fruit when they resume their day jobs on Sunday.
"Sometimes you don't feel tired until you get away and realize that your body is tired, your mind is tired. So it was good for us for it to come at this time and get the break," Manning said.
Players say they've noticed a renewed sharpness in practice this week, and greater attention to detail overall. They've also noticed a more steely resolve, born in part from simple pride.
"The feeling this week is that we just have to win, period, doesn't matter if it's pretty or ugly or what, but it has to happen," defensive end Mathias Kiwanuka said. "This is ... a team that does not see itself missing the playoffs. We have to get back to winning, simple as that."
-- Rachel Nichols
Can Cincy handle being the favorite?: Wins over the Ravens and Steelers the last two weeks taught us a lot about the Cincinnati Bengals. The next three weeks will teach us even more. The 7-2 Bengals now play three straight games against Oakland, Cleveland and Detroit. Combined record: 4-23. The Bengals will be big favorites in each, which is exactly why some in Cincinnati are concerned. This season, the Bengals have been favored three times. They lost two of those games and squeaked out an overtime win over the Browns in the other. When Cincinnati is an underdog? A perfect 6-0. On Nov. 6, just before the back-to-back games against division rivals Baltimore and Pittsburgh, wide receiver Chad Ochocinco said, "I see this as a two-game season." Now that those two games have passed how will the Bengals respond? Focused or flat? "The last couple of weeks will be all for naught," head coach Marvin Lewis said, "if we don't take care of our business."
-- Bob Holtzman
Week 11: Numbers Crunching
Each week, Football Outsiders takes a look at every game with a mix of interesting numbers and in-depth statistical analysis. Football Outsiders stats explained here. (All times Eastern.)
Falcons at Giants, 1 p.m.
Here's another example of the strange results caused by Brandon Jacobs' decline this season: The Giants rank 23rd in DVOA on third-and-short (1-3 yards to go), but fourth on third-and-medium (4-6 yards to go) and first in the whole league on third-and-long (7+ yards to go).
Atlanta's defense is 22nd in DVOA in the NFL overall, but seventh in the red zone.
• More Falcons-Giants: Intel Report
Colts at Ravens, 1 p.m.
It is very difficult to run against the Ravens, who rank fifth in run defense DVOA and second in adjusted line yards against the run. However, if they do have a weak point, it is on runs up the middle. The Ravens rank 13th in ALY there, the only direction where they are not in the top seven. It just so happens that the strength of the Colts' running game is runs up the middle. They rank eighth in ALY up the middle, compared with 15th overall. To take advantage of this, Indianapolis will need to get away from its usual game plan. As we know, the Colts love the outside stretch play, not dives and isos up the middle. Only 29 percent of Colts runs are marked "guard" or "middle," last in the league. The NFL average is 51 percent.
Even considering that last week's classic with the Patriots was a home game, the Colts have played much more high-scoring games on the road this year. At home, the Colts rank 11th in offensive DVOA but second in defensive DVOA. On the road, the Colts rank first in offensive DVOA but 16th in defensive DVOA.
• More Colts-Ravens: Intel Report
Chargers at Broncos, 4:05 p.m.
Somebody needs to remind Josh McDaniels about the running game before Sunday afternoon. Last week against Washington, Denver ran only six times in the second half despite being stuck with a struggling backup quarterback. This week, running is even more important. The Broncos rank eighth in FO's adjusted line yards stat, and they are particularly strong up the middle (fifth). The Chargers are dead last in adjusted line yards and dead last stopping runs up the middle. Josh: You drafted Knowshon Moreno in the first round. This is why. Use him.
The matchup of Vincent Jackson against the Denver secondary will be interesting because of the Broncos' odd record against No. 1 receivers this year. Broncos opponents have thrown fewer than six passes per game to No. 1 receivers, the lowest figure in the league. With Champ Bailey on the field, that probably doesn't surprise you. However, when opponents do throw to their top receivers, they are actually very successful, averaging 9.4 yards per pass attempt (third in the NFL). In the first Chargers-Broncos game, Vincent Jackson caught 4 of 7 passes for 46 yards and a touchdown, and also drew a 34-yard pass interference penalty -- when he was being covered by Andre' Goodman, not Bailey.
• More Chargers-Broncos: Intel Report
Fantasy Corner
| | |
| --- | --- |
| | |
| | McCoy |
Week 11 pickups


LeSean McCoy, RB, Eagles (93 percent): On the off chance he's around, he's the guy you want. He's part of the best offense and I think Brian Westbrook is done.

Jamaal Charles, RB, Chiefs (36 percent): Thank goodness. Coach Haley messed me up with his whole Kolby Smith thing on Friday, but I'm glad Charles at least delivered on the promise I've been shouting about for a while now. Almost 120 yards on 22 touches, he scored and looked a lot better than the still-recovering Smith. While I do expect Kolby to take some touches away, the Chiefs have a decent upcoming schedule after this week's game versus Pittsburgh. At the Chargers and then three straight home games against the Broncos, Bills and Browns, all of whom you can run on and against whom the Chiefs will be without top receiver Dwayne Bowe. I bet even Todd Haley can figure out what the game plan should be for those games.

Justin Forsett, RB, Seahawks (1.5 percent): I am torn here. On one hand, I feel like a proud papa. An ESPN search of "Matthew Berry Justin Forsett" turns up nine different entries, including a link to my preseason Love/Hate update, where I mentioned Forsett as a guy who has impressed me in the preseason. I've mentioned him in this space before as well (the Week 3 pickups), and it was nice to see 149 total yards and a score after Jones went down. Of course, I was also a big Julius Jones supporter, and my preseason predictions on him are now looking moot. So I am torn about how to feel. But I will tell you two things: (1) After this week's game against the Vikings, I love Forsett's schedule (at Rams, 49ers, at Texans, Buccaneers, at Packers, Titans). With the exception of the Packers, all of them are in the top 15 of most fantasy points allowed to opposing running backs. And (2) I don't think it matters how healthy or not Julius is. Forsett is the best guy on that team and it's not close. He's not giving this gig up.
On This Week
What does an economics professor have to do with Bill Belichick going for it on fourth-and-2 at his own 28-yard line? Greg Garber examines other reasons behind Belichick's failed fourth-down call.

No position is more isolated on a football field than the cornerback. What is the key to surviving on what many call "The Island"? Keyshawn Johnson takes a visit.
Forget X's and O's, Colts head coach Jim Caldwell is using Chinese symbols as teaching tools for his team. Bob Holtzman reports on how the symbols have been metaphors for Indy's perfect season.

Why did NFL rushing TD leader Maurice Jones-Drew really take a knee at the 1-yard line last week? Kenny dug deeper to find the true story in this week's "Mayne Event."


Chris Mortensen and Adam Schefter team up on Sunday Headlines and report all the latest news from the stadiums, including "Who's In, Who's Out."


Follow all the happenings on Sunday Countdown on Twitter here.

Video
Chat Wrap
| | |
| --- | --- |
| | |
| | Brady Quinn |
Quaggs (Schaumburg, IL): So I'm not aware of any fines on Brady Quinn yet for the cheap shot on Terrell Suggs on MNF, Suggs is out for a few weeks and Quinn gets nothing? Whats up with that?
Mort: Those fines get sent to the player. The NFL does not announce these fines but they leak out and league will confirm only on Friday. I have a feeling we will hear something shortly about Quinn getting fined. The outrage is there. Quinn wasn't trying to hurt Suggs and he was very apologetic. He had a football reaction and it's clear he was aiming for Suggs' hips, upper thigh but he will have to pay the price for that, I'm sure.
Brad (NM): Mort, do you believe Buffalo will do a complete re-haul of their personnel department, or is Wilson more likely to bring in some coordinator without head coaching experience?
Mort: Wilson's history has never been to hire the "big-name" coach. Even when he and Bill Polian hired Marv Levy, there was a negative reaction, although Marv did have some prior head-coaching experience. For Wilson to really give Bills fans what they want, he would have to open up his wallet. That's not his history. The other thing is that it's well-known around league circles that there's way too much interference from Detroit (where Wilson resides along with other advisers). And many a coach and GM has had to spend Tuesdays -- a pivotal workday for the staff -- being subjected to a grinding telephone session.
| | |
| --- | --- |
| | |
| | Benson |
Ryan (Pittsburgh): Mort, how will Cedric Benson's injury affect him the rest of the season?
Mort:The Bengals don't anticipate the hip flexor strain being a lingering problem. That's the life of a back who has to pound it. Will he rest this Sunday vs. Raiders? They say he'll probably play. They know you can't take anything for granted (see Eagles at Oakland game).
T.J.'s Take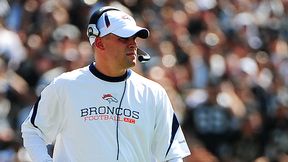 Broncos looking to end skid
Chargers at Broncos: The term "must win" is rather overused in the NFL but I do think that is what the Denver Broncos are facing this weekend against the San Diego Chargers.
After starting out 6-0, the Broncos have lost three straight. The problems are on both sides of the ball. The once-dominant defense has started to give up yards and points in bunches. When the Broncos started 6-0, they were allowing just over 10 points per game. But in their last three games, they have been giving up almost 30. And the offense has become mistake-prone and is having trouble getting into the end zone.
| | |
| --- | --- |
| | |
| | Orton |
Last year's collapse is in the back of everyone's mind and QB Kyle Orton's ankle injury doesn't help either.
For the Chargers, the story is the opposite. They have won four in a row, the offense has begun to click and the defense has found itself. Most important, LaDainian Tomlinson has become a force again in the running game.
Like most division games, there won't be a lot of surprise. Mindset and confidence will play a huge role. Still, it will take a great effort by the Broncos to win, even in their own stadium.
Complete Week 11 coverage