Commentary
Saints' ground game looms large
New Orleans is well-equipped to run, and that's exactly what it must do vs. 49ers
NEW ORLEANS -- Of all the impressive feats the New Orleans Saints produced in Saturday's 45-28 wild-card win over the Detroit Lions, the ones that will help them most going forward likely went unnoticed.
We all knew the Saints could throw the football better than any other team in the league, which they proved against the Lions. Now what they'll need against the San Francisco 49ers are the kinds of consistent runs they received from their ground game. With that, they stand a good chance of reaching the NFC title game. Without it, they'll be watching that contest back home.
It really will be that simple for the Saints. They set an NFL playoff record with 626 total yards in their win over Detroit, with 466 of those coming from the arm of quarterback Drew Brees. Those who caught the game should've realized that the efforts of the Saints' runners -- specifically Pierre Thomas, Darren Sproles and Chris Ivory -- also helped set the table for that barrage of points. It was their pounding and slashing that reminded a formidable Lions front four that it couldn't just focus on harassing the quarterback.
That trio helped the Saints gain 166 yards, average 4.6 yards a carry and set a tone that will have to be present in the Bay Area on Saturday. The 49ers earned the second seed in the NFC by being the antithesis of New Orleans. They were methodical on offense and brutally physical on defense. Their game plan this weekend won't be any different from the one that led to their 13-3 record. While the Saints will be looking to pass their way to victory, the 49ers will be looking to pummel their way to a win.
[+] Enlarge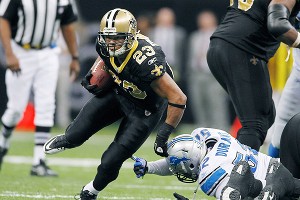 Derick E. Hingle/US PresswirePierre Thomas (66 yards) and others gave New Orleans a balanced rushing attack vs. Detroit.
When the Saints faced the Lions, they knew neutralizing the Detroit defensive line would be key to advancing. In meeting the 49ers, they're taking on a 3-4 scheme that boasts a Pro Bowl defensive end in Justin Smith and three exceptional linebackers, including five-time Pro Bowler Patrick Willis.
"You have to get there first," said Pro Bowl Saints guard Carl Nicks when asked about taking on the 49ers' front seven. "I know I'll be going against Justin Smith, and he's a big dude. [They also have] Patrick Willis and that rookie [outside linebacker Aldon Smith], who is just tearing things up. We're just going to have to do a lot of film study and try to find some weaknesses in their game to capitalize on."
It's not as if the Saints don't have the weapons or the will to get things done on the ground. They have three Pro Bowl offensive linemen (Nicks, guard Jahri Evans and left tackle Jermon Bushrod), three runners who gained more than 470 rushing yards this season and a rushing attack that ranked sixth in the league. Even with rookie Mark Ingram on injured reserve, they have the potential to stay versatile in the backfield. Thomas does the dirty work; Sproles does the dancing; and Ivory does a little bit of both when his number is called.
The question is whether the Saints will be committed enough to the ground game to get the win. Coach Sean Payton too often resembles a man who wants both to be victorious and to prove how much smarter he is than his opponent with his play calling. Such hubris is easy to come by when you have an offense that generated six games of 40 or more points this season. It will be a huge detriment when facing a team as rugged as the 49ers.
First-year 49ers coach Jim Harbaugh could care less about style points. He covets a cage match with whomever his team faces, and he and his team now have the motivational edge of being underdogs at home. The 49ers already have banged with hard-edged points such as the Pittsburgh Steelers, Baltimore Ravens and New York Giants. As the Saints have been thrashing teams with a style that seems lifted straight from the memory of an Xbox, the 49ers have been going old-school on opponents, hitting them with heavy formations and fullback leads.
The Saints also have to realize they won their only Super Bowl -- after the 2009 season -- for reasons beyond Brees and his receivers going off. Their backfield was dependable, as well, often setting up the same play-action opportunities New Orleans will need against the 49ers' aggressive defense.
"I think we have a real good backfield," Saints wide receiver Devery Henderson said. "The guys run the ball well. When we get the running game going, good things happen. I wouldn't say we're a finesse team. We can do it either way -- running the ball and going through key blocks or with the passing game."
Such comments sounded convincing in the wake of the Saints' win over Detroit. A raucous crowd was still departing the Superdome, and everybody was still marveling over how thoroughly New Orleans devastated the Lions in the second half of that contest. The reality is that there won't be a friendly environment in the Saints' next game and the turf in San Francisco is likely to be a lot less helpful than the fast track back in New Orleans. The Saints can say they've been here before, but they've also never won a postseason game away from home under Payton.
The 49ers will know this as well come Saturday, and the Saints would be wise not to assume San Francisco's nine-year playoff drought plays to their advantage. In a year when NFL quarterbacks have been more prolific than ever, the postseason will still come down to who's the toughest, physically and mentally. The Saints got just enough from their run game against Detroit to help their passing game do its thing. This time around, they'll need to do even more on the ground to be happy with the end result.
Senior writer Jeffri Chadiha covers the NFL for ESPN.com.
Jeffri Chadiha, formerly of Sports Illustrated, is a senior writer for ESPN.com. Chadiha first attended Wyoming on a full football scholarship before injuries led him to transfer to Michigan after two years. He received a Bachelor of Arts degree in communication from Michigan in 1993 before pursuing a career in journalism. Chadiha is also a frequent contributor to ESPN TV.
SPONSORED HEADLINES
MORE NFL HEADLINES
MOST SENT STORIES ON ESPN.COM
2011 NFL PLAYOFFS
CHAMPIONSHIP GAME PICKS
HOT READ: Hakeem Nicks and Victor Cruz
RAVENS AT PATRIOTS, Sun., 3 p.m. ET
GIANTS AT 49ERS, Sun., 6:30 p.m. ET
MORE NFL COVERAGE
NFL DRAFT