John Parry to referee Super Bowl
Updated:
February 1, 2012, 10:00 PM ET
Associated Press
INDIANAPOLIS -- John Parry is back at the Super Bowl, this time as the referee.
Super Bowl XLVI


Get all the news and commentary on the Patriots-Giants matchup on ESPN.com's Super Bowl Central.
• Clayton: 10 Super Bowl questions
• How To Stop: Brady

| Manning


• Playoff Centers: Patriots | Giants
• Blog network:
Patriots | AFC East | Giants | NFC East
A 12-year veteran official in his fifth season as a referee, Parry worked the 2007 championship game as a side judge. He was promoted to referee later that year.
Parry has officiated nine playoff games, including one conference championship. He refereed the Saints-49ers playoff game last month. Parry did not work any games involving the Giants or Patriots this season.
Joining him on Sunday's crew are umpire Carl Paganelli, head linesman Tom Stabile, line judge Gary Arthur, field judge Gary Cavaletto, side judge Laird Hayes, and back judge Tony Steratore.
The replay assistant is Larry Nemmers, a former NFL referee, and the video operator is Lou Nazzaro.
Overall, the crew has 94 years of NFL officiating experience and has worked 69 postseason games.
The highest-rated eligible officials at each position are selected to work the Super Bowl. They must have at least five years of NFL experience and previous playoff assignments.

Copyright 2012 by The Associated Press
SPONSORED HEADLINES
MORE NFL HEADLINES
MOST SENT STORIES ON ESPN.COM
SUPER BOWL XLVI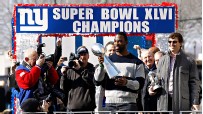 SUPER BOWL XLVI: Giants 21, Patriots 17
SPORTSNATION
PRO FOOTBALL HALL OF FAME
MORE NFL COVERAGE
NFL DRAFT