NBC, NFL apologize for obscene gesture
Updated:
February 6, 2012, 5:40 PM ET
ESPN.com news services
The NFL and a major television network are apologizing for another Super Bowl halftime show.
There was no wardrobe malfunction, nothing like that glimpse of Janet Jackson's nipple eight years ago that caused an uproar and a government scrutiny. Instead, it was an extended middle finger from British singer M.I.A. during Sunday night's performance of Madonna's new single, "Give Me All Your Luvin."
In front of some 114 million viewers, she flipped the bird and appeared to sing, "I don't give a (expletive)" at one point, though it was hard to hear her clearly.
The NFL and NBC wasted little time in responding.
"

The NFL hired the talent and produced the halftime show. Our system was late to obscure the inappropriate gesture and we apologize to our viewers.

"

-- NBC spokesman
on M.I.A.'s obscene gesture at halftime
"The obscene gesture in the performance was completely inappropriate, very disappointing and we apologize to our fans," said Brian McCarthy, spokesman for the NFL, which produced Madonna's halftime show.
The digital video recorder maker Tivo said there were no appreciable bumps in playbacks at the time of M.I.A.'s gesture, meaning many people either didn't see it or shrugged it off. Tivo has some 2 million customers in the U.S., said Tara Maitra, the company's senior vice president.
The risque moment came during the biggest TV event of the year. The screen briefly went blurred after M.I.A.'s gesture in what was a late attempt -- by less than a second -- to cut out the camera shot.
"The NFL hired the talent and produced the halftime show," NBC spokesman Christopher McCloskey said. "Our system was late to obscure the inappropriate gesture and we apologize to our viewers."
M.I.A.'s record label said Monday it had no comment and her Twitter account was silent since noting she was in Lucas Oil Stadium with Madonna. And the Material Girl had no immediate comment.
The Nielsen Co. said that 114 million people watched Madonna's halftime show, even more than the average of 111.3 million who watched the game. It was the most-watched halftime entertainment show ever.
Jackson's infamous oops during the 2004 halftime show raised a storm of controversy and put CBS in hot water with the Federal Communications Commission amid questions about the responsibility of TV networks to police their airwaves.
Justin Timberlake ripped off Jackson's bustier, exposing her breast for nine-sixteenths of a second, a moment for which CBS was fined $550,000 by the FCC. The network challenged the fine and last fall, a federal appeals court ruled against the FCC despite an order from the U.S. Supreme Court to review the case. The three-judge panel reviewed three decades of FCC rulings and concluded the agency was changing its policy, without warning, by fining CBS for fleeting nudity.
[+] Enlarge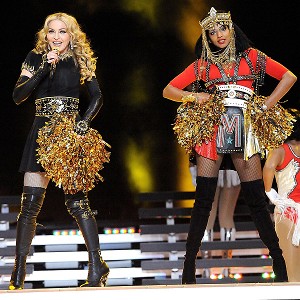 Jeff Kravitz/FilmMagicAn obscene gesture by guest singer M.I.A., right, came during a performance of Madonna's new single, "Give Me All Your Luvin."
This year's game, in which the New York Giants beat the New England Patriots 21-17, is expected to challenge last year's record of being the most-watched U.S. TV event ever.
M.I.A. is best known for her 2007 hit "Paper Planes," a Grammy nominee for record of the year that memorably features a sample of the Clash song, "Straight to Hell." It was featured on the soundtrack to the movie "Slumdog Millionaire."
After the incident, McCarthy said that M.I.A. had not done anything similar during rehearsals and the league had no reason to believe she would pull something like that during the actual show.
The NFL and NBC should take steps to hold people accountable for their actions, said Tim Winter, president of the Parents Television Council.
"Most families would agree that the middle finger aimed directly at them is not appropriate, especially during the most-watched television event of the year," Winter said.
Madonna had admittedly been nervous about her performance, hoping to position herself as the queen of a new generation of pop stars with an opulent show and a sharp performance that mixed her new release with more familiar songs. She seemed like Roman royalty when muscle-bound men carried her extravagant throne across the football field to the stage for her opening song, "Vogue."
Guests Cee Lo, Nicki Minaj and dance rockers LMFAO also appeared with Madonna. The singing and dancing on "Vogue" was smartly choreographed, as Madonna moved more deliberately -- she is 53 -- but still adroitly. She briefly appeared to stumble at one point while trying to make a step on the stage set, but recovered in time.
SportsNation: Madonna's Halftime?

How did Madonna's performance stack up against the post-Janet Jackson halftime shows? Was hers the best?
She let a tightrope walker make the more acrobatic moves during a performance of "Music."
Madonna carried gold pompons for a performance of her frothy new single. Twitter was alight with questions about the vocals being lip synched or augmented by tapes, particularly during this song.
The best guest was clearly Cee Lo, who joined Madonna for the final song, "Like a Prayer." They were joined by a robed chorus in the show's most soaring performance. With a puff of white smoke, Madonna disappeared down a trapdoor in the stage, and lights on the field spelled out "World Peace."
The performance was also carried live on SiriusXM Radio, giving Madonna the biggest single audience of her career. For all the elaborate choreography and flashy effects, the finger incident is the more likely headline from the event.
Earlier, Kelly Clarkson, Blake Shelton and Miranda Lambert offered some pregame patriotism. Shelton and Lambert did a twangy duet on "America the Beautiful" and Clarkson, in a simple black dress, sang "The Star Spangled Banner" without a hitch after last year's performer, Christina Aguilera, flubbed a line.
Information from The Associated Press was used in this report.
SUPER BOWL XLVI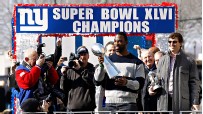 SUPER BOWL XLVI: Giants 21, Patriots 17
SPORTSNATION
PRO FOOTBALL HALL OF FAME
MORE NFL COVERAGE
NFL DRAFT


MOST SENT STORIES ON ESPN.COM