Commentary
Lords of the Rings: elite QB club
Will a new face join the ranks of signal-callers who have dominated Super Bowls?
Originally Published:
January 10, 2013
By
John Clayton
| ESPN.com
Since the 2003 season, six quarterbacks have dominated the Super Bowl.
Only Tom Brady, Peyton Manning, Eli Manning, Ben Roethlisberger, Aaron Rodgers and Drew Brees have won Super Bowls in the past nine years. They are the Lords of the Super Bowl rings.
Eli Manning, Roethlisberger and Brees didn't make the playoffs this season, but the three others did. Peyton Manning and Brady are favored in AFC divisional round games and appear to be destined to meet in the AFC title game. That leaves Rodgers to slug it out against San Francisco to see if this trend can stay alive in the NFC.
Matt Ryan hopes to qualify for this elite club, and he hopes playing at home will help. Though he's had home-field advantage before in the playoffs, Ryan has his best chance this season to be part of this group if he can convert those home games into victories.
Don't underestimate Rodgers. He is a master at winning road playoff games, as are the other members of this group of ring collectors.
Here are the 10 top trends in the divisional round:
Mike and Mike in the Morning
ESPN NFL Insider John Clayton covers the injuries to Robert Griffin III and Justin Smith, the Jets' dismissal of Tony Sparano, the Bears' coaching candidates and more.
1. Setting the offensive agenda for the NFC: The NFC has assembled a more formidable group of quarterbacks than the AFC. It is one of the reasons NFC teams went 39-25 in interconference games. But playoffs usually set the trends for a conference. This weekend could determine whether the trend in this conference is to run or pass. Four of the top five teams for rushing percentage made the NFC playoffs -- Seattle, Washington, San Francisco and Minnesota. But the Green Bay Packers and Atlanta Falcons emphasize the pass. The Packers run only 40 percent of the time, and their top rusher is Alex Green, who led the team with 464 yards. New Falcons offensive coordinator Dirk Koetter allowed Ryan to shift to more passing than in past seasons. The Falcons went from running 42 percent of the time to 37 percent, and Michael Turner led the team with 800 rushing yards. For the past two seasons, critics thought Ryan was being held back from expanding his control of the offense. He is a master at running the no-huddle and getting rid of the ball quickly. The top three rushing teams relied on young, mobile quarterbacks who can use the pistol formation and read-option running plays. Will the injury to Robert Griffin III put a scare into teams using the read-option? Stopping that play has been difficult for defenses this season, but using it so much may have put Griffin at risk of injury. Now he's had two knee reconstructions in four years.
2. Home advantage during the divisional round: From 2005 through 2011, No. 1 seeds were 6-8 in the divisional round after being 25-5 in the 15 seasons prior. This season might be different for home teams -- at least in the AFC. Peyton Manning and Tom Brady have the top two seeds and are favored to win. The NFC might be different. Ryan is under more pressure than any other quarterback in the playoffs to win. He is 0-3 as a playoff quarterback, with one of those losses coming at home. The 49ers will be challenged by Aaron Rodgers and the Packers. Last year, the 49ers had the No. 2 seed. With Alex Smith at quarterback, they beat the New Orleans Saints, 36-32. Jim Harbaugh switched off to Colin Kaepernick, who in his first playoff game might have to try to outduel Rodgers. Last year, Rodgers lost in the divisional round at home to the Giants after a 15-1 season. He is on a mission to get back to the Super Bowl.
[+] Enlarge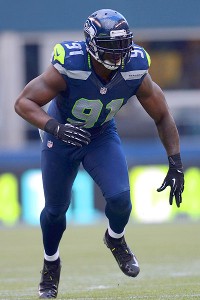 AP Photos/David DrapkinThe Seahawks will play without Chris Clemons. Will that leave them vulnerable to the run?
3. What's the endgame for the Seahawks and 49ers? San Francisco defensive end Justin Smith is going to try to play Saturday despite a partially torn triceps. No one expects him to be on the field for the entire game, and he won't be 100 percent. Without him, the 49ers have been giving up more than 90 yards of offense per quarter. Baltimore's Ray Lewis has made an amazing recovery from a torn triceps, but Smith can't be expected to have the same type of game as Lewis did last week. For one thing, Lewis missed nearly three months of action before returning in last week's win over the Colts. Smith is returning less than a month after being injured in a win at New England. Also, Smith's game is using his strength at the line of scrimmage. He can engage and overpower a block when he's healthy. His strength matches up well with the quickness of Aldon Smith. Justin Smith can take care of his blocker and allow Aldon Smith to angle around him and get sacks. It shouldn't be a surprise that Aldon Smith hasn't had a sack since Justin Smith has been out. The Seahawks have their own problems at defensive end, and they couldn't come at a worse time. Defensive end Chris Clemons, who can be counted on for 10-plus sacks a season, blew out an ACL last week and is lost for the season. The Seahawks have rookie Bruce Irvin to fill in. He had eight sacks in the regular season -- leading all rookies -- but expect the Falcons to run at him at times. If he does get pressure on Ryan, the Falcons might double him.
4. Hole in the defense: Everyone knows defensive coordinator Wade Phillips has done an exceptional job turning around the Texans' defense. It's one of the reasons the team has risen to the top of the AFC South. But this season's defense has had trouble stopping top quarterbacks. Peyton Manning threw for 330 yards against Houston. Aaron Rodgers and the Packers put up 42 points and 338 passing yards. Matthew Stafford put up 441 yards and 31 points. On Sunday, the Texans take their second shot at Tom Brady and the New England Patriots. Brady beat Houston, 42-14, and had four touchdown passes in Week 14. Losing Brian Cushing, along with the other injuries at inside linebacker, has softened the middle of the defense. Hamstring and groin injuries to cornerback Johnathan Joseph also have affected the team.
5. The next Y.A. Tittle: To be compared to a great player such as Tittle normally isn't bad, but if Matt Ryan loses Sunday to Seattle, he would join Tittle in being the only quarterbacks in NFL history to lose their first four playoff games. The Falcons' playoff failures have been baffling. Mike Smith is a good coach, and the team is disciplined. Ryan runs an offense much the way Peyton Manning and Tom Brady do. But things have gone sour in the playoffs. During his career, Ryan has guided his offenses to an average of 24.9 points per game during the regular season, but the number drops to 15.7 in his three playoff games. Ryan and the coaching staff have waited an entire year to fix these problems, but they won't know until Sunday whether their efforts worked.
6. Improving on the road: For years, the Seattle Seahawks lost road games at an alarming rate. But thanks to a top defense and Russell Wilson at quarterback, they are conquering this demon. The Seahawks beat the Washington Redskins, 24-14, for their first road playoff win since December 1983 in Miami. As he was adjusting to the NFL, Wilson lost four of his first five regular-season road games and averaged 178 passing yards in those games. In his past four, including the playoffs, he is 3-1 and averages 227.2 yards a game. The extra challenge for the Seahawks on Sunday is drawing the 1 p.m. ET start. West Coast teams playing at the equivalent of 10 a.m. PT struggle, particularly at the beginning of the game.
7. Ultimate road warrior: Aaron Rodgers loves playing at Lambeau Field, but he is not intimidated by playing on the road. Eli Manning, at 5-1, is the NFL's most successful playoff quarterback on the road. But Rodgers is 3-1 and could tie that mark this season. Like Eli during his two Super Bowl runs, Rodgers is red-hot heading into the playoffs. He is simply good in road games, period. This season, he had 22 touchdown passes and only three interceptions on the road. Only Tom Brady in 2007 posted better numbers.
[+] Enlarge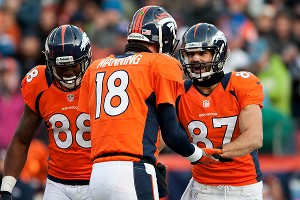 Dustin Bradford/Getty ImagesThe Broncos have outscored teams at an impressive clip during their current 11-game winning streak.
8. In Peyton's Place: The Broncos don't have the look of a team that would dominate a season in the pros like Alabama did at the collegiate level, but they have been impressive during their 11-game winning streak. Thanks to Peyton Manning, a good defense and the coaching of John Fox, the Broncos outscored opponents an average of 31.5 to 15.9 in those 11 games. They are only the third team in NFL history to win 11 straight games by at least seven points, according to Elias. Coming off four neck operations, Manning has continued to get stronger and better by the week. Beating Baltimore by 17 points on the road in Week 15 should give the Broncos even more confidence for this Saturday's home game.
9. Road problems: One of the reasons Cam Cameron lost his job as offensive coordinator in Baltimore was Joe Flacco's ineffectiveness on the road. The no-huddle hasn't worked as well in road games. Flacco has completed 62.2 percent of his passes at home this season, and 56.9 percent on the road. The drop is a result of his inability to get the ball downfield in road games. In home games, his average attempt is 8.35 yards. On the road, it goes down to 5.86. In eight road games, he had only 12 completions longer than 25 yards. Throwing deep is his specialty, though. Flacco has had trouble executing play-action passes the past couple of years. From 2008 to 2010, he used play-action on 31 percent of his passes -- the highest in the NFL, according to ESPN Stats & Information. The past two years, that number has dropped to 20 percent, which is toward the bottom of the league. When the play-action is working, Flacco is hard to beat.
10. It's all about Brady: Although the Patriots didn't earn home-field advantage throughout the playoffs, Brady seems destined to face Peyton Manning in the AFC title game. His game against the Houston Texans could be historic. This is his 23rd playoff game, and he is 16-6. Another victory puts him ahead of Joe Montana for the most playoff wins by a quarterback in NFL history. He already has the most playoff completions (499) and attempts (793). His 5,285 yards ranks fourth, and his 38 touchdowns are third. In the divisional round, he is at home, where he is even more dangerous. He has won 85 percent of the games he's played in Foxborough. The Texans will have a difficult time beating that.
NFL senior writer
Senior NFL writer and commentator
Joined ESPN in 1995
Member of the writers' wing of the Pro Football Hall of Fame in Canton, Ohio
SUPER BOWL XLVII COVERAGE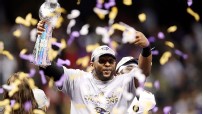 Follow the NFL on ESPN on Facebook
Road to Superdome | Super Bowl results NFL Stadium Guides | QBR ratings
Super Bowl Bowl topics
SUPER BOWL CENTRAL
RAVENS 34, 49ERS 31
SUPER BOWL WEEK HIGHLIGHTS
SPORTSNATION
2013 NFL DRAFT
EDITORS' PICKS
Clayton's mailbag: The "minimum spend" rule will make free agency interesting. Plus: AP's options and more.
Mailbag »

Kiper: This year's WR class includes three studs, nine potential first-rounders and plenty of potential.
Mel Kiper Jr.

Is Jameis Winston still the top pick? Here's how the combine impacted Todd McShay's first-round outlook.
Mock 3.0


MOST SENT STORIES ON ESPN.COM