Super Bowl picks: Our experts weigh in
Originally Published:
February 3, 2012
ESPN.com
INDIANAPOLIS -- Can Bill Belichick and Tom Brady lead the New England Patriots to their fourth Super Bowl title? Or will Eli Manning and the New York Giants pull off another upset of the Patriots and win their second ring in five seasons?
The oddsmakers made the Patriots slight favorites, but our experts are divided. The only thing we know for sure is that everyone has an opinion on the game.
John Clayton: Patriots, 24-20
It's hard to beat Tom Brady three times in a row at his game of comeback football in the fourth quarter. Although I worry about the Patriots' defense, I think Brady and Bill Belichick will find a way to squeak out a victory.
Dan Graziano: Giants, 31-24
The Giants weren't the best team in the NFL for most of this season, but they have been for the past six weeks. Eli Manning should torch an overmatched New England secondary. Frankly, the Giants' past two opponents were tougher than this one.
James Walker: Patriots, 27-24
I picked the Patriots in the preseason, so there's no point in backing out now. I doubt Tom Brady will have two bad games in a row, especially against an inconsistent Giants secondary.
Jeffri Chadiha: Giants, 28-24
New York has enough defense to control Tom Brady & Co. New England can't say the same when it comes to stopping the Giants' balanced offense.
Adam Schefter: Patriots, 27-16
The Giants are the better and more complete team. But they also have to figure out a way to beat Bill Belichick, Tom Brady and the memory of Myra Kraft.
Ian O'Connor: Giants, 34-24
Four years ago, the Giants' pass rush negated the talent difference between Tom Brady and Eli Manning. This time around, the pass rush is just as fierce, and there is no discernible talent difference between Brady and Manning. No David Tyree required in the rematch.
Mike Reiss: Patriots, 30-20
This reminds me of the Nov. 13 game at the Jets, a contest in which many predicted trouble for the Patriots but the team came through. I think the Pats will do it again. While there is respect for the Giants' pass rush, it's not like opponents have been completely shut down by the unit. I expect some points from a faster-paced attack, and that quarterback Tom Brady will play better and limit mistakes. On the opposite side, the improved defense will limit the run and force Eli Manning into some long-yardage situations, and that's when the Patriots can dial up some pressure. Promises to be a good one.
Jamison Hensley: Patriots, 31-20
Tom Brady didn't play well in the AFC Championship Game, and he remembers losing to the Giants in the Super Bowl four years ago. A motivated Brady is a dangerous one. He will prove that you don't need a defense to win a ring.
Mike Sando: Patriots, 27-23
I'll stick with my preseason prediction/guess, so New England it is. But all the pressure is on the Patriots, same as four years ago.
Matt Williamson: Giants, 28-24
Bill Belichick and Tom Brady are difficult to pick against, but I don't see this as a very good matchup for New England. Expect several big plays from the Giants' wide receivers. I also think New York will pressure Brady well enough with only four pass-rushers, and its safeties and linebackers can do enough to slow down the Patriots' middle-of-the-field passing attack, especially if Rob Gronkowski isn't healthy.
More expert picks
ESPN.com writers
| Name | Score | Why? |
| --- | --- | --- |
| Bill Barnwell | Patriots, 27-23 | The first game between these teams came down to the Giants' taking advantage of Patriots backups on a crucial final drive, thanks to injuries. The Patriots' defense isn't healthy, but it should be healthy enough to hold off the G-Men this time around in yet another close Giants-Pats game. |
| Rich Cimini | Giants, 31-27 | The Giants are more balanced on both sides of the ball. Eli Manning should pick apart the Patriots' patchwork secondary, but don't be surprised if the running game -- Ahmad Bradshaw and Brandon Jacobs -- emerges as the story. |
| Gregg Easterbrook | Giants, 2-0 | Confusion about the new playoff overtime format reigns when the Giants onside kick to start overtime and the Patriots recover but run the wrong way. |
| Kate Fagan | Giants, 31-27 | The Giants are a runaway train. They seem to have convinced themselves that this Sunday will be a repeat performance of Super Bowl XLII, and the Patriots' defense isn't strong enough to stop that momentum. |
| David Fleming | Giants, 28-24 | Both quarterbacks will take a beating in this game, but while Eli Manning plays bigger and better in these situations, Tom Brady tends to shrink. |
| Chris Forsberg | Patriots, 17-14 | The Revenge Tour crescendos with Rob Gronkowski making a ridiculous TD grab that's one part David Tyree and another part Curt Schilling's bloody sock. No leaving the field early for Bill Belichick this time around. The only thing that'll tear him away from this celebration is submitting the paperwork to rename his boat VI Rings. |
| Ashley Fox | Giants, 27-24 | The Giants are on a Packers-esque roll, and the Patriots haven't lit the playoffs on fire. Eli Manning will torch the New England secondary to get his second ring in big brother's house. |
| D.J. Gallo | Patriots, 27-24 | The Patriots will get a measure of revenge for their loss in Super Bowl XLII. But "12-8" shirts mocking the Giants' defeat probably won't sell as well as those "18-1" shirts did. |
| Greg Garber | Giants, 16-13 | Revenge is swee -- oh, wait. The Giants' defense is marginally better than the Patriots'. |
| Paul Kuharsky | Giants, 27-23 | Hardly rocket science, but I envision the New York pass rush and the New England pass defense being the biggest factors in the game. Still, with Bill Belichick and Tom Brady cast as "underdogs," the Patriots are scary. |
| Jackie MacMullan | Patriots, 27-24 | Is there any doubt this game goes down to the final two minutes? |
| Elizabeth Merrill | Patriots, 21-20 | I've gone back and forth on this. I truly thought, two months ago, that the Giants would be the most dangerous team if they made the playoffs. But Tom Brady and Bill Belichick rarely lose these kind of games. |
| Rick Reilly | Giants, 25-24 | Sixty-five thousand people will learn to salsa at Lucas Oil Stadium. |
| Mike Rodak | Patriots, 27-24 | It's a back-and-forth contest that will yet again test the Patriots' mettle. Tom Brady will be hit and pressured, and probably will throw an interception or two. This game will be decided by the Patriots' defense and its ability to stop Eli Manning when it counts most. Some way, somehow -- just as this season has gone -- the Patriots will come out on top. |
| Kevin Seifert | Giants, 27-21 | The Giants' defensive line overpowered the Patriots four years ago and is in position to do the same Sunday. |
| Ross Tucker | Giants, 27-24 | The Giants' trio of wide receivers will be too much for the Patriots' defense to handle. The Rob Gronkowski injury will loom large for the Pats' offense, as their biggest weapon won't be nearly as effective as he normally is. |
| Seth Wickersham | Giants, 30-24 | Eli Manning is a safer bet in the playoffs than the post-2005 Tom Brady. Oh, and the Giants are a more well-rounded team. |
| Bill Williamson | Patriots, 27-17 | Eli Manning won't grab another Super Bowl ring on Tom Brady's watch. Brady will add to his legacy as one of the best Super Bowl performers of all time with a masterful performance against a strong defense. |
| Pat Yasinskas | Giants, 28-24 | Most people think Bill Belichick is the best coach in the world. I think Tom Coughlin is at least as good, and a victory against Belichick will open the way for Coughlin to get the recognition he deserves. |
| Ohm Youngmisuk | Giants, 31-27 | Eli Manning is a better QB than he was in SB XLII. He also has more dangerous receivers. The Patriots don't want to give Manning the ball for a last-minute drive again. Much of the attention has been on the Giants' pass rush, but the secondary and linebackers will come up big as they did against Green Bay. |
ESPN analysts
| Name | Score | Why? |
| --- | --- | --- |
| Chris Berman | Patriots, 27-23 | Much respect to the Giants, but I think Tom Brady is ready to top even himself. |
| Tedy Bruschi | Patriots, 27-24 | Stephen Gostkowski writes his name next to Adam Vinatieri in the book of Super Bowl heroes with a game-winning kick as time expires. |
| Michelle Beadle | Giants, 28-25 | The Giants will ride the momentum train and the backs of their defense -- and I don't like the Patriots. |
| Cris Carter | Giants, 28-24 | All I can say is "salsa." |
| Colin Cowherd | Patriots, 28-27 | The media coverage and the tenor of the Super Bowl has been overwhelmingly New York, and I sense an upset. |
| Trent Dilfer | Patriots, 28-27 | My brain tells me the matchups are in the Giants' favor, but my gut tells me the revenge factor wins out. |
| Mike Ditka | Giants, 24-17 | The Giants are better on both sides of the ball, and the Patriots are going to have a tough time scoring a lot of points against this defense. |
| Herm Edwards | Patriots, 31-27 | From what I've seen the past five weeks, the Giants are the best team going into this game, but it's going to boil down to red zone offense. I see Tom Brady throwing four touchdowns and Eli Manning throwing three. |
| Mike Golic | Giants, 24-20 | Right now the Giants are playing better than the Patriots, and I think they're a more balanced team. It could come down to who has the ball last, and if the Giants have the ball last, I have a lot of faith in Eli Manning to do what he did in Week 9 against the Patriots. |
| Mike Greenberg | Giants, 34-20 | I like the Giants in a big way -- a big way for Big Blue. They are the healthier team, and that's the most important factor. They're the hotter team, and, frankly, they're the better team. I like the Giants, and I don't think it's that close. |
| Jon Gruden | Patriots, 30-27 | I don't think you can get Tom Brady twice in the same game. |
| Tim Hasselbeck | Patriots, 27-24 | Even though I see this as a bad matchup for the Patriots, I believe their ability to control the tempo on offense will be the difference in the game and will prevent Tom Brady from getting hit too often. |
| Merril Hoge | Giants, 27-20 | The NFL is about matchups, and all the matchups are in the Giants' favor. They just need to execute. |
| Tom Jackson | Giants, 24-20 | All the emotional intangibles are in the Patriots' favor, but I believe the Giants are a better football team -- and a healthier team. |
| Ron Jaworski | Giants, 27-21 | Eli Manning is on a roll, and Hakeem Nicks will have a big game against the Patriots' makeshift secondary. |
| Suzy Kolber | Giants, 27-24 | Finally healthy, the Giants' D is the force they hoped it would be before the season started. Their pass rush can get Brady off his mark. Offensively, no QB has been more clutch this season than Eli Manning and he's complemented by two weapons that weren't available when they beat the Patriots in Week 9. |
| Steve Levy | Giants, 31-30 | Eli Manning is now just as cool as Tom Brady, although in a different way. |
| Kenny Mayne | Patriots, 31-30 | I take New England by one point because that's the minimum a team can win by and I see it as a pick 'em game. If Ed Hochuli can explain in 30 minutes or less how a team can win by less than a point, I will believe him and make that my prediction. |
| Eric Mangini | Patriots, 34-31 | The Giants have become the trendy pick and I understand why. Tom Brady, however, is going to have better answers to the problems New York can create and he will take advantage of the Giants' inconsistent disguise. Both teams will score a lot of points and it will probably come down to who has the ball last. |
| Chris Mortensen | Giants, 34-24 | Everybody wants to talk about the last time these two teams played in the Super Bowl. That's irrelevant. This time the Giants are just the better team. They have played a tougher schedule and are more battle-tested. |
| Sal Paolantonio | Patriots, 31-27 | We're in the middle of a trilogy. Super Bowl XLII was a new hope, and you can't have a "Return of the Jedi" without "The Empire Strikes Back." |
| Antonio Pierce | Giants, 29-27 | Eli Manning in the fourth quarter will do what he has done all year long -- throw a game-winning touchdown. |
| Jerry Rice | Giants, 28-21 | The Giants are too strong on defense with Justin Tuck, Jason Pierre-Paul and Osi Umenyiora, who hopefully shows up for the game. Also, the Patriots don't have the secondary to keep up. |
| Ryen Rusillo | Patriots, 24-20 | The Patriots will have a similar game plan to what they did against Baltimore to neutralize the Giants' front. |
| Mark Schlereth | Patriots, 27-24 | Everything points to the Giants but Bill Belichick will have a one-back plan that attacks the Giants' NASCAR front and keeps pressure off Brady. |
| Stuart Scott | Giants, 31-27 | I always expect greatness out of Tom Brady, but I just don't know how New England's secondary is going to contain Manningham, Cruz and Nicks. |
| Mike Tirico | Patriots, 28-22 | It's hard for me to think that Bill Belichick and Tom Brady will lose their second Super Bowl in five years to the Giants. |
| Scott Van Pelt | Patriots, 23-20 | The entire basis of this pick is Tom Brady, and that's ridiculous. |
| Trey Wingo | Patriots, 27-24 | Every matchup favors the Giants, so of course I'm going with the Patriots. |
| Damien Woody | Giants, 27-24 | The Giants have two things in their favor: a hot quarterback in Eli Manning who can expose a poor New England secondary, and a pass rush that can get after Tom Brady. |
Scouts Inc.
| Name | Score | Why? |
| --- | --- | --- |
| Gary Horton | Giants, 23-17 | The difference in this game is the evolving three-wide receiver package that we didn't see early on. The Giants can match the Patriots' offensive explosiveness, and they are playing at a higher level. |
| Doug Kretz | Giants, 24-21 | The Giants can be one of the most dominating run teams in the league, and with the issues New England's defense has had with tackling, I'd look for Ahmad Bradshaw and Brandon Jacobs to be difference- makers. Also, the Giants' pass-rush pressure package will make it difficult for Tom Brady to excel, especially if TE Rob Gronkowski is not totally healthy. |
| Ken Moll | Patriots, 30-28 | Both clubs have excellent QBs with several weapons who can move the chains. Both defenses have been much improved over the last half of the season, but it will be the red zone scoring defense that will determine the outcome. I give a slight edge to the Patriots in this phase and thus a close victory. |
ESPN.com NFL editors
| Name | Score | Why? |
| --- | --- | --- |
| John Banks | Giants, 30-24 | Expect TE Rob Gronkowski to play, but he'll be limited with a high ankle sprain, and so will the Patriots' offense. The Giants will shut down Aaron Hernandez, further limiting Tom Brady's options. This game will be close through three quarters, but New York will pull away late. MVP: Eli Manning. Does that cement his Hall of Fame status? That's a definite, ahh, maybe. |
| Larry Graham | Giants, 24-17 | A touchdown by the Giants' defense will be the difference. Plus, Tom Brady hasn't beaten an elite quarterback all season. |
| Alex Kimball | Giants, 31-23 | Who would have thought a team that was swept by the 5-11 Redskins and lost four in a row in the regular season would crush the 15-1 Packers at Lambeau in the playoffs? I haven't guessed correctly on the Giants once this season, but there's a first time for everything … right? |
| Rico Longoria | Giants, 35-31 | The Patriots will make their share of plays but the Giants' pass-rush pressure will eventually be too much for New England's offense, and New York's advantage at wide receiver will be the difference. |
| Rob Peterson | Giants, 33-30 | In the first OT game in Super Bowl history, the Patriots win the toss and drive for a field goal and a 30-27 lead. On their possession, the Giants gain 3 yards on an Ahmad Bradshaw dive. On second-and-7 from their 23, Eli Manning finds Victor Cruz on a drag route over the middle. He takes it 77 yards to give the Giants their second NFL title in five years. |
| Shawna Seed | Patriots, 27-24 | The Patriots won't be caught by surprise this time. |
| Patrick Stiegman | Patriots, 37-31 | You can't spell "elite" without Eli, nor can you spell "TCB" without TCB -- and Tom "Competitor" Brady will take care of business. Revenge for SB XLII? Check. Redeem un-Bradyesque AFC title game? Check. Restore rep as QB of the present, not ghost of Super Bowls past? Check. Seven years removed from his last NFL title, expect a Very Brady Sequel. |
| Scott Symmes | Patriots, 24-20 | Rob Gronkowski is banged up, and the Patriots' secondary is vulnerable. Still, my gut says Tom Brady & Co. will find a way -- how's that for hard-hitting analysis? |
SPONSORED HEADLINES
MORE NFL HEADLINES
MOST SENT STORIES ON ESPN.COM
SUPER BOWL XLVI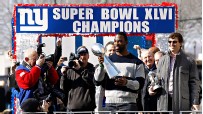 SUPER BOWL XLVI: Giants 21, Patriots 17
SPORTSNATION
PRO FOOTBALL HALL OF FAME
MORE NFL COVERAGE
NFL DRAFT