Commentary
Carryover rules impact cap strategy
Mailbag: Replay procedures, Tannehill's potential, fixing Oakland and more
Originally Published:
January 8, 2013
By
John Clayton
| ESPN.com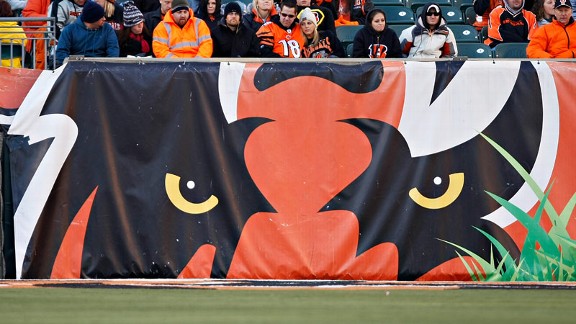 AP Photo/Scott BoehmWith the most cap space for 2013, the Bengals have their eyes on their money.
2013 Cap Space
| Team | Carryover | Total space |
| --- | --- | --- |
| Arizona | $3.6M | -$723,000 |
| Atlanta | $307,000 | $4.9M |
| Baltimore | $1.2M | $15.7M |
| Buffalo | $9.8M | $20.6M |
| Carolina | $3.6M | -$11.8M |
| Chicago | $3.2M | $13.3M |
| Cincinnati | $8.5M | $55.1M |
| Cleveland | $14.3M | $48.9M |
| Dallas | $2.3M | -$18.2M |
| Denver | $11.5M | $18.5M |
| Detroit | $486,000 | -$1.1M |
| Green Bay | $7M | $7.1M |
| Houston | $2.4M | $12.9M |
| Indianapolis | $3.5M | $46M |
| Jacksonville | $19.5M | $22.1M |
| Kansas City | $14M | $16.1M |
| Miami | $5.3M | $35.8M |
| Minnesota | $8M | $16.1M |
| New England | $5.6M | $18.6M |
| New Orleans | $2.7M | -$14.7M |
| NY Giants | $1M | -$4.7M |
| NY Jets | $3.4M | -$19.4M |
| Oakland | $4.5M | -$4.5M |
| Philadelphia | $23M | $5.2M |
| Pittsburgh | $758,000 | -$10.8M |
| San Diego | $995,000 | $8.7M |
| San Fran | $859,000 | $3.9M |
| Seattle | $13.2M | $18.6M |
| St. Louis | $247,000 | $1.8M |
| Tampa Bay | $8.5M | $31.3M |
| Tennessee | $12.8M | $19.4M |
| Washington | $4.2M | -$4M |
On the eve of the regular-season finale, teams couldn't afford to think exclusively about the game.
They had to think about next season. Under the rules of the new collective bargaining agreement, teams had to designate how much money they wanted to carry over to the 2013 salary cap. The carryover provisions are new and important.
With the cap growing at only $300,000 a year, teams have to budget their cap over a multi-year basis. Last year's cap was $120.6 million, so general managers have to be smart about their spending.
The "haves'' are in good shape. The "have nots'' have to be creative. Thanks to the carryover, there is $350.7 million of cap room in 2013, but $200.3 million of carryover is part of that.
Eight teams, though, account for 79 percent million of total room. The Cincinnati Bengals saved $8.5 million of cap room in 2012 and made the playoffs for the second consecutive year. They have $55.1 million of room. The Cleveland Browns saved $14.3 million of room in 2012 and now have $48.9 million. After being tight against the cap in 2012, the Indianapolis Colts now have $46 million of room.
The Miami Dolphins have $35.8 million, the Tampa Bay Buccaneers $31.3 million, the Jacksonville Jaguars $22.1 million, the Buffalo Bills $20.6 million and the Tennessee Titans $19.4 million.
On the negative side, the New York Jets are $19.4 million over the cap. The Dallas Cowboys are $18.2 million over, the New Orleans Saints $14.7 million over and the Carolina Panthers $11.8 million over.
From the inbox
Q: The amount of replays this year is absolutely killing the pace of games. More accurately, the downtime is killing the viewing experience. My question is, why do we need the referee to be the one to review everything? It takes so much time to announce the challenge, run to the booth, review the play, run back to the field and make the announcement. On the automatic TD reviews this year the NFL didn't feel the need to have this happen, so why on any replay? As a fan I'm totally OK with a booth official paging the ref and telling him what the call is.
[+] Enlarge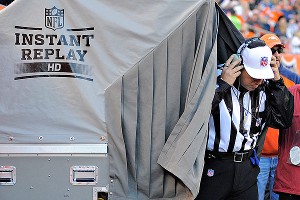 AP Photo/Jack DempseyAre games bogged down by on-field referees being involved in replay decisions?
Brian in Matthews, N.C.
A: I don't like the move to booth officiating, but you make a valid point. The increased number of automatic replays wasn't as bad as I thought it would be. The reason the league wants the referee to make the decision is that his crew makes the decisions on the field and doesn't want to constantly overrule them if the call is bad. But you can see the league moving to this type of officiating with the booth official doing more and more. I don't like it, but that seems to be where it is heading.
Q: I know you dislike the tuck rule. The NFL has decided that the forward motion is a pass, and if the QB loses the ball when bringing it into the body, it is an incomplete pass. I can kind of buy the fact that it is a continued motion and should not be a fumble. But why would that not be considered intentional grounding? They are calling it an incomplete pass, generally from inside the pocket, that is not going toward a receiver nor to the line of scrimmage. Making that call would seem to balance the rule where the defense isn't getting the sack or fumble, and the offense doesn't lose any yards.
Michael in Tacoma, Wash.
QUESTIONS, PLEASE
Do you have a query for John Clayton?
Click here to send a note to his mailbag.
A: It wouldn't be grounding because it wouldn't be an intentional throw from the pocket. On a tuck rule play, the defender is affecting the pass, causing it to come out of his hand. It's called intentional grounding. The defender is ruining the intentional part of the throwing motion, so a 15-yard penalty and a loss of down would be too punitive. I see your point, though.
Q: I'm a big Dolphins fan and I'm afraid they've ended with the short end of the stick again. Ryan Tannehill has the tools but I don't see him ever becoming better than Andrew Luck, RG III or even Russell Wilson. He just doesn't have that "it" factor. He rarely attacks the middle of the field and is completely ineffective when running play-action isn't going to be effective. I unfortunately see more early Mark Sanchez, in that respect, than Tom Brady. Is there a chance that he could blossom with time or should Dolphins fans not get their hopes too high?
Brett in Alexandria, Va.
A: Tannehill clearly isn't in the Luck-RG III level, so the Dolphins can't be criticized for not getting them. There was no way they would have been able to trade up to the top of the draft to get them. The argument then comes down to Tannehill versus Wilson. As they say, hindsight is 20-20, and Wilson clearly looks better than Tannehill. But think about the criticism Jeff Ireland would have taken had he brought in a 5-foot-10 quarterback. As it turns out, that would have been the better choice. I still like what I see with Tannehill.
SHORT TAKES
Mark in San Diego can't understand why Josh McDaniels, who initially turned down chances to be a head-coach candidate this year, is such hot candidate. Mark notes the Patriots' offense did well in the three years McDaniels was away. I would tend to agree, but he does bring a successful offensive package and has head-coaching experience. That sells in this crazy coaching market. … John in Calgary, Alberta, doesn't have a problem with the tuck rule. Last week, though, he thought officials missed the Andrew Luck tuck rule call. He thought it was a backward pass. I just have problems with tuck rule, period. Unfortunately, it won't change. … Kristoffer in Copenhagen, Denmark, asks if the NFL would ever consider implementing an NBA lottery system in the draft to prevent a team from deliberately losing toward the end of the season. No need. I don't see teams deliberately losing, because the coach that loses those games loses his job. … Rusty in Terre Haute, Ind., is starting to worry that Calvin Johnson could be the new Barry Sanders, a great player whose career doesn't include many postseason games. That could be the case. You hope that doesn't happen. What might prevent it is Matthew Stafford. Sanders never had a quarterback that talented. … Rick in Chicago was surprised the Bears picked Shea McClellin in the first round instead of an offensive lineman. He thought they should have considered Riley Reiff. Part of the thinking has to do with the value of a pass-rusher versus a blocker. Pass-rushers are hard to find after about 15 spots in the first round. Remember, the Bears have taken first-round tackles who haven't worked out. I don't think Reiff would have done enough to save Lovie Smith's job. … Martin in Woodland Park, N.J., admits he is a Tim Tebow fan and acknowledges Tebow's deficits. Because Tebow is left-handed, Martin suggests the team that goes with Michael Vick as the quarterback should go after Tebow as the backup to have two left-handed quarterbacks. Here's the problem: How certain are you Tebow would be a good backup quarterback? The Denver Broncos under John Elway and the Jets under Rex Ryan didn't think so. … Seth in Columbus, Ohio, understands the MVP debate between Peyton Manning and Adrian Peterson, but he can't understand why Aaron Rodgers isn't getting more consideration. Rodgers looks as though he finishes third in this battle. Manning improved the Broncos five games and made them the No. 1 seed in the AFC. Peterson carried the Vikings into the playoffs. Rodgers put up great numbers, but there was a four-game drop in the Packers' record. Still, he has a great chance of getting his second Super Bowl ring, and he might end up facing Manning.
Q: With all of the recent focus on trying to reduce concussions in the NFL, why is Roger Goodell proposing to eliminate kickoffs and replace them with a fourth-and-15 situation? In the current format with kickoffs from the 35-yard line, a high percentage of the kicks are resulting in a touchback (with a lower chance for high-impact hits).
Joe in Lakewood, Ohio
A: Goodell knows the kickoff return is one of the most dangerous plays in the game. I would agree that the numbers bear that out. I don't like the fourth-down idea. That seems too gimmicky. I think the league should keep the current rules. It's 50-50 whether there will be a return. The rule has cut down on 50 percent of the concussions and injuries. If the league is going to do something, it might just start drives after scores at the 25- or 30-yard line. I hope that doesn't happen.
Q: In your previous mailbag, there was a comment in regards to helmet safety and figuring out which is the safest. I figure you're familiar with the Virginia Tech helmet safety testing. I don't know what the NFL is doing internally, but this testing is peer-reviewed and self-funded. Would it be a decent idea for the NFL to contract out or subsidize this effort? At the very least, there should be a meeting of the helmets, as it were.
Benjamin in Atlanta, Ga.
A: The league and the players' association have contracted out safety testing. That process should escalate. Safety is a prime issue and both sides want the players to be safer. The key now is focusing on the solutions. It's one thing to study. It's another to implement the changes for the good.
Q: I am a die-hard Raiders fan. I know that there are many problems in Oakland, starting with ownership. I don't understand giving away years of draft picks for two quarterbacks (Palmer and Pryor), nor do I understand never playing Pryor to see if you actually have a future with him. Our coach last year had us at 8-8 and on the right path, but we are now 4-12 and our coach isn't on any kind of hot seat. What do we need to do to turn this mess of an organization around?
Gregory in Walden, N.Y.
A: Maybe Hue Jackson wasn't such a bad coach, huh? Because of cap issues, the Raiders were going to take a step backward, but they shouldn't have dropped this much. I don't have a problem having Terrelle Pryor play the season finale. At some point, they needed to get him on the field and see where he is. As you can see, he is not any option in 2013 as a potential starting quarterback. The Raiders have to rebuild, and it may take some time. I still see Carson Palmer as the starting quarterback, but the team needs to get more wins out of Palmer's 4,000 yards of passing.
Q: Quick Jets question. Obviously we're months away from the draft and have a vacant GM spot, but as a Jets fan, the draft is what we have to look forward to. I'm sure many fans are concerned with the lack of perceived offensive talent atop this year's draft class, so do you foresee the Jets trading down, going after Matt Barkley if he's there at No. 9 or grabbing the linebacker Rex Ryan most likely covets?
Dave in Stamford, Conn.
A: I think Ryan would prefer a veteran quarterback over a rookie. He needs to win as fast as possible. I think his order of acquisition would be Michael Vick and then Alex Smith. If they could find the cap room, I could see Ryan going after Vick at quarterback and Reggie Bush at running back. What I don't know is if they could pull it off being over the cap as bad as they are.
NFL senior writer
Senior NFL writer and commentator
Joined ESPN in 1995
Member of the writers' wing of the Pro Football Hall of Fame in Canton, Ohio
SUPER BOWL XLVII COVERAGE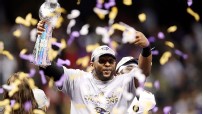 Follow the NFL on ESPN on Facebook
Road to Superdome | Super Bowl results NFL Stadium Guides | QBR ratings
Super Bowl Bowl topics
SUPER BOWL CENTRAL
RAVENS 34, 49ERS 31
SUPER BOWL WEEK HIGHLIGHTS
SPORTSNATION
2013 NFL DRAFT
EDITORS' PICKS
The commissioner provided contradiction and generalities in a Friday news conference.
Trotter »

An OTL investigation reveals a troubling pattern of behavior by the Ravens, NFL in Ray Rice scandal.
Story »

Week 3 game predictions from NFL Nation reporters.
Predictions »