Road-weary Saints tweak routine
METAIRIE, La. -- The New Orleans Saints weren't joking -- at least not totally -- when they talked about mixing things up this week as they try to snap a three-game losing skid on the road.
The Saints (11-5) opened their first practice of the week Wednesday with a tweak from the normal routine -- blasting some hip-hop music during the team stretch and individual drills. Coach Sean Payton said the idea was to bring, "just a little juice."
Saints Stumble On Road
The Saints' had the worst points per game differential between road and home games this season. The Saints, who were a perfect 8-0 at home in 2013 were just 3-5 away from the Superdome.
Worst PPG differential,
road and home in 2013
Team
PPG differential
Saints
-16.3
Bengals
-15.0
Cowboys
-10.6
Lions
-7.1
-- ESPN Stats & Information
And Payton and players once again had fun Wednesday describing the other off-the-field tweaks they have planned -- like changing the Gatorade flavors, the pregame meal and the travel sweat suits -- sometimes with a laugh and sometimes with a straight face.
Obviously there has been a coordinated effort all week to deflect the inevitable questions about the Saints' 3-5 record on the road this year and their 0-3 road playoff record in the Payton-Brees era. But from the sound of things, they plan on embracing some of these changes nonetheless as they head toward a Saturday night playoff opener at Philadelphia (10-6).
"All joking aside, we're certainly not sitting here overreacting," Brees said. "We understand our last three outings on the road have not been our best performances. And at times, you know what, you do have to kind of just change things up so that psychologically you say, 'Hey, it's gonna be different this time around.'
"The last couple outings have not been what we want. But we know that we're about to break the seal. And we have no other choice. Heck, this is the playoffs. It doesn't get any better than this."
The Saints' confidence on the road doesn't seem to have been shaken too badly by their recent ugly skid (a 34-7 loss at Seattle in Week 13, a 27-16 loss at St. Louis in Week 15 and a 17-13 loss at Carolina in Week 16).
As Brees pointed out, their long-term history on the road remains strong. Their 23-17 regular-season record on the road since 2009 is the second best in the NFL.
And he said the Saints' fate will be decided by things like their preparation during the week and their execution on the field. As safety Malcolm Jenkins said earlier this year, it's not some sort of "voodoo."
Although the Saints are embracing some of these ancillary changes, they're spending even more time working on the game plan that can change their fate.
"I think it's the playoffs," Payton said, when asked to offer some insight into his master plan for tackling the road woes. "I think the focus isn't so much on road and home. This is the path. In other words, this is the schedule. The big thing as a coach is just trying to cover every detail covering your opponent, trying to cover the specific situations that can come up in a game, making sure you're prepared that way."
In the meantime, the Saints will have a little fun, too.
Payton certainly seemed to get a kick out of the back-and-forth with the media on Wednesday, and several players were getting into the music during practice.
"I know the music had me a little more amped up than usual," outside linebacker Junior Galette said.
"Look, Coach is a good motivator," offensive tackle Zach Strief said. "To be perfectly honest with you, I think a lot of this stuff is as much for you guys [the media] as it is for us. ... At the same time, in Week 24 of the season, which is essentially where we're at, changing anything is good."
ESPN New Orleans Saints reporter
Covered Saints for eight years at New Orleans Times-Picayune
Previously covered LSU football, San Francisco 49ers
Iowa native and University of Iowa graduate
SPONSORED HEADLINES
MORE NFL HEADLINES
MOST SENT STORIES ON ESPN.COM
THE NFL ON ESPN.COM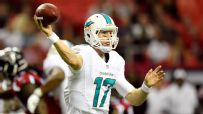 Ryan Tannehill is set up to flourish in Year 3. Who else is primed for a 2014 upswing?
EDITORS' PICKS
Mike Sando targets 50 players set to take the next level in '14.
Sando &nbsp

The Browns were smart to name Brian Hoyer their starter.
McManamon »

Two QBs and three WRs highlight Nos. 80-71 on offense in #NFLRank.
Story »