Commentary
NFC Playoffs Q&A: Experience counts
Watch out for battle-tested QBs in NFC; Crabtree makes 49ers more dangerous
Originally Published:
January 5, 2014
By
John Clayton
| ESPN.com
Playoff experience paid off in the wild-card round, and it might end up determining who wins the NFC Championship.
SUPER BOWL XLVIII
ESPN.com is your online source for the most comprehensive playoff coverage.
• 2013-14 playoff results | Lines
• Clayton: 10 questions, SB XLVIII
• Insider roster rankings: 1-106


• Vote: Who wins? | Rank players
• Super Bowl Central | Injury Wire
Features:
• Vince Lombardi's footprints on NY/NJ
• Salute to stars who missed Super Bowl
Colin Kaepernick is no longer the unproven quarterback from Nevada. Despite being only 26 years old and having only 27 career starts -- four in the playoffs -- Kaepernick is now a seasoned championship-caliber quarterback. He beat the Green Bay Packers 23-20 Sunday with his feet and his arm and could be heading to his second consecutive Super Bowl.
"Our guys have been down this road before," 49ers coach Jim Harbaugh said of a team that has been to two NFC title games and one Super Bowl.
Even though he hadn't won a playoff road game until this postseason, New Orleans Saints QB Drew Brees has 10 starts in the playoffs and a Super Bowl ring. His experience showed up Saturday in rebounding from a two-interception first half in a 26-24, come-from-behind victory over the Philadelphia Eagles and the inexperienced Nick Foles.
The NFC divisional round features two rematches. The Seahawks host a Saints team trying to make up for a 34-7 loss in Seattle on Dec. 2. That's the early game next Saturday (4:35 p.m. ET). At 1 p.m. ET next Sunday, the 49ers play at Carolina, which beat the 49ers at Candlestick 10-9 on Nov. 10.
Can Carolina's Cam Newton win his first playoff game against the seasoned Kaepernick? Seahawks QB Russell Wilson is seasoned well beyond his two years in the league, but can he get the best of the older Brees and get to the championship game?
These are changing times in the NFC. The more young quarterbacks such as Kaepernick, Wilson and maybe Newton win, the tougher it is for the veteran quarterbacks. Look at Aaron Rodgers of the Packers. He has been in nine playoff games, but he lost at home to the 49ers and the younger Kaepernick in a game in which he played well.
Here are the 10 biggest questions heading into the NFC divisional round.
1. Can the 49ers beat Carolina? Yes, largely because of Michael Crabtree. Crabtree was on injured reserve when the 49ers lost to the Panthers in Week 10. He has played only six games since his return from a torn Achilles tendon, but he's starting to get hot at the right time. Against the Packers, Crabtree caught eight of the 13 passes thrown his way and had 125 yards receiving.
Without Crabtree in the 10-9 loss in November, Kaepernick completed only seven passes to wide receivers for a mere 58 yards. Now, Crabtree can do that in a half, and, more important, his presence opens things up for Anquan Boldin and Vernon Davis.
Until Crabtree returned, Kaepernick struggled with the passing offense and critics wondered if he regressed as a quarterback. That wasn't the case. He needed Crabtree to make the passing offense complete. Since Crabtree's return, Kaepernick has completed 103 of 171 passes for 1,437 yards. The 49ers now have a legitimate passing attack to hurt the talented Panthers defense.
[+] Enlarge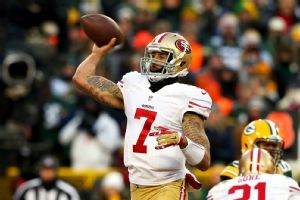 Ronald Martinez/Getty ImagesThe playoffs, and games against Green Bay, seem to bring out the best in Colin Kaepernick.
2. What makes Kaepernick unstoppable? Harbaugh explained it the best. "The unique part about him is how much ground he covers," Harbaugh said. "If it was 1 yard, it was 20. I've never seen this before."
Kaepernick rushed for 98 yards on seven carries Sunday, but it wasn't scheme that allowed him beat Green Bay. "There wasn't a whole lot called out there," Harbaugh said.
In last year's playoff win over Green Bay, Kaepernick beat the Packers by scheme. He burned the Packers' defense for more than 170 yards out of the read-option. On Sunday, Kaepernick simply outran the Packers' defense. If he saw tight coverage, Kaepernick grabbed the ball and beat the Packers to the outside for first downs. What might be a 4-yard gain for Foles or a 9-yard run for Rodgers is a 20-plus-yard gain for Kaepernick.
Not only is Kaepernick fast, but he's a long-strider who eats up more yards than any running quarterback in the league. Sunday only added to his legend. With temperatures in the single digits and wind chills in the minus range, Kaepernick came out without any sleeves and refused to wear gloves. He did make one mistake, though. When he got onto the field for the start of the second half, he had to call a timeout because he forget the plastic play card he uses once he gets the play calls from sidelines.
3. What's the best hope for Saints? The running game. In a rare move, Saints coach Sean Payton emphasized the run in Saturday night's victory over Philadelphia. Despite not having Pierre Thomas because of a chest injury, the Saints rushed for 185 yards on 36 carries. Normally, the Saints are so reliant on Drew Brees' passing success, all the pressure falls on the New Orleans quarterback.
The inconsistency running the football is one of the reasons the Saints' offense struggles on the road. In the Seahawks' 34-7 home win over New Orleans on Dec. 2, the Saints garnered only 44 rushing yards on 17 carries. For the Saints to have a chance, they need to establish some kind of a running attack for balance.
The surprise Saturday was how well Mark Ingram did for the Saints. After rushing for only 386 yards during the regular season, Ingram had 97 yards and a touchdown on 18 carries. According to ESPN Stats & Information, Ingram averaged 6.1 yards a carry on 12 runs to the right side. Of course, the Seahawks are strong stopping right-side runs because they have 323-pound defensive end Red Bryant playing on the left side. Although they struggled at times against the run, the Seahawks finished the regular season as a respectable run-stopping unit. They gave up only 101.6 yards a game and 3.9 yards a carry.
Game Balls
Offense: Andrew Luck led the second greatest comeback in NFL playoff history, overcoming a 28-point deficit in a 45-44 win over Kansas City. He completed 29 of 45 passes for 443 yards and four touchdowns.
Defense: Cameron Jordan had 1½ sacks, four tackles and two tackles for loss in the Saints' 26-24 Saints victory over the Eagles.
Special teams: Shayne Graham was 4-for-4 on field goals for the Saints. His 32-yarder in the closing seconds gave New Orleans its first road playoff win ever.
4. Should the Seahawks be concerned about their offense? Pete Carroll's offense didn't look playoff-caliber toward the end of the season. Wilson averaged only 171.3 passing yards in the final four regular-season games. He completed only 57.8 percent of his passes during that stretch, much lower than his season average of 63.1. He was sacked 14 times during those four games.
The Seahawks appeared to be running out of gas at the end of the regular season, but a bye week and Percy Harvin's possible return could re-energize the team's offense. Harvin, who re-injured his surgically repaired hip in a Nov. 17 game against Minnesota, returned to practice this past week. Harvin caught one pass and had a 58-yard kickoff return in that game, his only action of the year.
Although there might be temptation to have Harvin return a kick or two, Wilson could use Harvin's speed on offense. The presence of Harvin will force Saints defensive coordinator Rob Ryan to account for him in the defensive scheme. That could open up play-action opportunities for Doug Baldwin, Golden Tate and tight end Zach Miller.
5. Will this be a defining game for Brees? Brees relieved a lot of pressure by getting his first playoff road win, but he still needs to conquer the road demon in Seattle. Even in the Philadelphia victory, Brees made the mistakes that have cost him in previous losses. He had two first-half interceptions and the Saints had two false starts. The Saints' offense had 14 false starts and nine delay-of-game penalties during the regular season.
Those kinds of mistakes could doom the Saints in Seattle. There is no question the crowd noise in Seattle negatively affects Brees and the Saints' offense. The Saints lost a playoff game in Seattle to a 7-9 start-up Seahawks team after the 2010 season.
Things were worse in the Monday night loss in early December, when Brees threw for only 147 yards. The Seahawks have the best secondary in football. In the December game, Saints tight end Jimmy Graham was limited to three catches and 42 yards.
Plus, the secondary has improved in coverage since Byron Maxwell took over for the suspended Brandon Browner at cornerback. Although Browner is the best at jamming receivers at the line of scrimmage, Maxwell has more speed and coverage ability. If the Seahawks get a first-half interception and convert it into a touchdown drive, the Saints could be in trouble.
6. How aggressive will Ryan be? The Saints' D was effective Saturday by being conservative. New Orleans rushed a fifth defender only once. The safe defense limited the Eagles' offense to only 256 yards on 57 plays. A torn pectoral to outside linebacker Parys Haralson might force the Saints to remain basic. The Saints have lost three linebackers to season-ending injuries -- Will Smith, Jonathan Vilma and Victor Butler. The Saints were forced into making a trade with San Francisco for Haralson. The Saints are running out of linebackers.
Early in the season, Ryan was able to successfully work a three-safety defense featuring Kenny Vaccaro, but he broke an ankle in the Week 16 game against Carolina. Two of the team's top three cornerbacks -- Jabari Greer and Patrick Robinson -- are out for the season. Ryan has done an incredible job converting the Saints to a 3-4 defense after being fired in Dallas. At some point, the Saints have to reach a breaking point because of injuries.
[+] Enlarge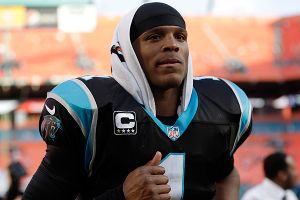 AP Photo/Alan DiazCam Newton's first playoff test will come against the red-hot 49ers.
7. Can the next two games be defining for Newton? Yes. Newton had a great season that slipped under the spotlight. Carolina offensive coordinator Mike Shula switched around the offense and allowed Newton to grow. Newton ran the ball well, but he wasn't restricted into running just the read-option. Instead of being a near-4,000-yard passer, Newton ran a more balanced attack. His leadership grew and he started to win the games in the fourth quarter that he lost during his first two seasons.
Newton is a much better closer now. But the playoffs can define a quarterback. Ask Andy Dalton. The Panthers went 12-4 behind Newton's play, but this is his first experience in the playoffs. It won't be easy. The 49ers' defense will give him a hard time. If he wins, he might have to travel to Seattle and see if he can win in a tough, noisy environment. If the Seahawks lose and the Panthers win, Newton would have to face the division rival Saints in Charlotte.
8. What's the most interesting sidebar to the Seahawks-Saints game? For the second time this season, the battle of the short quarterbacks will take place. Brees is 6 feet. Wilson is just less than 5-11. Wilson grew up watching Brees and trying to figure out what allowed him to be so good. On tape, Wilson watched how Brees made deeper drops behind center to see downfield better. Wilson copied that. He watched how Brees moved in the pocket to pick up throwing lanes.
At last season's Pro Bowl, Wilson spent plenty of time asking Brees questions about how he prepared for games. The teacher faces the student at an interesting time. If Wilson beats Brees, does that means he moves ahead of him in the hierarchy of quarterbacks? Wilson is winning the road games that have caused Brees to struggle.
Because the Seahawks run a power running offense, Wilson won't put up the gaudy passing numbers of Brees and may take years to reach the 4,000-yard-a-year level. Brees can throw for 5,000 yards in any given season. But the game is about winning, and if the Wilson gets the advantage Saturday, it creates an interesting debate about which quarterback is more valuable.
9. What is the injury situation? Haralson wasn't the Saints' only notable injury Saturday. Cornerback Keenan Lewis was not allowed to return to the field after suffering a concussion, but he has time to clear concussion protocol. If he can't play, the loss to the secondary would be huge.
The Seahawks won't have outside linebacker K.J. Wright, who is recovering from foot surgery. Wright might be available for the NFC title game. Harvin might be able to play despite his sore hip. On offense, there is a chance Seahawks tight end Luke Willson (high ankle) and wide receiver Jermaine Kearse (ankle) could be able to play.
The 49ers are in pretty good shape. Cornerback Carlos Rogers has a hamstring injury that kept him out of Sunday's game, but he has time for it to heal. Cornerback Eric Wright was bothered by a hamstring injury. Even though he played Sunday, the 49ers elected to use Perrish Cox more as the nickel corner even though he was just signed a few days before the game. Defensive tackle Demarcus Dobbs suffered a knee injury that kept him out most of the second half.
Panthers coach Ron Rivera is optimistic wide receiver Steve Smith can play despite a PCL knee injury. Rivera said Smith could be able to practice by mid-week.
10. Who will play in the NFC Championship Game? With the Seahawks having such a home-field advantage, they should advance to play San Francisco. The 49ers are red hot. Even though they lost earlier in the year to Carolina, they have a great chance of beating the Panthers next week. A Seattle-San Francisco championship should be a monster for ratings. It's the best rivalry in football.
NFL senior writer
Senior NFL writer and commentator
Joined ESPN in 1995
Member of the writers' wing of the Pro Football Hall of Fame in Canton, Ohio
SPONSORED HEADLINES
MORE NFL HEADLINES
MOST SENT STORIES ON ESPN.COM
THE NFL ON ESPN.COM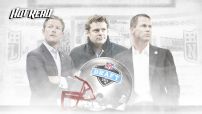 When general managers discuss their team's draft plans, don't expect honesty.
EDITORS' PICKS
Mel Kiper's new projection has a defender at No. 1.
Mock 3.0

Are the Patriots doing enough to win with Tom Brady?
Reiss »

The Bucs are making the right moves for a rapid rise.
Chadiha »