Commentary
NFC Playoffs Q&A: Seattle homing in
Top-seeded Seahawks looking to buck recent history; balance vital for both teams
Originally Published:
January 12, 2014
By
John Clayton
| ESPN.com
Minutes after the Seattle Seahawks lost a 30-28 decision to the Atlanta Falcons in last season's divisional playoffs, Seattle coach Pete Carroll walked into the locker room and made a statement.
"This is why we have to have home-field advantage," Carroll said.
SUPER BOWL XLVIII
ESPN.com is your online source for the most comprehensive playoff coverage.
• 2013-14 playoff results | Lines
• Clayton: 10 questions, SB XLVIII
• Insider roster rankings: 1-106


• Vote: Who wins? | Rank players
• Super Bowl Central | Injury Wire
Features:
• Vince Lombardi's footprints on NY/NJ
• Salute to stars who missed Super Bowl
The Seahawks earned just that with an impressive 13-3 regular season. Now they're set to host Sunday's NFC Championship Game against the San Francisco 49ers in a renewal of the NFL's top rivalry. The coaches don't like each other. The players detest one another. It's only fitting that these teams will meet with a trip to the Super Bowl hanging in the balance.
The Seahawks are trying to become the first NFC No. 1 seed since the 2009 New Orleans Saints to advance to the Super Bowl. Those Saints are the only NFC team since 2006 to convert a top seed into Super Bowl tickets. Like the AFC in the early 2000s, an influx of top quarterbacks changed the way the NFC playoffs unfold.
Eli Manning, Aaron Rodgers, Colin Kaepernick and Kurt Warner neutralized the value of home field by taking lower seeds to the Super Bowl. Their ability to take control of playoff games changed the formula of the NFC playoffs.
Since 2006, the '09 Saints, last season's Falcons and this year's Seahawks are the only top seeds even to make it to the NFC title game.
Carroll hopes home field can be the difference that gets the Seahawks to the Super Bowl.
Here are the 10 biggest questions heading into the NFC title game.
1. A break from high-flying passing games? Niners coach Jim Harbaugh and Carroll have re-established old-school football in what is a quarterback-driven, pass-happy league. The Seahawks ranked 26th in the NFL in passing yards with 202.3 yards per game. The 49ers ranked 30th with a 186.2-yard mark. If the 49ers advance, they will be in the Super Bowl with one of the weakest (statistically speaking) passing offenses in the Super Bowl era.
Neither coach cares. Harbaugh was able to get Kaepernick through 11 games without WR Michael Crabtree. Now, Crabtree is back and the 49ers can beat opponents through the air and on the ground. In the regular season, Kaepernick's average passing line was 15.18 completions in 26.0 attempts for 199.8 yards. Russell Wilson averaged 25.4 attempts with 16.06 completions for 209.8 yards. Both teams believe in balance.
[+] Enlarge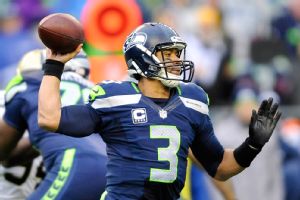 Steven Bisig/USA TODAY SportsRussell Wilson knows he needs to be more accurate than he was in the divisional round.
2. How concerned is Carroll about the Seahawks' offense? The Seahawks don't run a fantasy-style offense. The plan is to have a balanced attack that is designed to win big games.
Still, the Seahawks need more from their offense if they are to advance. Over the past five games, including Saturday's divisional round win over New Orleans, Wilson has thrown for more than 200 yards only once. Receivers aren't getting good separation; Wilson hasn't been as sharp on slant passes; and he didn't spot some open receivers against the Saints.
"That's something I can fix," Wilson said of the missed slant passes. "I'm not worried about it. I'm looking forward to it next week."
The reason the Seahawks aren't panicked is the style of their offense. Carroll wants a conservative offense that doesn't commit turnovers. He feels that the defense and running game can win as long as the offense doesn't make game-changing mistakes.
3. What's San Francisco's recent history at CenturyLink? The 49ers lost a Week 16 game last year (42-13) and lost in Week 2 this season (29-3). Kaepernick was 32-of-64 for 371 yards and 4 interceptions in those two games.
"We are a different team than the first time we met them up there," Kaepernick said of the Week 2 loss. The Niners are different. Crabtree was on injured reserve in Week 2.
But the Seahawks also are different. They didn't have their full complement of pass-rushers. Chris Clemons was inactive, recovering from ACL surgery, and outside linebacker Bruce Irvin was suspended. Starting cornerback Brandon Browner also was inactive.
Still, the 49ers come into this trip with great confidence. They have won eight in a row, including two road games in the playoffs.
4. What will the Seahawks do to contain Kaepernick? Kaepernick's running ability is among the scariest things in football, but the Seahawks know his tendencies. Kaepernick prefers running to his left. In his regular-season career, he has rushed for 539 yards along the left sideline compared with 274 to the right.
In the wild-card win over Green Bay, Kaepernick almost single-handedly beat the Packers by rushing to the left. First, the Packers' linebackers didn't have the speed to catch him. Second, the Packers didn't know his tendencies.
The Seahawks' defense has fast linebackers who will work with Seattle's strong secondary to minimize the damage Kaepernick can cause on the ground. Unlike last year, when the 49ers generously used the read-option for Kaepernick, Harbaugh has tried to use him more out of the pocket. If receivers are covered, Kaepernick will run -- mostly to his left.
Stopping Kaepernick in the passing game will be tougher, mainly because he has Crabtree. In Week 2, Kaepernick had only Kyle Williams and Marlon Moore to complement Anquan Boldin. Both are no longer with the team. The Seahawks used man coverage to limit Boldin to one catch for 7 yards. Vernon Davis had three catches for 20 yards.
Game Balls
Offense: LeGarrette Blount had 24 carries for 166 yards and four touchdowns in the Patriots' 43-22 victory over Indianapolis on Saturday night. He topped off the evening with a 73-yard touchdown run in the fourth quarter.
Defense: Ahmad Brooks had 2.5 sacks, 3 hits on quarterback Cam Newton, 1 tackle for a loss and 6 total tackles in the 49ers' 23-10 victory over Carolina on Sunday.
Special teams: Steven Hauschka made field goals of 38, 49 and 26 yards and wasn't influenced by rain and bad winds in the Seahawks' 23-15 victory over New Orleans. His opponent, Shayne Graham, missed kicks of 45 and 48 yards in the same conditions.
5. Will Harbaugh work an officiating angle for this game? No doubt. He always brings up complaints about how defensive backs get too aggressive with his pass-catchers. The Seahawks are the most aggressive defense in football. In Green Bay, Harbaugh complained about the Packers' defenders grabbing his receivers, forcing Kaepernick to run more than he wanted.
To Harbaugh's chagrin, officials have let the players play in the first eight playoff games. The Seahawks play an aggressive man-to-man defense that can draw flags, but, so far, referees have called interference only six times in the first two rounds of the playoffs. There have been only two illegal contact calls. But expect a few more flags because both teams will do a lot of extra things after plays. As mentioned, they don't like each other.
6. How important is Percy Harvin to the Seahawks' offense? It was apparent Saturday how much the Seahawks need him. Surprisingly, he is more valuable to the running game than to the passing game. Harvin opened a second-quarter scoring drive with a 9-yard gain on a fly sweep, a college play in which he runs from the slot, takes a reverse and runs to the right side.
On the next play, Saints linebackers started sensing that Harvin might get a sweep and cheated over to his side. Wilson handed off to Marshawn Lynch, who took advantage of a vacant gap and ran 15 yards for a touchdown to give the Seahawks a 13-0 lead.
The Saints felt that Harvin was important. Defenders hit him on most plays whether he touched the ball or not.
"His speed is unbelievable, you notice that," Wilson said. "They were trying to find ways to stop him, and they were struggling with that." Harvin lasted only 19 plays. He had that 9-yard run and 3 catches for 21 yards. After two concussion tests in the first half, doctors wouldn't let him return to the field.
7. Why is this a tough matchup for the Seahawks? The one style of offense that gives the Seahawks problems is a run-oriented attack that uses two- and three-TE sets. That's the 49ers' style. Passing teams struggle in CenturyLink.
On Saturday, Saints coach Sean Payton totally readjusted his offense to give the Seahawks' defense trouble, and it worked to a certain degree. Payton ran out of formations with extra blockers. The idea is to keep the game close until the fourth quarter. Although the Saints trailed 16-0 going into the fourth quarter, they got a touchdown and a two-point conversion to make it a one-possession game.
The 49ers use two- and three-TE formations with the idea of being physical and keeping the score low. Expect them to work most of the game out of those formations. In the regular season, the 49ers averaged only 12.8 plays a game out of three-receiver sets. They averaged 27.8 plays a game with two or more tight ends and 15.8 out of two-back sets. Potentially down two fullbacks with injuries, the 49ers probably will use more tight ends.
[+] Enlarge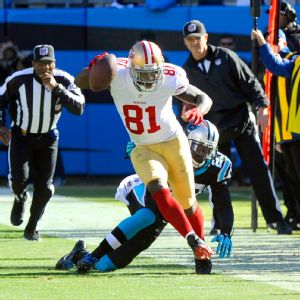 Sam Sharpe/USA TODAY SportsVeteran wideout Anquan Boldin is in the midst of another standout postseason.
8. Which wide receiver could be the key? Boldin might be the toughest matchup for Seattle. Crabtree and Davis might be more athletically talented than Boldin, who is a possession receiver who works well out of the slot. But the Seahawks have three Pro Bowl players in their secondary who could minimize Crabtree's and Davis' effectiveness.
Boldin has savvy, and he's hot. He caught eight passes for 136 yards in Sunday's win over the Carolina Panthers. He's also having fun. Kaepernick's postgame news conference Sunday featured Boldin asking the first question: "Colin, why didn't you throw the ball to Anquan earlier?"
The Boldin trade from Baltimore has worked out extremely well. Boldin caught 85 passes for 1,179 yards in the regular season. He has 11 catches for 174 yards in two playoff games on a team that ranked 30th in passing yards. Not bad.
9. What's the injury situation? Harvin's concussion is the situation to follow. His injury is too early to call. Carroll said last week that linebacker K.J. Wright might be available. He's coming off foot surgery, but Malcolm Smith has played well for him at outside linebacker. Backup defensive tackle Jordan Hill missed the Saints game with a groin injury. Other than Harvin, the Seahawks didn't suffer any injuries in Saturday's victory.
Niners cornerback Carlos Rogers hasn't practiced for two weeks because of a hamstring injury and has been inactive for two weeks. His replacement, Eric Wright, also has been slowed by a hamstring injury. He didn't play Sunday against the Panthers. The 49ers also could be down two fullbacks. Starting fullback Bruce Miller is on the injured reserve list. On Sunday, backup Will Tukuafu suffered a knee injury in the first quarter and didn't return.
10. Who will be in the Super Bowl? In what will clearly be a close, hard-fought game, the Seahawks will squeak out a victory and go to the Super Bowl. Crazy things happen at CenturyLink. There is no way the Seahawks will blow out San Francisco the way they did in the past two meetings in Seattle, but they will pull out the win with a big play in the final four minutes.
NFL senior writer
Senior NFL writer and commentator
Joined ESPN in 1995
Member of the writers' wing of the Pro Football Hall of Fame in Canton, Ohio
SPONSORED HEADLINES
MORE NFL HEADLINES
MOST SENT STORIES ON ESPN.COM
THE NFL ON ESPN.COM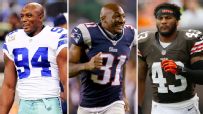 While others came up short, Denver's bold moves made it an early FA winner.
EDITORS' PICKS
Julius Peppers should give Packers' defense a boost.
Demovsky »

Shrewd roster moves helps Philly widen NFC East gap.
Ashley Fox »

Will Oakland find a QB match on the FA market?
Gutierrez »