Ex-agent: Ryan Leaf sabotaged draft
Updated:
January 21, 2014, 6:49 PM ET
ESPN.com new services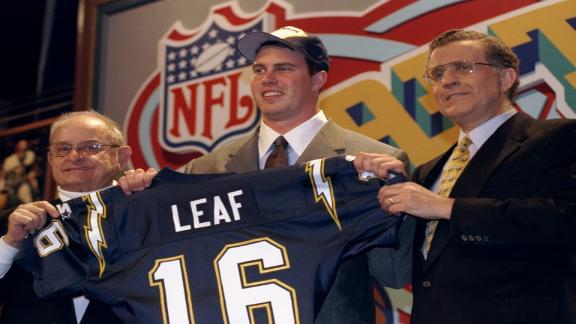 Ryan Leaf Sabotaged NFL Draft
Sports agent Leigh Steinberg discusses the frequency of draft manipulation and how Ryan Leaf skipped a meeting with former Colts coach Jim Mora to sabotage his chances of being taken No. 1 in the 1998 NFL draft.
Ryan Leaf Sabotaged NFL Draft
It's a plot twist the writers of "Jerry Maguire" missed.
But it undoubtedly won't be overlooked in the major motion picture that tells the story of Ryan Leaf.
Leigh Steinberg, the former superagent who inspired the Tom Cruise movie character but subsequently fell on hard times after battling alcoholism and bankruptcy, says in a book that Leaf skipped a meeting with former Indianapolis Colts coach Jim Mora to sabotage his chances of being chosen No. 1 in the 1998 NFL draft.
It worked.
Leaf, who Steinberg wrote didn't want to play in Indianapolis, fell to the San Diego Chargers with the No. 2 pick.
The Colts, of course, chose Peyton Manning.
"I told Ryan it would do no good to approach Colts GM Jim Irsay," Steinberg wrote, according to USA Today Sports, which obtained an advance copy of "The Agent: My 40-Year Career Making Deals and Changing the Game," which was released Tuesday. "Irsay saw the sport the same way he viewed his other passion, rock 'n' roll. Just as musicians tended to be a bit eccentric, so did football players, and that did not stop him from drafting Jeff George or trading for Eric Dickerson.
"'Leigh,' he used to say, 'it's about the freaking talent.' If someone is that gifted, in Irsay's opinion, you simply find a way to deal with his personality."
So Steinberg proposed an idea to Leaf that would change the course of NFL history: Leaf could alter the Colts coach's perception in such a way that the team would have no choice but to pass on him despite Irsay's potential persistence.
More From ESPN.com

A Colts-crazy Indianapolis? Not a chance if Ryan Leaf had been the No. 1 overall pick, writes Mike Wells. Blog
"'If you go to the combine,' I told Ryan, 'but fail to show up for a meeting with Mora, that should do it. Jim is a real prideful person who has a tendency to explode. I am not recommending you do this, but if you are desperate to go to San Diego, this is the way,'" Steinberg wrote.
Leaf sought the quarterback job in San Diego "because of the exceptional weather and the more laid-back lifestyle," Steinberg wrote.
"Ryan approved, but I first cleared the idea with Chargers general manager Bobby Beathard, lest San Diego also question my client's reliability," Steinberg wrote. "Beathard went along with the ruse. If he'd had a problem, Ryan would've shown up for his meeting with Mora."
While Steinberg has bounced back from his own fall from grace in recent years -- at least enough to author a book -- Leaf hasn't been as fortunate. The former Heisman Trophy finalist at Washington State who retired after four dismal seasons in the NFL is serving a five-year prison sentence in Montana stemming from burglary and drug possession charges and probation violations from 2010 charges in Texas.
"Once Ryan was a no-show, Mora, as anticipated, went ballistic," Steinberg wrote. "I defended my player, naturally, dismissing the coach's response as another Mora meltdown. As I'd anticipated, Ryan was criticized, but the plan achieved its purpose. The Colts took Manning.
"Something tells me the folks in Indianapolis have never regretted that decision."
For his part, Beathard disputes there were any questions surrounding who the Chargers preferred at No. 2.
[+] Enlarge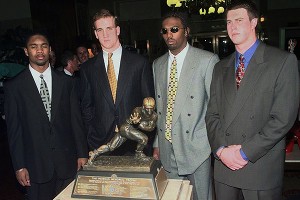 AP Photo/Adam NadelPeyton Manning went No. 1 in the '98 draft ahead of Ryan Leaf, far right. Neither won the 1997 Heisman Trophy, nor did Randy Moss, second from right. That honor went to Michigan's Charles Woodson, at left.
"We absolutely wanted to draft Peyton," Beathard said Tuesday in an interview on ESPN Radio's "Mike and Mike" show. "I knew Archie and Olivia [Manning], I knew the family. And that's who we wanted. I had seen both quarterbacks personally. I had some reservations about Ryan and there were a lot of rumors up in Pullman, Wash., about Ryan.
"The head coach did not level with me," Beathard said about Mike Price, then the coach at Washington State. "I knew the assistant coaches and the trainer, and they leveled with me that there were some problems with Ryan."
Former Colts president Bill Polian, now an NFL analyst for ESPN, also suggested Steinberg may have mischaracterized the scenarios that led to the top two picks in the 1998 draft.
"We had decided that we were going to start with a clean slate," Polian told ESPN Radio. "Nobody had any previous record. We were going to do it from scratch. Look at every film, go through every detail and make a decision without any previous bias."
Polian said he distinctly recalls Leaf had missed a predraft meeting that year but that his absence didn't necessarily factor into the Colts' decision to draft Manning.
"And I remember Leigh telling the press that we had blown it because we hadn't called him and given him the right time to come to the meeting. I knew that was false because I had made the call," Polian said, laughing. "So I'm glad after 16 years he's finally told the truth."
THE NFL ON ESPN.COM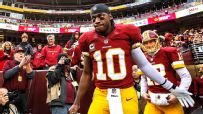 Skip Bayless examines why QB draft picks often fall short of experts' expectations.
EDITORS' PICKS
The Saints are positioned to land impact players early in the draft. Who else is in a favorable situation?
Barnwell »

Extra points will likely be different in 2015, but how? NFL Nation reporters dissect the proposed changes.
Roundtable »

Darrelle Revis is just what the Jets' D needed. Which other '15 acquisitions will pay immediate dividends?
Williamson
Nike Women's Home Game Jersey Denver Broncos Peyton Manning #18 Shop »

MOST SENT STORIES ON ESPN.COM