Prices plummet for SB tickets
Updated:
January 25, 2014, 1:15 PM ET
By
Darren Rovell
| ESPN.com
Two hungry fan bases and the wealth of the New York metropolitan area had some guessing that Super Bowl XLVIII would turn out to be the most expensive ticket in Super Bowl history.
However, judging from the reaction of the resale ticket market in the past 24 hours, it could turn out to be one of the least expensive.
On Friday, nine days before the Denver Broncos and Seattle Seahawks meet at MetLife Stadium, the cheapest ticket to buy for the Super Bowl was $1,779 on NFL Ticket Exchange, the league's official resale site. That's $409 cheaper than it was on the site with this many days left last year and $809 cheaper than the year before.
The Big Apple Super Bowl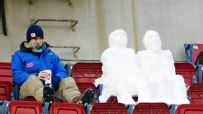 Super Bowl XLVIII is officially upon us. ESPNNewYork.com has all the latest news and views. SBNY Blog

Since the conference championship games ended, ticket prices have steadily plummeted. The get-in price on the NFL Ticket Exchange was $2,700 on Monday.
A sign of concern for brokers?
Julia Vander Ploeg, general manager of Ticketmaster's resale business, which runs the NFL Ticket Exchange, said the number of tickets on the market has increased by 10 percent in the past 48 hours. And that's before the NFL has even given the physical tickets to the majority of people the league is taking care of.
"What we have now is like a panicked stock market," said James Kimmel, owner of Epic Seats, a ticket brokerage in Seattle. "The buyers have frozen, and the sellers are panicking."
On Friday, Kimmel said he got an offer to buy a man's tickets for face value, something he said he never expected to hear.
Weather is definitely a factor, even though the forecast is far from definitive. AccuWeather's website, WillItSnow.com, which seeks to predict the weather for the big game, has the temperature in the 20s and 30s for East Rutherford, N.J., on Feb. 2, with snow showers possible.
"The cold weather is certainly an issue," Kimmel said. "For the prices people are paying, they want to be comfortable in their seats. Even if it's not a blizzard, sitting outside in very cold weather is a deterrent."
Distance is also an issue. It might be the 48th Super Bowl game, but it's only the fifth time the two teams have had to travel more than 4,000 miles combined to get to their Super Bowl destination.
"A game that is within driving distance for a fan of that team is going to hold up a lot more," Kimmel said. "People can wait until the last second."
Ram Silverman, who works for Golden Tickets in Plano, Texas, says many people were dissuaded by the original prices quoted before the teams were set.
"Everyone said a ticket was going to cost $3,000 each," Silverman said. "But that was just to protect the brokers in case the relatively local teams like the Giants, Jets, Steelers, Eagles, Redskins or Patriots made it."
So, how cheap could Super Bowl XLVIII tickets get?
It likely will come down to the weather forecast heading into next weekend. Brokers say it's possible, should the forecast get better, that the big money from New Yorkers that is currently sitting on the sideline will be taken out of wallets and put into the game.
"The price has to get down to that point where people will say, 'I'm going even if my team isn't in it,'" Silverman said. "There are millions of people in the tri-state area who have the money to do it, and some of them are going to say, 'I just don't care about the weather for that price.'"
For its part, the league is not concerned.
NFL spokesman Brian McCarthy said that the league is experiencing record interest from fans, sponsors and media asking for more tickets to attend the game and that it doesn't expect that seats will be empty come kickoff.
Guaranteeing a warm and dry place to stay has been profitable to the league and the local Super Bowl host committee. Packages that included suites were sold for north of $1 million, and the league sold suites for between $400,000 and $500,000, according to Brian Lafemina, the league's senior vice president of club business development.
ESPN.com Sports Business reporter
ESPN.com's sports business reporter since 2012; previously at ESPN from 2000-06
Appears on SportsCenter, ESPN Radio, ESPN.com and with ABC News
Formerly worked as analyst at CNBC
SPONSORED HEADLINES
MORE NFL HEADLINES
MOST SENT STORIES ON ESPN.COM
THE NFL ON ESPN.COM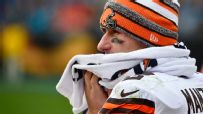 Interviews with Browns sources revealed that Johnny Manziel was a turbulent presence in '14.
EDITORS' PICKS
Ian O'Connor: Robert Kraft's defense of the Pats while the NFL continues its Deflategate probe puts his legacy at risk.
O'Connor »

How many players away is your team from competing for the Super Bowl? Our analytics have the answer.
Missing Pieces »

A master at tuning out noise, Bill Belichick will likely use the deflation controversy to fuel his players' fire.
MacMullan »
ESPN FAN SHOP