Russell Wilson is Houdini of QBs
Elusive Seahawk dazzles teammates, baffles opponents with ability to escape
Originally Published:
January 28, 2014
By
Greg Garber
| ESPN.com
RENTON, Wash. – Nearly a decade ago, in the damp July heat at Southeastern Louisiana University, a sophomore from Collegiate School in Virginia learned the essence of quarterbacking from the master.
Russell Wilson was one of the dozen or so best-and-brightest athletes chosen to work closely with the Indianapolis Colts' Peyton Manning.
Scramble On
Most passes thrown from outside the pocket over the past two seasons (including playoffs):
Rk.
Quarterback
No.
1.
Russell Wilson
223
2.
Colin Kaepernick
152
3.
Joe Flacco
146
4.
Aaron Rodgers
144
32.
Peyton Manning
52
Source: ESPN Stats & Info
"I liked him so much back then and still do, just the way he plays the game," Wilson said last week at the Seattle Seahawks' facility.
Ultimately, Wilson declined to emulate the precise way Manning plays the game. In fact, he went in the opposite direction. The Broncos' Manning set NFL records for regular-season touchdowns (55) and yards (5,477). Wilson's numbers (26 touchdowns, 3,357 yards) paled by comparison. Somehow, despite the dramatic stylistic differences, the two quarterbacks each managed to win 15 games and deliver their teams to Super Bowl XLVIII.
Manning is not giving you this: In the NFC Championship Game, on a second-and-7 play in the second quarter, Wilson made more than something from less than nothing. He rolled right and set his feet, but was pushed back by 49ers defensive tackle Glenn Dorsey. Wilson backpedaled, reset his feet, and, sensing a hurtling linebacker, stepped up and let the ball fly from 12 yards behind the line of scrimmage. Wide receiver Doug Baldwin, who had snuck behind safeties Eric Reid and Donte Whitner, caught a ball that traveled more than 60 yards and was tackled at the San Francisco 11. The Seahawks managed only a field goal after that 13-second play, their first score of the game, but it was a pivotal play.
[+] Enlarge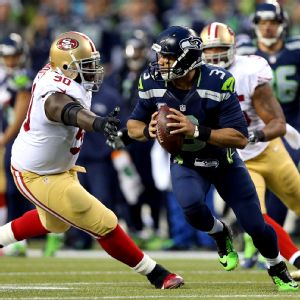 Christian Petersen/Getty ImagesRussell Wilson's elusiveness came in handy against the 49ers in the NFC Championship Game.
"He sat in the pocket for a while, had to escape and scanned the field," said wide receiver Golden Tate, who, like a number of his teammates, relished the opportunity to provide the play-by-play. "He threw a beautiful ball, and Douglas made a heck of a catch. Helped us win the game."
Tight end Zach Miller said he felt "like that play lasted about 20 seconds."
That is how Wilson does it. Manning is a creature of the comfort and safety of the pocket. Wilson, for some reason, thrives outside that sanctuary. Over the past two seasons, according to ESPN Stats & Information, Wilson has thrown a league-high 223 passes once beyond the pocket. You know who is last on that list: Manning, with 52.
Moreover, Wilson has completed a tidy 57.4 percent of those passes from that tenuous base of operations. The league average is 49.1 percent. Wilson led the league with 51 scrambles in the regular season. Manning's last official scramble was 14 months ago at Kansas City.
Wilson has that one thing Manning doesn't: escapability.
"He has that awareness that great players have," Seattle coach Pete Carroll said. "They don't have to see things happening; they can feel it. You couldn't do the things that he does without that great spatial awareness and athleticism and stuff that goes along with it."
Wilson's defensive teammates, who make a living containing quarterbacks, have a name for him.
Said defensive end Cliff Avril, "We're like, 'There goes Houdini again.'"
Fabulous feet and eyes
Erik Weisz was born in Budapest, Hungary, but his greatest feats of escape and astonishment came in, of all places, New York.
More On Russell Wilson
The Broncos had their eye on Russell Wilson going into the 2012 draft and aren't surprised by his early success. Legwold

• Blount: Wilson won't be overwhelmed
• Idol Brees provides Super Bowl advice
• Matchup to watch: Wilson vs. Manning
• Wilson's sister: Family psyched
• More Seahawks coverage
On April 18, 1916, the illusionist and escape artist known as Harry Houdini took off his jacket and allowed assistants to wrap him in a straitjacket. His feet were tied together, and he was hoisted by a crane used to help build the New York subway system. Suspended 100 feet above the streets of Manhattan, watched by thousands below, an upside-down Houdini wriggled and wrenched and somehow managed to free his arms. It all happened in less than three minutes.
This is kind of what Wilson does, except there are 11 guys trying to put him on the ground. He doesn't quite pull off the disappearing elephant -- something Houdini accomplished two years later at New York's Hippodrome Theatre. But Sunday, about 5 miles from Manhattan as the crow flies, Wilson will attempt to escape the Denver Broncos' defense.
Two weeks ago, ESPN's Chris Berman sat down with Wilson. Every time Berman brought up a specific, spectacular play from the past two seasons, Wilson uncannily broke it down from memory -- even to the identity of would-be tacklers.
"I remember these," he said. "I never forget plays."
[+] Enlarge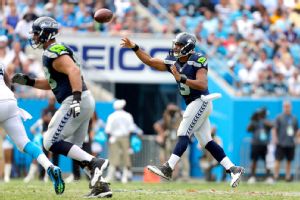 AP Photo/Bob LeveroneRussell Wilson doesn't need to set his feet to make strong, accurate throws.
Seattle strong safety Kam Chancellor appreciates Wilson's manic modus operandi more than most because he played quarterback back at Maury High School in Norfolk, Va.
"It makes it hard on [the] defense when you have a quarterback that can throw the ball, a guy that can run the ball," Chancellor said. "If he's about to get sacked, slip up on the sack and get a feel or throw the ball downfield. This keeps you off balance. But I think it fits perfectly into Russell's game."
Wilson's offensive teammates say this ability to extend plays is a product of nifty feet -- and peripheral vision under duress.
"Not so much his trying to take off running, but extending plays by looking downfield while he's creating space in the backfield for himself," Baldwin said. "What's more important and the underrated part of that is his ability to still look downfield."
Added Tate, "Sometimes the defense has a great coverage. Sometimes the offensive lineman lets a guy through. But he's always keeping his feet moving. He's just as dangerous on the run throwing the ball as he is in the pocket. So, it's almost like whenever he escapes a pocket, it turns into another play."
Tate and Baldwin made references to backyard football, but, truth be told, the Seahawks practice these scramble plays and have exacting protocols for receivers when Wilson breaks the pocket.
Catch Them If You Can
In his short stint in the NFL, Russell Wilson has displayed an uncanny ability for avoiding oncoming rushers. We take a look at some QBs past and present who share Wilson's knack for leaving defenders bewildered.
Archie Manning: Watching Archie Manning scramble, you'd think there's no way slow-footed Peyton and Eli are his offspring. But the elder Manning's game was ahead of its time as he unleashed his dual-threat abilities -- mostly out of necessity, thanks to a porous O-line.

Ben Roethlisberger: Looking to take down Big Ben, better bring a friend or two. Thanks to his burly 6-foot-5, 241-pound frame and his sharp pocket presence, Roethlisberger is one of the toughest QBs to sack.

Fran Tarkenton: Evading oncoming rushers and scrambling to deliver the ball downfield -- instead of bailing on the pass play -- are staples of Wilson's and Tarkenton's games.

Randall Cunningham: His ability to evade pressure and pick up large chunks of yards with his feet often overshadowed his throwing prowess, but Cunningham was equally lethal delivering from the pocket.

Steve Young: Those looking for evidence of Young's ability to make things happen with his feet need only watch a tape of the 1994 Super Bowl, when he rushed for a game-high 49 yards (9.8 YPC).

John Elway: The indelible image of Elway's body pinballing through the air toward the goal line in Super Bowl XXXII encapsulated the versatility he showcased throughout his Hall of Fame career.

Roger Staubach: Scrambling out of trouble was Roger the Dodger's calling card as he averaged 5.5 yards per carry and scored 20 rushing TDs in his Hall of Fame career.

Ken Stabler: Despite high interception numbers, the slithery lefty, appropriately dubbed "The Snake," flummoxed defenders with his scrambling ability as well as his accurate dimes down the field.

Doug Flutie: Come on, the Hail Mary that beat Miami alone should get him a spot on this list. Once Flutie actually got to the NFL, he continued to terrorize defenders with his mobility.

Michael Vick: In his prime, few defenses had an answer for fleet-footed, rocket-armed Vick. He's the NFL's leading career rusher from the QB position.

-- David Auguste
"We have some general rules when he escapes the pocket, depending on where you are on the field," Tate said, declining to be more specific. "But at the end of the day, it's just get open -- get open quick and try to make a big play."
Baldwin: "You never know where he's going. He'll scramble to the left and turn around and scramble to the right. And in all that time, you're trying to mirror him and trying to capture his eye so that he can see you downfield.
Miller: "You always have to keep trying to get open, never stop. Never let yourself get covered. Just keep working your scramble rules, find an open spot, because he'll get the ball to you if he can."
Beyond the pocket
It happened in Week 1 at the Carolina Panthers:
"He scrambles right, scrambles left," Baldwin said, "and then he just chucks the ball on the sideline and gave me an opportunity to get it. And that's the epitome of what Russell Wilson does when he's in those situations."
The Seahawks won 12-7.
Again in Week 3 against the Jacksonville Jaguars:
"He does this whole 360 spin," said Avril, laughing. "And he jumps, and then he throws it to the corner end zone and gets a touchdown. I was pretty impressed."
So was Wilson. It was the first play he offered up to Berman.
"Oh man," Wilson said. "We kind of faked it on the reverse, and the guy was right there. I kind of spun in place [and] continued outside. And we threw the touchdown to Zach Miller on the corner end zone.
"That was a good one, I thought."
The Seahawks won 45-17.
Week 9, versus Tampa Bay:
"I was able to get outside the pocket," Wilson said. "Kind of spun out in reverse field, and then hit Doug Baldwin. Great catch by Doug, getting both feet in. That was a pretty spectacular play."
Week 3, 2012, Wilson's third game:
"Big throw that we won a game with -- at Green Bay," Carroll said. "He floats out and throws the ball -- up for grabs. He knew exactly what he was doing. He threw that for Golden to have a shot at it. He gave us that opportunity.
Carroll, of course, was referring to the infamous Fail Mary play. Seattle won 14-12.
At Atlanta in the 2012 divisional playoffs:
"Third-down-and-7," Wilson said. "And they brought a blitz from the left side. They timed it up just perfect. I was able to spin out and break away. I believe [Sean] Witherspoon wanted to try and tackle me. I got away from him and ended up getting the ball to Marshawn Lynch. He got down to the 3-yard line. Next play, we scored, with 25 seconds left in the game.
"I thought that was the game winner."
But Atlanta completed two quick passes and kicked a 49-yard field goal to win 30-28 and advance to the NFC title game.
This year, however, the Seahawks have progressed to the season's final game. One of the reasons is Wilson's increasing willingness to operate beyond the pocket. Over the past six games, he has left the pocket on 35 percent of his dropbacks; the number over the first 12 games was 29.4.
"It's to die for," Carroll said two weeks ago before the NFC Championship Game, visualizing another breakdown play. "There's diving out and the toe tapping. Guys all over him -- how'd he ever pull that one off, you know?
"And he's going do something in this game, too. There'll be something that will happen."
And, of course, there was -- that unlikely launch down the field against the 49ers to Baldwin. Don't be surprised if, on Sunday at MetLife Stadium, that escapability is the difference between winning and losing.
Writer, Reporter
Greg Garber joined ESPN in 1991 and provides reports for NFL Countdown and SportsCenter. He is also a regular contributor to Outside the Lines and a senior writer for ESPN.com.
SPONSORED HEADLINES
MORE NFL HEADLINES
MOST SENT STORIES ON ESPN.COM
THE NFL ON ESPN.COM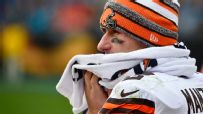 Interviews with Browns sources revealed that Johnny Manziel was a turbulent presence in '14.
EDITORS' PICKS
Russell Wilson's dominance vs. the NFL's lord of the rings negates his need to match their gaudy numbers.
O'Connor »

Marshawn Lynch's ultra-silent nature stems from a lack of trust that defined the star RB's formative years.
Chadiha »

How many players away is your team from competing for the Super Bowl? Our analytics have the answer.
Missing Pieces »
ESPN FAN SHOP