Commentary
Peyton Manning wins us over
How did a superstar 'robot' become Super Bowl XLVIII's sentimental favorite?
Originally Published:
January 31, 2014
By
Dan Graziano
| ESPN.com
JERSEY CITY, N.J. -- Has Peyton Manning really grown this much more likeable as he's grown older? Or is it only his public image that has changed? Manning suggested earlier in this Super Bowl week that time and family life have mellowed him, referring to his early-career self as a "robot" and the current version as "maybe a little more human." He could be telling the honest truth, or he could be telling us what he wants us to hear.
Either way, the effect is the same: The late-career softening of Manning's image has turned a player who used to be a blue blood superstar into a player for whom America is rooting in the Super Bowl on Sunday. Not exactly the way we root for underdogs, because Manning is the furthest thing from an underdog. But there does seem to be a sentimental sports-fan idea out there (outside the state of Washington, at least) that it sure would be nice to see Manning win this one.
[+] Enlarge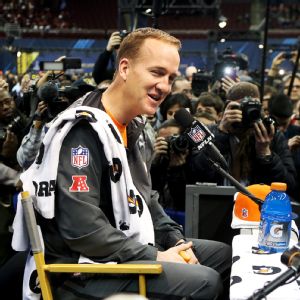 Brian Branch Price/MCT/Getty ImagesIt's become easy for fans to embrace Peyton Manning in the latter part of his illustrious career.
And that's remarkable, because Manning, named 2013 MVP on Saturday, has never fit the profile of someone around whom the gritty element of our sports-fan nation tends to rally. He is a former No. 1 overall draft pick, a son of football's royal family, a 6-foot-5 statue of a quarterback who was anointed at birth and has twice set the NFL's single-season record for touchdown passes. Manning is not a guy who needs our sympathy. If anything, the easier quarterback to root for in this game should be Seattle's Russell Wilson, the third-round pick on whom every team passed (at least twice) because he was supposedly too short. That's your underdog, right there. That's the guy who looks like the scrappy American hero in this equation.
Yet, this time around it seems to be Manning, and I think the reason is we feel differently about him now that he's 37 than we did when he was 24.
There are a number of possible reasons for this. Manning never really engendered serious hatred in the first place, so his journey to sentimental favorite was a relatively short one. We have always demanded a lot of him, given his gifts and his advantages, so it's possible we now feel guilty about that as the end nears. It's also possible that enough bad things have now happened to Manning -- between the big-game losses, the four neck surgeries and getting cut by the Colts for salary reasons -- that we feel better about rooting for him than we might have felt when it appeared he had everything going for him. Heck, his kid brother has more Super Bowl titles than he does. Everybody who has a kid brother knows that's ... well, it's just wrong.
"

At 37 years old, and in my 16th season, especially in a week like this, I think it's healthy to take some time to reflect and smell the roses.

"

-- Peyton Manning
But underneath all of those possible reasons, Manning these days makes the kind of likeable, aw-shucks impression to which sports fans are drawn. He was cracking them up at his final pre-Super Bowl news conference Thursday, replying to Richard Sherman's "he throws ducks" comment by saying he agreed.
"A lot of yards and touchdowns ducks," Manning said with a smile. "I'm actually quite proud of it."
Downright disarming, this late-30s Peyton. And the fact that everyone is seeing and hearing him at his most human -- that the week leading up to the Super Bowl has been fraught with stories about pranks he plays on teammates and goofy carpool hijinks -- is the main reason he seems so likeable.
"I don't think he's changed since high school, to be honest with you," said Broncos tight end Jacob Tamme, a member of the aforementioned game-day carpool. "He does have a lighter side, but he always did. I think now, people see more of the lighthearted TV commercials and hear the stories about the pranks he pulls, and they're able to see that part of him a little bit more."
SUPER BOWL XLVIII
ESPN.com is your online source for the most comprehensive playoff coverage.
• 2013-14 playoff results | Lines
• Clayton: 10 questions, SB XLVIII
• Insider roster rankings: 1-106


• Vote: Who wins? | Rank players
• Super Bowl Central | Injury Wire
Features:
• Vince Lombardi's footprints on NY/NJ
• Salute to stars who missed Super Bowl
That could be it, but I think there's a genuine element to this thing, too. I believe Manning when he talks about himself and the ways in which he has changed as he's grown older.
"At 37 years old, and in my 16th season, especially in a week like this, I think it's healthy to take some time to reflect and smell the roses," Manning said earlier in the week.
We love rose-smellers, don't we? Nothing turns a sports fan off like a star athlete who doesn't appear to enjoy all of the awesome aspects of being a star athlete. But when someone obviously does appear to be enjoying those things -- to an extent we deem sufficient -- he becomes easy for the sports fan to love.
Manning used to be a target of sports-fan disappointment, a player too easily disdained for failure to live up to lofty expectations. But now, as his career winds down and his opportunities dwindle, he has become a man of the people. We see him calling audibles in his Buick sedan, clowning with Papa John and rapping "Football on Your Phone" in ridiculous costumes with brother Eli and dad Archie. We like that guy. We want good things to happen for that guy.
So yeah, there will be plenty of people rooting for Wilson and the Seahawks on Sunday, in a Super Bowl that offers a lot to like on both sides. And there are pockets of America where people won't ever cheer for Manning. In New England, for example, Tom Brady fans insist Manning is overrated and always will be, no matter what changes about or around him.
But Manning's career journey has led him to a point at which he's now easy to embrace. And if he and the Broncos do win this game Sunday, it's going to look an awful lot like a feel-good story.
ESPN New York Giants reporter
Joined ESPN in 2011
New Jersey native and author of two published novels
SPONSORED HEADLINES
MORE NFL HEADLINES
MOST SENT STORIES ON ESPN.COM
THE NFL ON ESPN.COM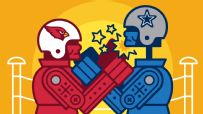 No matter how you slice it, the Cards-Cowboys tale of the tape clearly favors one side.
EDITORS' PICKS
The Saints cruised past the Panthers in a battle for first place in the NFC South.
Rapid Reaction »

With Peyton Manning and Tom Brady dueling for the 16th time, we chart the rivalry's future.
Experts »

Which quarterbacks are having the most unexpected seasons -- good or bad?
Sando