Best, worst of Super Bowl XLVIII
Evaluating the memorable moments of Seattle's Super blowout of Denver
Originally Published:
February 2, 2014
By
Greg Garber
| ESPN.com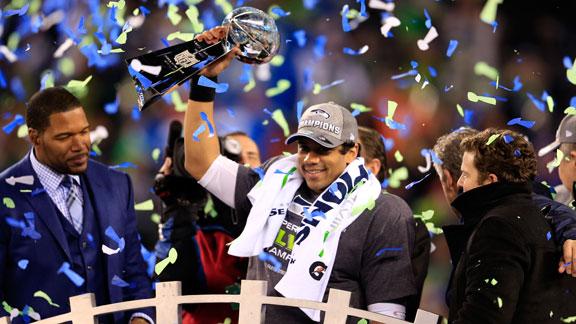 Legion Of Boom Conquers Super Bowl
Cary Chow and John Clayton talk about how the Seahawks steamrolled the Broncos in Super Bowl XLVIII.
Legion Of Boom Conquers Super Bowl
EAST RUTHERFORD, N.J. -- Offense sells tickets, the saying goes, and defense wins championships.
Even in the pass-happy era in which we live, the immovable object usually manages to stymie the irresistible force. On Sunday at MetLife Stadium, the NFL's No. 1 defense in both yards and points absolutely throttled the No. 1 offense -- of all time.
The Seattle Seahawks, underdogs in the eyes of the folks in Las Vegas, smoked the Denver Broncos 43-8.
This was an unlikely game in which Peyton Manning did a passable imitation of his beleaguered younger brother, Eli. Or was it barely passable? This season alone, Eli (15) and Peyton (two) combined to throw 17 interceptions at MetLife Stadium, the home of the Giants and Jets. In a quirky turn of events, the brothers combined to throw seven interceptions (and one lonely touchdown) here against the Seahawks this season.
The best play of the game, if you are a Seahawks fan, was linebacker Malcolm Smith's 69-yard interception return for a touchdown late in the second quarter. Defensive end Cliff Avril hit Manning's arm as he released the ball, and Smith gathered in the disabled duck -- and ran a wondrous, meandering route to the end zone. That gave Seattle a stunning 22-0 lead.
It was the longest interception return for a touchdown since the Saints' Tracy Porter took one back 74 yards -- against Manning in Super Bowl XLIV.
Going in, if you had known that Seattle's two starting cornerbacks -- Richard Sherman and Byron Maxwell -- would be out of the game midway through the fourth quarter, you might have thought Manning would have a field day. Instead, he merely finished the game with a Super Bowl record for completions (34), an exceedingly hollow victory.
The rest of the best and worst of Super Bowl XLVIII:
[+] Enlarge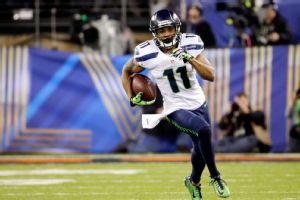 AP Photo/Ted S. WarrenPercy Harvin made his presence felt with an 87-yard kickoff return for a TD to open the third quarter.
Best effort by a part-time player: It's not how you start; it's how you finish. Seattle wide receiver Percy Harvin got a six-year, $67 million contract but made exactly one catch during the 2013 regular season. Hip surgery on Aug. 1 to repair a torn labrum took Harvin out of play for much of the season, but he returned for the divisional playoff game against the Saints (three catches), then suffered a concussion. After sitting out the NFC Championship Game against the 49ers, he was a big part of the Seahawks' offensive game plan. He had two sweet runs in the first half, a 30-yard rush around left end and a 15-yard sweep. Then he ran back the kickoff to open the second half 87 yards for a touchdown -- and a 29-0 lead.
Best quarterback: Russell Wilson is the most successful quarterback in NFL history over his first two seasons. This Super Bowl victory gives Wilson a total of 28 wins -- one more than the Steelers' Ben Roethlisberger in 2004 and '05. This is a guy who was drafted in the third round, 53 spots behind Cleveland's Brandon Weeden.
Worst quarterback: He had the best offensive season in NFL history, but he was also the second-oldest quarterback to start this ultimate game. Peyton Manning was the only player on either team to win a Super Bowl, but he certainly didn't win this one. No, the two interceptions weren't completely his fault, but his big-game nerves will be questioned after this loss. Again. Manning is now 11-12 in playoff games.
Worst effort in the big game: The Broncos franchise is now 2-5 in Super Bowls -- and the only team to lose five. The worst Super Bowl blowout ever? The Broncos lost to the 49ers 55-10 in Super Bowl XXIV.
Best (and only) halftime show: Bruno Mars, sporting a skinny, old-school tie, was his stylish self, and the Red Hot Chili Peppers were, well, red-hot and hopelessly energetic. Still, the performance fell well short of the standard set by U2 in the post-9/11 Super Bowl played in New Orleans. U2 played "Where The Streets Have No Name" while a list of the names of the World Trade Center victims was unfurled.
Best career opportunist: In addition to his memorable interception, Smith had a backbreaking fumble recovery in the third quarter. Cornerback Byron Maxwell punched the ball from the hands of Demaryius Thomas. Smith scooped it up, and it wasn't long before Seattle had a 36-0 lead.
Best non-omen: The Seahawks had zero players who had previously appeared in a Super Bowl, the first team with that number since the 1990 Buffalo Bills. Those Bills, by the way, lost a tough one to the Giants (Scott Norwood, wide right) and went on to lose four consecutive Super Bowls. The Seahawks, obviously, are not students of history.
[+] Enlarge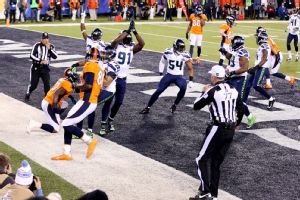 Joe Camporeale/USA TODAY SportsThe Broncos got off to a horribly inauspicious start by allowing a safety on their first offensive play.
Worst start (ever): We've seen Peyton Manning check out of so many plays this season that we almost expect it. So when the Broncos' quarterback stepped out of the shotgun formation and moved toward center Manny Ramirez on the first offensive play of the game, it seemed like business as usual. But then Ramirez inexplicably snapped the ball over Manning's head. It sailed into the end zone, and Seattle had a stunning safety -- 12 seconds into the game. It was the fastest score in Super Bowl history and only the ninth safety. The second-fastest? Chicago's Devin Hester took the opening kickoff all the way back in Super Bowl XLI -- against Manning's Indianapolis Colts. Indianapolis, for the record, came back to win that game.
Best dressed: Manning, declining to follow the fashion trend of Michael Jackson, actually wore two gloves, one on each hand. An hour before the game, when he first started throwing, the temperature was 52 degrees. But with a forecast calling for the low 40s (not to mention a modest wind chill), Manning probably didn't want to make a "Bad" decision and change midstream.
Worst dressed: "Broadway" Joe Namath made a pregame sideline appearance wearing an enormous retro 1960s fur coat, which sent Twitter into a tizzy. It was tawny, with white, snowy piping, and it had a hood. See temperature in above item.
Best song: Opera singer Renee Fleming, a superb soprano, offered a stirring rendition of the national anthem. Heading in, the popular over/under was 2 minutes, 30 seconds. Fleming came in with a snappy, sinewy 2 minutes, 2 seconds. The other big pregame question: Would Broncos running back Knowshon Moreno cry during the song? Upon review, it appeared he did not.
Best breakup: If not for Denver linebacker Nate Irving, the Seahawks almost certainly would have had a 12-0 lead in the first quarter. But after Russell Wilson feathered a lovely pass up and over into the end zone to Jermaine Kearse, Irving stuck his right hand in Kearse's face. As they fell to earth, he wrenched the ball loose, and Seattle had to settle for a field goal.
Worst route-running decision: On paper, it was an ugly interception by Manning. But judging by the exercised discussion his coaches had with him afterward, tight end Julius Thomas might have broken off the route prematurely. In any event, Seattle safety Kam Chancellor collected the late-first-quarter gift ball, and the Seahawks had another offensive possession. They ran 22 plays in the first quarter versus only seven for Denver.
Best dodged bullet: The Broncos' Trindon Holliday appeared to fumble after returning a kickoff past his 30-yard-line. Chris Maragos knocked it loose, and kicker Steven Hauschka recovered. It was ruled a fumble on the field and would have given Seattle the ball in Denver territory with more than three minutes left in the first half. But, upon further review, Holliday was ruled down by contact. So take heart, Broncos fans. It could've been worse.
Writer, Reporter
Greg Garber joined ESPN in 1991 and provides reports for NFL Countdown and SportsCenter. He is also a regular contributor to Outside the Lines and a senior writer for ESPN.com.
SPONSORED HEADLINES
MORE NFL HEADLINES
MOST SENT STORIES ON ESPN.COM
THE NFL ON ESPN.COM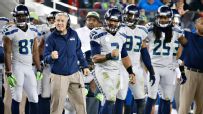 Russell Wilson has been stellar for Seattle -- but he's had plenty of help along the way.
EDITORS' PICKS
Bill Belichick denied any team wrongdoings and offered other potential reasons for the deflated footballs.
Story »

Before earning Seattle's reverence, Pete Carroll endured New England's scorn while trying to replace a legend.
Ashley Fox »

Interviews with nearly 20 Browns sources revealed that Johnny Manziel was a turbulent presence in '14.
Fowler/McManamon »