TEAM AVERAGES & NFL RANKS
TEAM OFFENSE
TM
PER GAME AVERAGE
Total Yards
IND

379.4
BAL

317.0
Yards Passing
IND

269.3
BAL

214.7
Yards Rushing
IND

110.1
BAL

102.3
TEAM DEFENSE
TM
PER GAME AVERAGE
Yards Allowed
IND

332.3
BAL

264.1
Pass Yds Allowed
IND

159.3
BAL

188.2
Rush Yds Allowed
IND

173.0
BAL

75.9
GAMEDAY MATCHUP
W
L
T
PF
PA
DIV
CON
IND
12
4
0
26.7
23
3-3-0
9-3-0
BAL
13
3
0
22.1
13
5-1-0
10-2-0
H2H MATCHUPS (SINCE 2001)
Indianapolis leads 4-1
Sep 11, 2005
IND 24, @BAL 7
Dec 19, 2004
@IND 20, BAL 10
Oct 13, 2002
@IND 22, BAL 20
Dec 2, 2001
@BAL 39, IND 27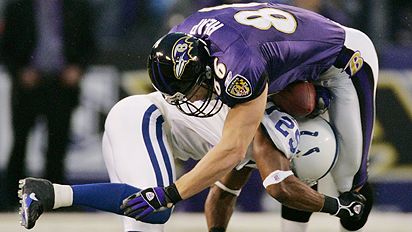 (AP Photo/Chris Gardner)
This Looks Familiar
This may be look new to the Colts, but it's not new to Tony Dungy. The Colts went old-school and played a little "Buc ball" in their win over the Ravens, writes Greg Garber.
Story
SCOUTS' TAKE
In a game littered with turnovers, field goals and imprecise play, both quarterbacks uncharacteristically pressed and forced the issue. Both offenses tried to control the tempo of the game -- Indianapolis to speed up the pace, the Ravens to slow it down -- but were largely ineffective. Indianapolis also made plenty of mistakes on third downs, after rushing to the line trying to catch Baltimore off guard. The stretch play is a staple of Indianapolis' offense, but it took far too long developing laterally and was largely unsuccessful against the fast, aggressive Ravens' defensive front. Both defenses played their safeties very deep to eliminate the long pass and kept everything in front of them, but if Indianapolis got single coverage on its wide receivers, Manning looked their way. Samari Rolle was exposed by Reggie Wayne, but Ed Reed had a bead on Manning the entire game. To exploit the quick upfield rush of Indianapolis' defensive ends, Baltimore threw to Jamal Lewis in the flat much more than usual and was quite successful, but too often drifted away from a productive running game. In a nutshell, the Colts executed slightly better, especially when it mattered most, and Adam Vinatieri deserves kudos for another outstanding postseason performance.
-- Matt Williamson



MORE FROM ESPN.com
Colts coach Tony Dungy expects banged-up safety Bob Sanders and running back Joseph Addai to play on Saturday.