2015 NFL Power Rankings: Week 6
Updated:
October 13, 2015, 2:44 PM ET
ESPN.com
Week: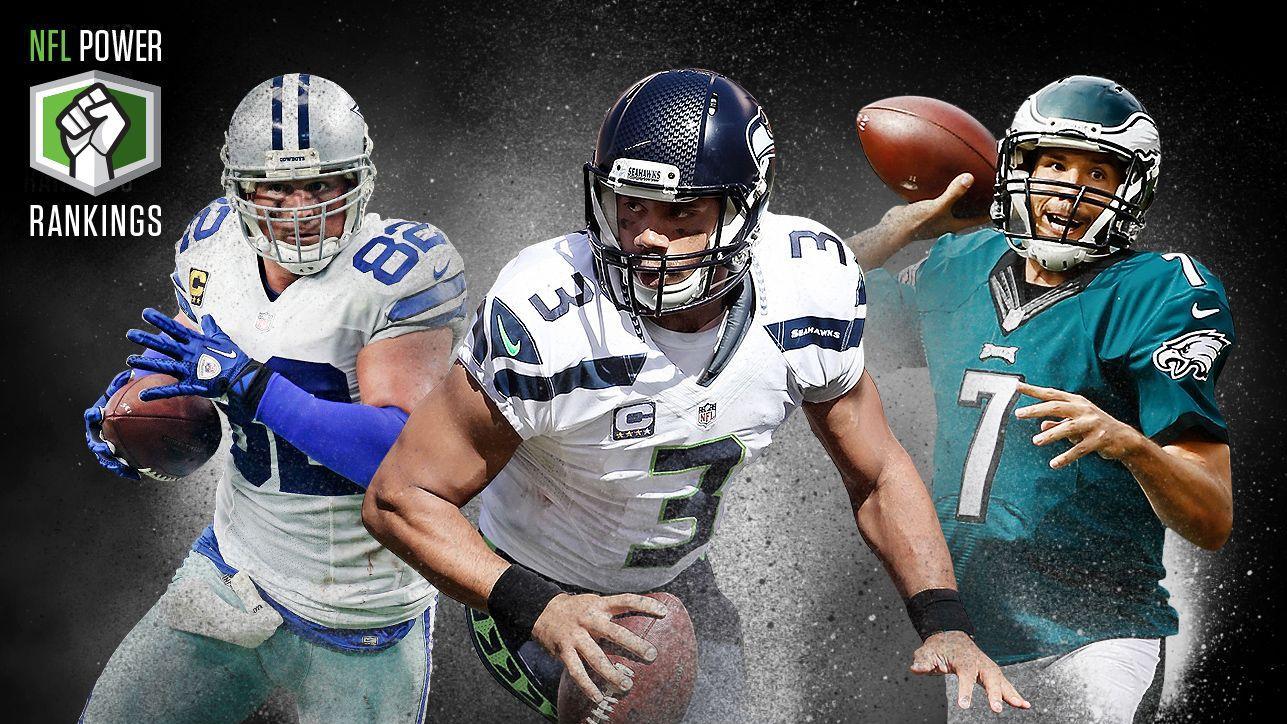 NFL Power Rankings: NFC East demanding respect
ESPN's John Clayton breaks down the power rankings for Week 6.
NFL Power Rankings: NFC East demanding respect
Did you see the Seahawks starting 2-3? How about the Cowboys? Or Eagles?
Sure, injuries have played a role, but after five weeks, there's no shortage of big-name teams struggling to meet preseason expectations. Seattle, Dallas and Philadelphia were all in our Top 10 at the start of the season. So far, none has looked like a Super Bowl contender.
Overall, 10 teams are 2-3. Do we see potential in anyone in this mediocre tier? ESPN's Power Panel still has the most faith in the Seahawks, who remain in the top 10 (No. 8). The Eagles are No. 15 (a seven-spot rise), one spot below the Chargers and three spots ahead of the reeling Cowboys. The Rams, who rose to No. 11 last week, fell to No. 17 after losing in Green Bay.
As for the situation up top, the Patriots and Packers remain first and second. The unbeaten Falcons jumped three spots to No. 3, their first top-5 ranking of the season.
Note: The comments below are provided by ESPN Stats & Information.
• Vegas Rankings

| Football Power Index Rankings | Why Bengals are soaring | Team Power Rankings charts since 2002
2015 Power Rankings: Week 6
RANK
TEAM / RECORD
TRENDING
COMMENTS
1

--




Last Week: 1

Quarterbacks with at least 11 TD passes and no interceptions through four games in the Super Bowl era: Don Meredith in 1966, Peyton Manning in 2013, Aaron Rodgers and Tom Brady in 2015.
2

--




Last Week: 2

Aaron Rodgers' streak without an interception at Lambeau is over, but the Packers' home winning streak (12 straight including playoffs) lives on. The Packers host the Chargers in Week 6.
3

3




Last Week: 6

Three defensive touchdowns for the Falcons in the past two weeks, including the game-winning score Sunday. The Falcons had three defensive touchdowns in their previous 29 games.
4

1




Last Week: 3

The defense has scored three second-half touchdowns this season -- the same number of offensive touchdowns scored by the Broncos in the second half.
5

--




Last Week: 5

The Bengals are 5-0 for the third time in franchise history. The previous occasion they started 5-0 (1988), they made the Super Bowl.
6

2




Last Week: 4

QB Carson Palmer has been great, but the Cardinals are averaging an NFL-best 5.0 yards per rush this season. They ranked last with 3.3 yards per rush last season.
7

1




Last Week: 8

The Panthers are coming off a bye and have won an NFL-best eight straight regular-season games. Next up are the Seahawks, against whom Cam Newton is 0-4 (including playoffs).
8

1




Last Week: 7

A 2-3 start for Seattle is not the end of the world. The Seahawks started 3-3 last season but went 9-1 in their last 10 games en route to the Super Bowl.
9

1




Last Week: 10

Since his return to the lineup, Le'Veon Bell has the second-most touches (80) and the third-most yards from scrimmage (409), plus a game-winning score with no time left.
10

2




Last Week: 12

Tyrod Taylor's legs saved the day for Buffalo in Week 5. Taylor had three rushes of 20-plus yards Sunday and now has five such runs this season, tied for most in the NFL.
11

2




Last Week: 9

Winning the turnover battle is key for the Jets. They're 12-0 since 2012 when winning the battle (3-0 this season), but 9-31 when they don't.
12

3




Last Week: 15

Deja vu all over again? The Giants have won three straight after starting 0-2 for the second consecutive season. Last year, the Giants followed that up with seven straight losses.
13

3




Last Week: 16

Matt Hasselbeck is 2-0 this season and has no interceptions in 76 attempts. Andrew Luck still has the second-most interceptions despite not playing the past two weeks. Just saying.
14

3




Last Week: 17

The Chargers' past two games were decided by scores with no time left on the clock. One win and one loss in those games has San Diego sitting 2-3.
15

7




Last Week: 22

DeMarco Murray gained 83 rushing yards in Week 5, 36 more than he had in his first three games combined. The Eagles are 2-0 this season when rushing for at least 100 yards as a team.
16

2




Last Week: 14

The Vikings have a nice stretch of games following their Week 5 bye: the Chiefs (1-4), Lions (0-5), Bears (2-3) and Raiders (2-3).
17

6




Last Week: 11

The good: Todd Gurley has rushed for 305 yards in his first two NFL starts. The bad: Nick Foles has passed for 312 yards in those games.
18

5




Last Week: 13

The Cowboys have forced a turnover in only one of their five games this season (Week 2 vs. Eagles). Only the Texans have forced fewer turnovers (two) than the Cowboys (three) this season.
19

1




Last Week: 18

Four straight losses for the Chiefs, and now Jamaal Charles is done for the season (ACL). The Chiefs' previous four-game losing streak came in 2012, when they finished 2-14.
20

5




Last Week: 25

Josh McCown has thrown for 300 yards in three straight games. According to Elias, he's the first quarterback in Browns history to throw for 300 yards in three straight games.
21

3




Last Week: 24

The Redskins are 2-3 despite leading at the start of the fourth quarter in four of their five games. The 44 fourth-quarter points allowed are tied for fourth-most in the NFL.
22

2




Last Week: 20

Derek Carr drew comparisons to Aaron Rodgers after defeating the Browns in Week 3. Since then the Raiders are 0-2 and Carr has a 26.1 Total QBR.
23

4




Last Week: 19

The Ravens are off to their worst start in franchise history (1-4). The winning score has come in the final three minutes of regulation or later in all five of their games.
24

5




Last Week: 29

Game-winning scores in the final 30 seconds of regulation in back-to-back weeks for the Bears. QB Jay Cutler had four such victories in his first six seasons with the Bears.
25

2




Last Week: 27

The 49ers have lost four straight games and eight of their past 10. They have been outscored by an NFL-high 65 points this season.
26

5




Last Week: 21

The Saints have allowed the most yards per game this season. They ranked 31st or worst in two of the previous three seasons as well.
27

4




Last Week: 23

The Titans are 0-2 to start their October-long homestand, but the losses have been by a combined three points. They're the only team with two games decided by two or fewer points this season.
28

4




Last Week: 32

Doug Martin is tied for second in the NFL with 405 rushing yards. Martin didn't gain more than 494 rushing yards in either of his past two seasons.
29

1




Last Week: 30

Dan Campbell has a favorable schedule to start his head coaching career. The Dolphins take on the Titans and Texans the next two weeks, who are a combined 2-7.
30

2




Last Week: 28

Forget the quarterback situation. The Texans have forced a league-low two turnovers this season after forcing a league-high 34 last season. The defense needs to step up.
31

5




Last Week: 26

In Week 5, Dan Orlovsky replaced Matthew Stafford in the second half as the Lions dropped to 0-5. In 2008, when the Lions went 0-16, Orlovsky saw his first extended action in Week 5 as well.
32

1




Last Week: 31

The Jags aren't winning, but Blake Bortles is improving. He has four interceptions in his past seven games after throwing 17 in his first 12 games.
Glossary
The rankings were determined by ESPN's Power Panel, a group of more than 80 writers, editors and television personalities.

Find Tickets:
Season tickets or single game tickets, all the best seats are here.
Nike Men's Home Game Jersey Arizona Cardinals Carson Palmer #3 Shop »