The halfback sweep is the Dolphins' best play because they can rely on RBs Ronnie Brown and Ricky Williams to move the chains. Scouts Inc. watched the film and diagramed how the Dolphins' run the ball so well.

Miami Dolphins
Best way for Miami to pound the rock
Under new head coach Tony Sparano the Dolphins will run a very conservative, run-oriented offense without a lot of flash. Brown and Williams will get a lot of carries and this halfback sweep will set up the play-action pass later in the game.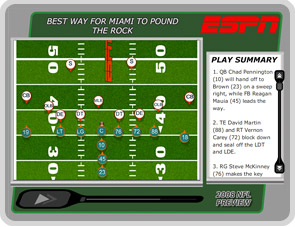 Dolphins: Best way to pound the rock
Scouts Inc. watches games, breaks down film and studies football from all angles for ESPN.com.