QB Tom Brady and WR Randy Moss were remarkable last season, but the Patriots' best play is when Moss doesn't even get the ball. Scouts Inc. watched the film and diagramed why Moss is so valuable to the Patriots.

New England Patriots
Best way Patriots take advantage of a Moss double team
When the Patriots spread the field they force the defense to play with base personnel, with two linebackers and two safeties in the game, and that matchup favors New England.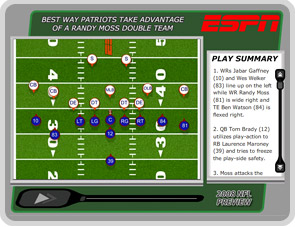 Patriots: Best way to take advantage of a Moss double team
Scouts Inc. watches games, breaks down film and studies football from all angles for ESPN.com.