NEW ENGLAND PATRIOTS (Consensus division finish: 1st)
Joel Auerbach/US Presswire
EXPERTS' PICKS
The Patriots finished first in the AFC East last season with a 16-0 record. For AFC East coverage, visit Tim Graham's AFC East blog. | Discuss Patriots | MAG Preview
ANALYST
PREDICTION
Jeffri
Chadiha
ESPN.com

DIVISION FINISH: 1 They won't run through a perfect regular season again, but they'll still shred their share of opponents. Anything short of 12 wins would be surprising.
John
Clayton
ESPN.com
DIVISION FINISH: 1 We're exaggerating just a bit to say even Matt Cassel could go 4-0 against an opening schedule that features teams that went 14-50 last season. The Pats only play five games against teams that had winning records last year.

Tim
Graham
ESPN.com

DIVISION FINISH: 1 Will the Patriots sweep the regular season again? No, but they won't slip enough and the rest of the division won't improve enough to knock them off the top.
Jeremy
Green
Scouts Inc.

DIVISION FINISH: 1 Even though the Patriots have the easiest 2008 schedule on paper, do not look for another perfect season from them. While their offense is as explosive as ever, the back end of their defense is shaky. For that reason, the Pats will win a lot more shootouts than blowouts in 2008.
Paul
Kuharsky
ESPN.com

DIVISION FINISH: 1 The Patriots might not make a run at 19-0. But they will line themselves up to make a run at what they covet more, the Lombardi Trophy.
Matt
Mosley
ESPN.com

DIVISION FINISH: 1 No coach plays the chip-on-the-shoulder card better than Bill Belichick. And even the presence of Brett Favre won't prevent another clean division sweep.
Mike
Sando
ESPN.com

DIVISION FINISH: 1 Tom Brady, Randy Moss and Wes Welker should become even more effective in clutch situations now that they've played together a full season. Adding a young linebacker in Jerod Mayo should help the defense.
Kevin
Seifert
ESPN.com

DIVISION FINISH: 1 The Patriots are the division's best team as long as quarterback Tom Brady stays healthy. But you have to wonder when this defense will get old.
James
Walker
ESPN.com

DIVISION FINISH: 1 The only question is, can the Patriots go undefeated in the regular season for the second year in a row?
Seth
Wickersham
ESPN The Magazine

DIVISION FINISH: 1 Tom Brady might win another MVP. Randy Moss again might win offensive player of the year. And has there ever been a clearer favorite for defensive rookie of the year than Jerod Mayo? That guarantees the AFC East, not necessarily a Super Bowl.
Bill
Williamson
ESPN.com

DIVISION FINISH: 1 Don't expect a Super Bowl loss hangover from the Patriots. This team is as loaded as it was last year and is ready to make a long run once again.
Matt
Williamson
Scouts Inc.

DIVISION FINISH: 1 They won't go undefeated, but the Pats are still the best team in this league. The defense will be improved and Tom Brady to Randy Moss will be as unstoppable as ever. They will annihilate a cream-puff schedule.
Pat
Yasinskas
ESPN.com

DIVISION FINISH: 1 Love them or hate them, you have to admit the Patriots are great. Another undefeated regular season might be too much to ask, but it's tough to see any team with Bill Belichick and Tom Brady losing more than three games.


CONSENSUS DIVISION FINISH: 1 | NFL standings
BEST OF THE PATRIOTS
Best offensive player: QB Tom Brady. Some will say Randy Moss should be listed here because he's in a class by himself. But Moss can't do much unless somebody can deliver the ball. Just look at his season-by-season stats. Brady, meanwhile, has won Super Bowls without an elite receiving corps and, once he got one, set records. The Patriots can win without Moss. They can't win without Brady.
Best defensive player:
DE Ty Warren. The Patriots' defensive front is their most formidable unit. Warren has become the best of the three. Offenses steer away from Warren's side as much as possible, and that's saying something because their other option is to deal with five-time Pro Bowler Richard Seymour.
Best playmaker:
WR Randy Moss. When in doubt, throw it to Moss. He reestablished himself as football's greatest go-to receiver, routinely displaying his awesome combination of speed, leaping ability and hands. Moss led the NFL with 23 touchdown catches and tied for the lead with 74 first-down receptions.
-- Tim Graham, ESPN.com
SCOUTS INC.'S FAB FIVE
Scouts Inc. has evaluated and graded more than 2,400 NFL players heading into the 2008 season, giving Insiders a leg up on the competition with exclusive grades, alerts and scouting reports.
Top five players

ANALYSIS
1. Tom Brady
Quarterback
6-4 | 225
(Grade 96) He is an excellent combination of size, intelligence, instincts and arm strength. He can power the ball into tight spots or use touch on delicate throws. Brady is a future Hall of Famer.
2. Randy Moss
Wide receiver
6-4 | 210
(95) He is the most-prolific receiver in the NFL. Moss has deceptive speed to distort angles in the open field or eat up a defenders' cushion quickly. Every coordinator has to adjust his game plan to deal with him.
3. Richard Seymour
Defensive line
6-6 | 310
(91) He is a powerful defender versus the run to hold the point as well as having the ability to collapse the pocket when rushing the passer. He has all the physical and mental capability to continue to be a force.
5. Vince Wilfork
Defensive tackle
6-2 | 325
(83) He is a short, thickly-built player with excellent power and short-area quickness. His low center of gravity enables him to anchor the middle of the defense versus the run. Plus, he draws many double-teams.
5. Logan Mankins
Guard
6-4 | 310
(83) He is an excellent combination of size, strength, intelligence and toughness. Mankins is an above-average athlete who wins with good initial quickness, power, technique and aggression.
Player grading scale: Elite (90-100), outstanding (80-89), solid starter (75-79), good starter (70-74)
SCOUTS INC.'S ANALYSIS
Strengths

Bill Belichick: Love him or hate him, few head coaches in the game have done it as well as Belichick. He is a master game-plan strategist who knows exactly what type of players his team needs to excel. He has the respect of everyone in the organization.
Tom Brady/Randy Moss:
Belichick is the best head coach in the league and an all-time great, but Brady and Moss can make strong cases for similar honors at their positions. Brady knows that Moss has the advantage even when he is "covered" 50 yards downfield, with a cornerback and safety draped all over him. Is it possible this duo could be even better after playing a full season together?
Defensive front seven:
Many are quick to judge that New England is too old up front, and that argument has some merit. But the Patriots added versatile LB Victor Hobson and drafted first-rounder Jerod Mayo and third-rounder Shawn Crable to groom at linebacker. Those additions should keep the team's aging linebackers fresher for the playoffs. Plus DE Richard Seymour, who had an off year in 2007, could reclaim his place among the best defensive players in the league.
Weaknesses

Secondary: With an exceptional front seven and Belichick's game plans, the Pats should get by despite questions in the secondary. But it can't be overlooked that CB Asante Samuel -- one of the team's best players and the game's top ball hawks -- took his act to Philadelphia. Now New England will have to make it work with a group of quick but undersized cornerbacks and SS Rodney Harrison, who clearly is declining as a coverage player.
Right side of O-line:
RT Nick Kaczur's bizarre off-field troubles appear to be behind him, but he was the weak link on an excellent line last year. From center to left tackle, the Pats feature three Pro Bowlers, but Kaczur's game has holes and a shoulder injury has left OG Stephen Neal's future in doubt. Kaczur and Neal both are in danger of being replaced in the lineup, likely by OT Ryan O'Callaghan and OG Russ Hochstein. It was a surprise that New England didn't attack this need on draft day, particularly given its protection problems in the Super Bowl.
Scouts Inc. watches games, breaks down film and studies football from all angles.
JEREMY GREEN'S X FACTORS
FOOTBALL TODAY PODCAST: DIVISION PREVIEW
MY MOST CHALLENGING OPPONENT

Bryant
Patriots CB Fernando Bryant on Jets WR Laveranues Coles. [Editor's note: Bryant was cut by the Patriots on Aug. 30.]
I know Laveranues Coles pretty well. That should be a good matchup, being in the same division and him being one of the top receivers. He has the speed, so you always have to respect that. But he's also a physical receiver. He has the upper-body strength where you have to wonder how you're going to press him on the line. Your technique has to be up to par because all his routes are very crisp. His whole game is speed. He comes in and out of a break at the same speed. It's kind of like Marvin (Harrison). When Marvin Harrison's healthy, all his routes look the same. That's the way it is with Laveranues. His first three steps off the ball are exactly the same. You don't know if it's a curl route, if it's a deep ball, if it's a slant route. That's a testament to how well he runs routes. He can run by you, so you have to be on top of your game. You get those butterflies in your stomach. That's the great thing about football, though. When you lose those butterflies going up against a great receiver, you need to stop playing because something's wrong with you. Every weekend's a special weekend, but against guys like that, you know you're going to showcase who you are. You know the ball's coming to him. but if you can win individual battles against special players, that's where championships are won.
-- As told to Tim Graham, ESPN.com
FRANCHISE BEST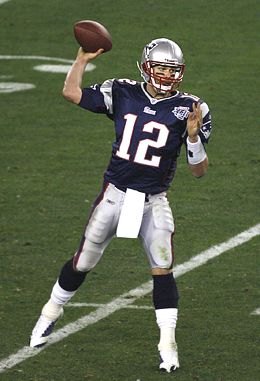 Photo by Tom Hauck/Getty Images
In a vote by SportsNation, quarterback Tom Brady was selected best Patriot ever. Brady, who passed for a league-record 50 TDs in 2007, has three Super Bowl wins. Complete results
BLOGS: PRO AND FAN

Looking for more Patriots coverage? You've come to the right place. Tim Graham writes about all things AFC East in his division blog.


Featured Fan Preview

by RomomentumCowboy9
Patriots? They are another year older. The letdown of the greatest disappointment in playoff history will carry over. Blog

Submit your blog preview
FANTASY FOCUS
Can Patriots repeat scoring binge?

Brady
It's not going to happen for New England. Tom Brady isn't getting 50 touchdowns again. He'll be really good -- heck, I think he'll be the best quarterback in fantasy -- but defenses simply aren't going to let him throw like that again. Take Peyton Manning's 48-TD season in 2004. He followed it up with 28 scores in '05. And it wasn't like he suddenly stunk; in fact, his quarterback rating that year stayed in triple digits, one of only three seasons he's done that in his 10-season career. It's just
really
hard. Randy Moss isn't catching 20 touchdowns again. I don't care if opposing defenses have to put six guys on him, they're not letting Moss beat them deep three times in a game, as seemed to happen every other week in '07. The way you stop New England is the way you stop any good team: pressure the quarterback, stop the run and cover the receivers. But as NFL defenses prepare for an aerial onslaught, maybe offensive coordinator Josh McDaniels rushes it 35 times. Or he'll throw it to Kevin Faulk 12 times in a game. The Pats aren't stupid, they aren't proud and they aren't blinkered. That insane confluence that led to all those ridiculous point totals, especially in the first half of 2007, isn't likely to come again.
-- Christopher Harris, ESPN.com
More Patriots
|
Fantasy index