NEW YORK JETS (Consensus division finish: 2nd)
Rich Kane/US Presswire
EXPERTS' PICKS
The Jets finished third in the AFC East in 2007 with a 4-12 record. For AFC East coverage, visit Tim Graham's AFC East blog. | Discuss Jets | MAG Preview
ANALYST
PREDICTION
Jeffri
Chadiha
ESPN.com

DIVISION FINISH: 2 Even with all those veteran additions -- including quarterback Brett Favre -- this team isn't making the playoffs. There are simply too many new faces for chemistry not to be an issue.
John
Clayton
ESPN.com
DIVISION FINISH: 2 Brett Favre's accuracy and ability to go deep gives the Jets a better chance to score many more points. If Favre can improve the Jets' offense from 16.8 to 22 points a game, N.Y. could get a wild-card berth.

Tim
Graham
ESPN.com

DIVISION FINISH: 2 They addressed a plethora of needs on both sides of the ball, especially on the offensive line. The trade for Brett Favre relieved their biggest insecurity.
Jeremy
Green
Scouts Inc.

DIVISION FINISH: 3 Even though they have QB Brett Favre, do not expect the Jets to perform miracles. Favre has always played in a West Coast offense, and I think he might have trouble adapting to a new system. No QB has left the West Coast offense and played as well, and Favre will not be the exception to the rule.
Paul
Kuharsky
ESPN.com

DIVISION FINISH: 3 They'll be energized by Brett Favre. As for their other big additions -- how often have we seen a spending spree turn a franchise into a playoff team?
Matt
Mosley
ESPN.com

DIVISION FINISH: 2 Favre's presence immediately allowed the Jets to leapfrog the Bills. Pretty solid offensive line and a much-improved defense makes the wild card a possibility.
Mike
Sando
ESPN.com

DIVISION FINISH: 2 Brett Favre probably doesn't have another 13-3 season in him, but he is unquestionably an upgrade at the most important position. The Jets are trying to win now, and they might.
Kevin
Seifert
ESPN.com

DIVISION FINISH: 3 Future Hall of Famer or not, Brett Favre is facing a steep learning curve. It will take awhile before he feels comfortable -- if ever.
James
Walker
ESPN.com

DIVISION FINISH: 2 Brett Favre and several big free-agent signings put the Jets in the conversation for a playoff bid in the AFC. But the conference is so deep that Favre leading New York to the playoffs is not guaranteed.
Seth
Wickersham
ESPN The Magazine

DIVISION FINISH: 4 Bad news, Brett: Laveranues Coles and Jerricho Cotchery are not Donald Driver and Greg Jennings. Worse news: The rest of the Jets aren't great, either.
Bill
Williamson
ESPN.com

DIVISION FINISH: 2 The Jets might not be a Super Bowl contender, but they will be a whole lot of fun with Brett Favre.
Matt
Williamson
Scouts Inc.

DIVISION FINISH: 2 Adding No. 4 turns a position of weakness into a strength. How quickly Favre adapts to the offense and his new surroundings will tell how far this offense can go. Still, the Jets have a handful of holes that can't be overlooked and a wild card is this team's ceiling
Pat
Yasinskas
ESPN.com

DIVISION FINISH: 2 Even before Brett Favre came along, the Jets were going to be one of the league's most-improved teams. They're much better on the offensive and defensive lines, and Favre might put them over the top and into the playoffs.


CONSENSUS DIVISION FINISH: 2 | NFL standings
BEST OF THE JETS
Best offensive player: QB Brett Favre. As if it needs to be explained, Favre owns every major career passing record and is coming off one of his greatest seasons. He must retrain his brain to learn a new system after 16 seasons with the Green Bay Packers, but if he can adapt quickly enough, the Jets' moribund offense can make some noise.
Best defensive player:
NT Kris Jenkins. The three-time Pro Bowler is the type of player most fans don't notice, but he makes an entire defense better. He's 6-foot-4, 349 pounds and so athletic he demands a double-team on virtually every play, freeing up linebackers and ends to make plays.
Best playmaker:
WR Laveranues Coles. Jerricho Cotchery probably will be Favre's most frequent target, but nobody on the roster has established himself as a clutch receiver like Coles has. A bum ankle limited him last season and sidelined him four games, but he was fabulous when healthy. Of his 56 receptions, 52 of them came in eight games and his six touchdowns led the Jets.
Best new weapon:
TE Dustin Keller. The rookie from Purdue can create serious matchup problems. The 6-foot-2, 248-pound Keller is a vertical threat. He has receiver's speed, sensational hands and the knack to get open. He caught 68 passes for 881 yards and seven touchdowns his senior season.
-- Tim Graham, ESPN.com
SCOUTS INC.'S FAB FIVE
Scouts Inc. has evaluated and graded more than 2,400 NFL players heading into the 2008 season, giving Insiders a leg up on the competition with exclusive grades, alerts and scouting reports.
Top five players

ANALYSIS
1. Brett Favre
Quarterback
6-2 | 222
(Grade 85) He is still an outstanding player and continues to play at a high level. Favre can be effective both under center and in the shotgun, and is a very competitive player with good toughness for the position.
2. Alan Faneca
Guard
6-5 | 307
(82) He remains one of the league's better guards. Faneca is a nasty finisher and an intense competitor. He's well-schooled and takes his craft very seriously. He's very smart, crafty and technically sound.
3. Kris Jenkins
Defensive tackle
6-4 | 335
(80) He is a massive individual who can play defensive tackle or nose tackle. He has a huge build with very good athletic ability for a big man. His overall strength makes him a stout run defender who can eat up blocks.
4. David Harris
Linebacker
6-2 | 243
(79) He has great quickness, foot agility and balance for a player of his size. Harris shows excellent instincts and reactions as the play unfolds. He is a solid blitz defender with great power to collapse the pocket.
5. Darrelle Revis
Cornerback
5-11 | 204
(78) He has good size and excellent athleticism for the corner position. He has excellent quickness, balance and burst to play out on an island in man coverage. Revis is an impressive, young athlete with a lot of upside.
Player grading scale: Elite (90-100), outstanding (80-89), solid starter (75-79), good starter (70-74)
SCOUTS INC.'S ANALYSIS
Strengths

Brett Favre: It has been some time since the Jets had a quarterback with this pedigree. New York was desperate for a strong leader, but Favre gives this team even more: He allows the offense to stretch the field, make better use of its weapons and open up room for the running game. Favre may need a little time to adjust to his new surroundings, but he represents a major upgrade that will help the Jets on many levels.
Nose tackle:
With the acquisition of Kris Jenkins, it appears coach Eric Mangini finally has a nose tackle for his 3-4 scheme. Jenkins eats up blocks and keeps his linebackers clean and free to make plays. If his consistency improves, he will give the Jets a huge boost at the most important position in their defensive scheme.
Pass-rushers:
With the addition of LB Calvin Pace and first-round LB Vernon Gholston, the Jets finally have legitimate edge-rushing threats at outside linebacker. It could be argued that Pace is a one-year wonder and that Gholston is a work in progress, but both players can get off the ball and threaten offensive tackles with speed and explosiveness on passing downs.
Weaknesses

Offensive line: Yes, this line will be vastly improved from a year ago. But questions remain. First, D'Brickashaw Ferguson has yet to prove he can be physical enough to succeed at left tackle. On the other side, RT Damien Woody is actually a guard being paid big money to play on the edge. And even if the tackles prove viable -- which is certainly possible -- the depth here is atrocious. At least Favre's ability to feel the rush and move in the pocket will help.
Defensive end:
DE Shaun Ellis is a good player, but some of his best assets are wasted in New York's 3-4 scheme, limiting his productivity. At the other edge spot on the line, the Jets are weak. This is an improving defense, but adding another difference-maker on the line (along with a quality cornerback opposite Darrelle Revis) needs to be a top priority.
Tough division:
In the offseason New York added a lot of high-priced talent through free agency, trades and the draft (including two first-round selections). But the roster still has quite a few holes. The Favre acquisition should pay dividends, but too many questions remain for the Jets to challenge the big boys in the AFC.
Scouts Inc. watches games, breaks down film and studies football from all angles.
JEREMY GREEN'S X FACTORS
FOOTBALL TODAY PODCAST: DIVISION PREVIEW
MY MOST CHALLENGING OPPONENT

Mangold
New York Jets C Nick Mangold on Patriots NT Vince Wilfork:
Going against Vince Wilfork twice a year is a task. It's exciting to be able to do that because he's one of the best at his position. You watch him. You know him. I've played him five times now in my two years. You get a feel for him. We got at it hard, and we don't make it any easier for each other. It's always a good battle. There is that little bit of nervousness going up against him because you are going up against one of the better guys in the NFL. That excitement kind of builds, and that's what makes football so great. You have that nervous excitement. You need to learn how to bottle it, contain it and use it. Sometimes that causes problems, but once you figure out how to control it, that's exciting. With Vince Wilfork, you watch the same film over and over and over again. You try to know those types of players before you go into the game, have an idea of how they're going to work for you. That takes a lot of effort to do during the week.
-- As told to Tim Graham, ESPN.com
FRANCHISE BEST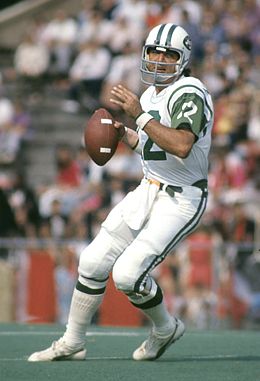 Photo by Tony Tomsic/NFL
In a vote by SportsNation, Joe Namath was selected best Jet ever. He is best remembered for his guarantee of a win in Super Bowl III against the Colts. Complete results
BLOGS: PRO AND FAN

Looking for more Jets coverage? You've come to the right place. Tim Graham writes about all things AFC East in his division blog.


Featured Fan Preview

by orionben666
My Jets can put their faith in Favre all they want; they'll still be battling Buffalo for 2nd and a possible wild card spot. Miami will be trying to enjoy the sun as they reload. Blog

Submit your blog preview
FANTASY FOCUS
Is Thomas Jones ready to rebound?


Jones
Let's start with the negatives because, frankly, without them there'd be no case to make: He'll be 30 years old when the season starts. That's usually a death sentence for running backs when it comes to fantasy relevance. His yards-per-carry average dropped from 4.3 to 4.1 to 3.6, and his total touchdowns dropped from nine to six to two. So are there any positives? The largest positive is the acquisition of Brett Favre. His skill-set isn't just a little different than Chad Pennington's, it's on another planet. Defenses aren't going to play eight in the box, because Favre will try to find Jerricho Cotchery or Laveranues Coles all day long. Next, consider the recent upgrades to the offensive line, Alan Faneca and Damien Woody. Finally, take a look at the Jets' schedule this season. They face only four games against defenses that finished in the top 10 in terms of rushing yards per game allowed. Based on this, I expect Jones to compile 187 fantasy points for the season. Last year, that would have placed him as the 10th-best running back.
-- Ken Daube, Special to ESPN.com
More Jets
|
Fantasy index