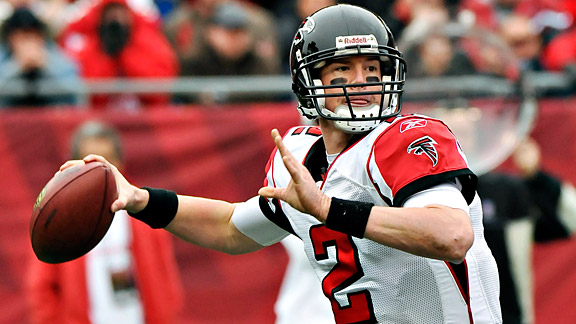 Fernando Medina/US Presswire
JOHN CLAYTON QB RANKING (13)
: After two promising seasons, Matt Ryan is hoping to take a big step forward in Year 3. He is 19-11 as a starter and has an 84.3 career QB rating.
Expert Picks (Consensus: 1st)
The Falcons finished second in the NFC South last season with a 9-7 record. For more Falcons coverage, visit: Pat Yasinskas' NFC South blog ... on Twitter | Clubhouse | More predictions
ANALYST
PREDICTION
Pat
Yasinskas
ESPN.com

DIVISION FINISH: 2 If any NFC South team has the potential to overtake the Saints, it's the Falcons. They've got a great young core in place and all sorts of upside. But there also are a fair number of questions that need to be answered before the team is elevated.
John
Clayton
ESPN.com

DIVISION FINISH: 1 Expect Matt Ryan to have a breakout season with Roddy White and Harry Douglas, and expect Michael "The Burner" Turner to rekindle. The schedule favors the Falcons over the Saints because the Falcons' tougher games are at home.

Adam
Schefter
ESPN

DIVISION FINISH: 1 Matt Ryan, Michael Turner and Roddy White have the chance to turn into Atlanta's mini-version of "The Triplets" and make some serious noise.
Matt
Williamson
Scouts Inc.

DIVISION FINISH: 1 The Falcons made strides to improve their defense, and they surely will be healthier on offense than last season. I have no doubt Matt Ryan is the right man for the job, and Roddy White is knocking on the door of being an elite wideout.
Seth
Wickersham
ESPN The Magazine

DIVISION FINISH: 2 Fewer injuries, more progress by Matt Ryan, better pass rushing from the D-line, a 2008 repeat from Michael Turner, and the Falcons will challenge for the division crown.
Intelligence Report
Five things you need to know about the Falcons:
1. Ryan ready to soar: Forget all the talk about Matt Ryan going through a sophomore slump last season. The Falcons don't believe that was the case at all, and they're right. While Ryan's numbers didn't take a huge leap forward, it wasn't because of any flaws on his part. Atlanta's offense never really got on track because slot receiver Harry Douglas got hurt early in training camp and running back Michael Turner started off slowly and later got banged up. That threw the whole offense out of whack. Douglas is healthy now, and Turner is in shape. You're going to see Ryan get a chance to shine in ways he never did last season.
2. Turner fit and focused: Turner is on a mission to prove his huge 2008 season wasn't a fluke. By his own admission, Turner got fat and out of shape during the offseason before 2009. He believes that's why he started slowly and why he got hurt last season. He's mad at himself for letting that happen and he's worked harder than ever on his conditioning. He's in top shape. The Falcons want to keep Turner to somewhere around 300 to 320 carries, and the plan is to make them all quality carries.
3. Turning the corner: Dunta Robinson will make a big difference in the secondary. The Falcons got all excited when they signed the free-agent cornerback from the Houston Texans. The rest of the league sort of shrugged and said, "Decent move." So why do the Falcons think this is such a big deal? They've got a true No. 1 cornerback for the first time in coach Mike Smith's tenure. That allows several guys who often were stuck on opponents' best receivers to be No. 2 or No. 3 cornerbacks. In a division in which you have to slow New Orleans' passing game to be a contender, Robinson's presence should make a big difference.
4. Kickstarting a career: The Falcons think they have a kicker who is what Jason Elam was supposed to be. That's Matt Bryant, who is getting a fresh start on his career in Atlanta. After going through a couple of rough family situations and a stint in the United Football League, Bryant won the job in training camp and has shown signs he's back to where he was a few years ago -- one of the league's more reliable veteran kickers. Elam was supposed to be that kind of guy, but age caught up to him last season and kicking woes might have cost the Falcons a victory or two. That shouldn't be an issue this season.
5. It all boils down to this: In the end, it's about the defensive front. The Falcons can talk all they want about their improved secondary and the speed at linebacker. That's true, but the fate of this defense rests on the front four. If the Falcons really hope to slow New Orleans' passing game or Carolina's running game, they've got to be better up front. They're getting defensive tackle Peria Jerry back from injury, and third-round pick Corey Peters looks like he can be a force in the middle. Team those guys with Jonathan Babineaux, and the Falcons might be all right in the interior and that might even help the defensive ends. But John Abraham, Kroy Biermann and Lawrence Sidbury have to generate more of a pass rush than last season if this defense is really going to improve.
-- Pat Yasinskas, ESPN.com
Scouts Inc.'s Fabulous Five
Scouts Inc. has evaluated and graded more than 2,500 NFL players heading into the season, giving Insiders a leg up on the competition with exclusive grades and scouting reports.

TOP FIVE PLAYERS
ANALYSIS
1. Roddy White
Wide receiver
6-0 | 212
(Grade: 87) White has had three consecutive 80-plus reception seasons and has totaled at least 1,100 yards in each of those years. He is explosive off the ball and has exceptional speed.
2. Tony Gonzalez
Tight end
6-5 | 243
(84) Gonzalez might have lost a step in overall speed, but he still is extremely athletic, and has added a lot of savvy when it comes to route running and setting up defenders.
3. Michael Turner
Running back
5-10 | 244
(82) Turner missed five games in 2009 and finished with 871 yards on a 4.9-yard average. He let himself get a little heavy, which hurt his elusiveness and acceleration to the hole.
4. Curtis Lofton
Linebacker
6-0 | 242
(80) A second-round pick in 2008, Lofton helped solidify the middle of Atlanta's defense. He might lack the prototypical height for the linebacker position, but he can be an explosive tackler.
5. Matt Ryan
Quarterback
6-4 | 213
(80) Ryan has become the face of the Falcons, and is a leader on and off the field. He is a good-sized QB with a strong arm and the quickness and agility to make plays out of the pocket.
Grading scale: Elite (90-100), outstanding (80-89), solid starter (75-79), good starter (70-74)
Draft Class Watch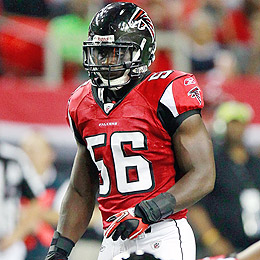 (Kevin C. Cox/Getty Images)
Sean Weatherspoon: Speedy and versatile.
Summary: One thing you have to like about general manager Thomas Dimitroff is his honesty. Unlike a lot of folks around the league, he doesn't give you the tired old line about always drafting "the best player available." Dimitroff freely admits the Falcons draft for need, and that's what the Falcons did this year. With Corey Peters and first-round pick Sean Weatherspoon, the Falcons clearly went after defensive needs.
What to expect: Atlanta is going to get immediate production from this draft class. Weatherspoon probably is going to open as a starter, although it remains to be seen whether he'll be at weakside linebacker or on the strong side. It doesn't really matter because Weatherspoon can play either spot and his speed is going to bring a new element to the linebacker corps.
Peters has been better than the Falcons expected through training camp and the preseason. With Jonathan Babineaux suspended for the first game and the Falcons bringing Peria Jerry along cautiously, Peters has a chance to start right away. At worst, he'll be used heavily in the rotation at defensive tackle. Dominique Franks has flashed some potential as a cornerback and could get playing time there down the road. But he should be an instant factor on special teams and has a chance to be part of the return game.
Looking to the future:
The Falcons aren't looking for offensive linemen Joe Hawley and Mike Johnson to start right away. They were looking a year ahead when they drafted these two. Center Todd McClure is nearing the end of his career and Tyson Clabo and Harvey Dahl could be free agents next year. There are going to be spots coming open on this line, and the Falcons were proactive in this area.
-- Pat Yasinskas, ESPN.com