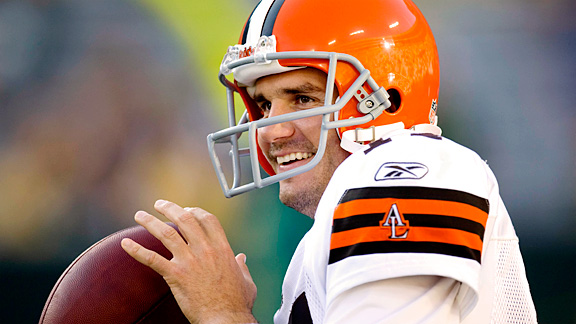 Jeff Hanisch/US Presswire
JOHN CLAYTON QB RANKING (33)
: Jake Delhomme landed in Cleveland after a dreadful 2009 season in Carolina. At 35, he could be looking at his last shot as a starter.
Expert Picks (Consensus: 4th)
The Browns finished fourth in the AFC North last season with a 5-11 record. For more Browns coverage, visit: James Walker's AFC North blog … on Twitter | Clubhouse | More predictions
ANALYST
PREDICTION
James
Walker
ESPN.com

DIVISION FINISH: 4 The Browns are just too short on talent to compete in the AFC North. This team added a few parts, but the Browns remain at least a year or two from contending.
John
Clayton
ESPN.com

DIVISION FINISH: 4 The talent gap between the Browns and their three division rivals is too vast for Eric Mangini's coaching to close. He has the secondary to match up against the division's QBs but he doesn't have the offensive firepower.

Adam
Schefter
ESPN

DIVISION FINISH: 4 The arrow is pointed up in Cleveland, but the three teams the Browns go against in their division might be as tough a three outs as any in football.
Matt
Williamson
Scouts Inc.

DIVISION FINISH: 4 Like Buffalo, the Browns might be poised to go winless within their division. They still have a ton of work to do.
Seth
Wickersham
ESPN The Magazine

DIVISION FINISH: 2 This is karma for LeBron James leaving. The NFL has an odd way of rewarding cities that suffer relocated teams (Baltimore, St. Louis), endless losing (Arizona, Indy, Tampa) or huge tragedy (New Orleans). No Super Bowl, but they'll get an 8-8 season.
Intelligence Report
Five things you need to know about the Browns:
1. In good hands: For the first time in a long time, Cleveland has stability in the front office with plenty of experience. New president Mike Holmgren and general manager Tom Heckert know how to put together winning organizations. Both have experienced success in important roles with the Green Bay Packers, Seattle Seahawks and Philadelphia Eagles. The Browns are hoping that success rubs off in Cleveland. Do not expect the team to be an overnight success, but things appear to be headed in the right direction.
2. Delhomme has eased some concerns: Whether you are on the Jake Delhomme bandwagon or still skeptical, his solid preseason performance has quieted some concerns after a tumultuous 2009 season. Delhomme was benched and eventually released by the Carolina Panthers after throwing only eight touchdowns and 18 interceptions last season. Questions remain about whether he will continue his poor play in Cleveland. But so far Delhomme has had good command of the offense in limited playing time.
3. Running game is strong: One of the best ways the Browns can take pressure off Delhomme and the passing game is by pounding the football. Cleveland isn't deep in a lot of areas, but the team has plenty of running backs. Jerome Harrison, Peyton Hillis and Montario Hardesty all bring different strengths to Cleveland's offense, and the Browns plan to keep runners fresh while wearing down the defense. Even Josh Cribbs and Seneca Wallace will contribute to the running game via the Wildcat. This run-first formula was successful during Cleveland's four-game winning streak last season.
4. Don't expect much from McCoy: Unless there is a complete debacle at quarterback, Colt McCoy will not see playing time as Cleveland's starter this season. The third-round pick doesn't look ready for the NFL game and still has a lot to learn. McCoy is third on Cleveland's roster behind Delhomme and Wallace, both of whom have a better grasp of the offense at this stage. Cleveland fans always get excited about the backup quarterback. But the Browns want to groom McCoy the right way by letting him sit at least one year on the sideline.
5. Weeks 1 and 2 will be huge: The Browns are notoriously slow starters, but that has to change if they want to have a successful season. Cleveland has two winnable games early at the Tampa Bay Buccaneers and home against the Kansas City Chiefs. It's a golden opportunity for the Browns to start the season 2-0 and develop momentum before they begin their tough division slate against the Baltimore Ravens in Week 3. The Browns were 1-5 against the AFC North last season. On paper, they don't match up well against the division again this season. So winning outside the division will be important.
-- James Walker, ESPN.com
Scouts Inc.'s Fabulous Five
Scouts Inc. has evaluated and graded more than 2,500 NFL players heading into the season, giving Insiders a leg up on the competition with exclusive grades and scouting reports.

TOP FIVE PLAYERS
ANALYSIS
1. Joe Thomas
Offensive tackle
6-6 | 312
(Grade: 93) Thomas is one of the most effective left tackles in the league. He is tall with a long, athletic build, and has excellent feet and quickness for the position.
2. Shaun Rogers
Defensive tackle
6-4 | 350
(89) Rogers has had weight and stamina problems throughout his career, but when fresh, he is a dominant player who commands a double-team on most snaps.
3. Alex Mack
Center
6-4 | 311
(82) Mack has the quickness to gain leverage against larger defenders. He understands angles and hand use to make effective double-team, reach and backside scoop blocks.
4. Eric Steinbach
Guard
6-6 | 295
(78) Steinbach is going into his eighth year and continues to perform at a high level. He has been a durable, versatile lineman who can play tackle in a pinch but is best suited for guard.
5. Eric Wright
Cornerback
5-10 | 190
(77) Wright has average size with excellent athleticism and deceptive strength for the position. He is a fluid, fast athlete with good lateral quickness and agility.
Grading scale: Elite (90-100), outstanding (80-89), solid starter (75-79), good starter (70-74)
Draft Class Watch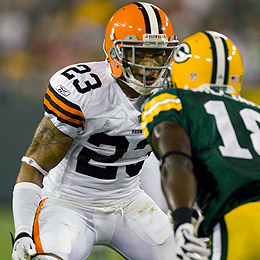 (Photo by Jeff Hanisch/US PRESSWIRE)
Joe Haden: Secondary reinforcement.
Summary: The first draft of the Mike Holmgren-Tom Heckert era is an important building block to turning the Browns around. Most notably, Cleveland put a lot of stock into building its secondary by using its first two picks on cornerback Joe Haden and safety T.J. Ward.
What to expect: Many rookies will play important roles for Cleveland this season. Ward is expected to start right away, and Montario Hardesty, Haden and offensive lineman Shawn Lauvao will see playing time in the Browns' rotation early. The latter three players are one play away from being starters.
Fantasy value: Hardesty has the biggest fantasy value among Cleveland's rookies. He suffered a knee injury in training camp, which put him behind. But Hardesty will be in the tailback rotation, and the Browns are expected to run the football a lot this season.
-- James Walker, ESPN.com