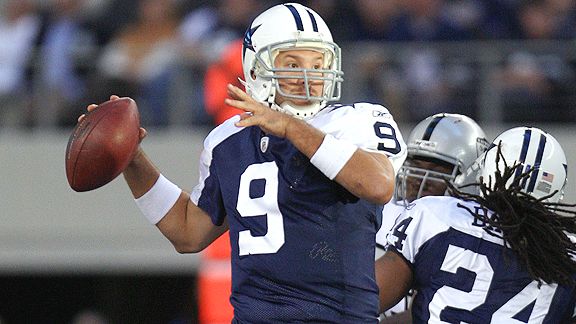 Matthew Emmons/US Presswire
JOHN CLAYTON QB RANKING (8)
: Tony Romo had a breakthrough season in 2009, throwing for a career-high 4,483 yards and earning his first playoff win as a starting quarterback.
Expert Picks (Consensus: 1st)
The Cowboys finished first in the NFC East last season with an 11-5 record. For more Cowboys coverage, visit: Matt Mosley's NFC East blog ... on Twitter | Clubhouse | More predictions
ANALYST
PREDICTION
Matt
Mosley
ESPN.com

DIVISION FINISH: 1 The NFC East title goes through Cowboys Stadium based on last season and the fact that the other three teams have so many questions. The Cowboys are a little beat up on the offensive line, but their defense can compensate for a lot of things.
John
Clayton
ESPN.com

DIVISION FINISH: 1 From San Antonio to Canton to Oxnard, the Cowboys have had an endless summer of practices and a long list of injuries. As long as the aging offensive line can hold up for Tony Romo, the Cowboys have the talent to play a Super Bowl game at home.

Adam
Schefter
ESPN

DIVISION FINISH: 3 The higher the expectations are, the more the disappointment hurts. Dallas usually does well when no one's expecting it; this season most think the Cowboys could be the first team to play a Super Bowl in its home stadium.
Matt
Williamson
Scouts Inc.

DIVISION FINISH: 2 The offensive line is a legitimate concern right now, but the sheer volume of talent on both sides of the ball will put this team into the playoffs. Still, I don't see the Cowboys being the first team to host the Super Bowl.
Seth
Wickersham
ESPN The Magazine

DIVISION FINISH: 1 Talent wins. The Cowboys are loaded -- not that they'll always win pretty. They'll win just enough for their third division title in four years.
Intelligence Report
Five things you need to know about the Cowboys:
1. The Cowboys are dangerously thin along the offensive line: And I'm not talking about weight-loss issues. They will start the season with Montrae Holland at left guard and RT Marc Colombo will just be returning from a knee injury that required arthroscopic surgery. Alex Barron is supposed to be the swing tackle, but he has been banged up throughout camp and hasn't been effective on the rare occasions he has been involved in team drills. If the starters can't stay healthy, there's not enough depth to hold this thing together.
2.What a risky venture to enter the season with an inexperienced place-kicker: David Buehler has a powerful leg, but he can be wildly unpredictable. He's an excellent weapon as a kickoff specialist, but handing him the place-kicking role could come back to haunt the Cowboys. The Carneys and Stovers of the world could be claimed early in the season, which could put the Cowboys in more peril. Buehler is an engaging personality who doesn't back down from any challenge. But there was not a good reason to simply hand him the job.
3. If the Cowboys flame out, it won't be left tackle Doug Free's fault: Some of my media brethren have done a lot of second-guessing on Flozell Adams' release, but I think Free is ready for the challenge. You think Jerry Jones would make this move if offensive line coach Hudson Houck told him Free wasn't ready? I don't think so. Free has excellent athleticism for a 6-foot-6 man and he'll start in this league for the next eight or nine years. I've really enjoyed watching him in space on some of those slip screens. Excellent balance and footwork.
4. Dez Bryant will bust out in the second half of the season: If you want a good comparison for the Cowboys' popular rookie wide receiver, look at Hakeem Nicks' 2009 season for the New York Giants. It will take Bryant a week or four to establish chemistry with Tony Romo, but he'll be in the starting lineup by midseason as long as he holds up physically. Bryant's a tough matchup for any cornerback or safety and his ability to use his body to shield defenders will set him apart. Miles Austin will keep him away from double-teams early in his career, and I think he'll take advantage of those opportunities. His hands are scary good. I sat there and watched him one day during training camp snag fastballs with one hand like he was wearing a first-baseman's mitt.
5. The Cowboys will be much better in the red zone this season: Romo told a couple of us during training camp that Jason Garrett has added several things that will not be unveiled in the preseason. Hopefully those things involve a steady dose of Jason Witten and Martellus Bennett. The tight ends were not targeted enough in the red zone last season, but I don't think Garrett will let that happen again. And it's OK to pound the ball into the end zone on the ground. Maybe the 2007 version of Marion Barber will make an appearance near the goal line.
-- Matt Mosley, ESPN.com
Scouts Inc.'s Fabulous Five
Scouts Inc. has evaluated and graded more than 2,500 NFL players heading into the season, giving Insiders a leg up on the competition with exclusive grades and scouting reports.

TOP FIVE PLAYERS
ANALYSIS
1. DeMarcus Ware
Linebacker
6-4 | 262
(Grade: 93) Ware plays with a big motor and shows great range in pursuit. He has developed his pass-rush package with excellent countermoves.
2. Miles Austin
Wide receiver
6-2 | 215
(89) He can stretch zones with his straight-line speed. He has become more physical as a route runner and can break tackles after the catch.
3. Jason Witten
Tight end
6-6 | 263
(87) He's a veteran who understands angles to seal defenders on combination blocks. He's an excellent route runner with quickness, balance and instincts to get separation out of his breaks.
4. Jay Ratliff
Defensive tackle
6-4 | 303
(87) He has deceptive power and can hold the point. He has expanded his pass-rush package with active hands, lateral quickness and interior countermoves.
5. Tony Romo
Quarterback
6-2 | 223
(81) He is a bit of a gunslinger, which is a big reason for his success, and has learned how to take care of the ball better in critical situations.
Grading scale: Elite (90-100), outstanding (80-89), solid starter (75-79), good starter (70-74)
Draft Class Watch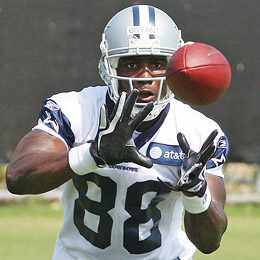 (Photo by Matthew Emmons/US Presswire)
Dez Bryant: Soon-to-be No. 2 WR.
Summary: The Cowboys picked two players in the first couple of rounds who were high on their board. Dez Bryant will eventually supplant Roy Williams as the No. 2 receiver opposite Miles Austin. Bryant and second-round pick Sean Lee could both be impact players in 2010. The rest of the class doesn't blow you away, but it beats the '09 class.
What to expect:I think Bryant and Lee will make this an excellent class. And keep an eye on former Notre Dame offensive tackle Sam Young. The sixth-rounder had a nice camp and I think there's a spot for him on the roster.
Biggest miss: The cornerback from Texas Tech, Jamar Wall, flashed early in camp, but he faded big-time once the games started. He just doesn't have the athleticism to make a lot of plays at this level.
-- Matt Mosley, ESPN.com