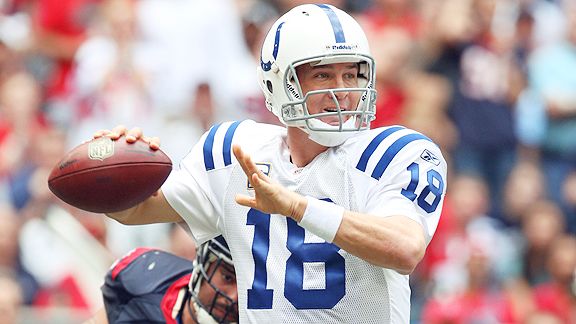 Matthew Emmons/US Presswire
JOHN CLAYTON QB RANKING (1)
: Peyton Manning claimed his fourth MVP trophy in 2009 and appeared in his second Super Bowl. At 34, he remains a model of consistency.
Expert Picks (Consensus: 1st)
The Colts finished first in the AFC South last season with a 14-2 record. For more Colts coverage, visit: Paul Kuharsky's AFC South blog … on Twitter | Clubhouse | More predictions
ANALYST
PREDICTION
Paul
Kuharsky
ESPN.com

DIVISION FINISH: 1 Betting against the Colts would have to be all about the odds. They are the closest thing the league has to a sure thing. They didn't lose last season until they didn't care. While the road will be tougher this season, they look to be a better team.
John
Clayton
ESPN.com

DIVISION FINISH: 1 Too bad Peyton Manning can't get umpires to move out of the way quicker while he runs the no-huddle, but at least it shows someone can slow him down. Manning is set for another 12-win season that will be aided by one of the Colts' best defenses in years.

Adam
Schefter
ESPN

DIVISION FINISH: 1 Certainties in life: death, taxes, and double-digit wins for Peyton Manning and the Indianapolis Colts.
Matt
Williamson
Scouts Inc.

DIVISION FINISH: 1 In my eyes, the Colts were undefeated (14-0) during the regular season. And now they add Bob Sanders and Anthony Gonzalez back into the mix. The offensive line worries me, but Peyton Manning makes those worries go away.
Seth
Wickersham
ESPN The Magazine

DIVISION FINISH: 1 More weapons at receiver for a quarterback who knows how to use them. The defense will be only as good as its oft-injured stars (Dwight Freeney, Bob Sanders) will allow.
Intelligence Report
Five things you need to know about the Colts:
1. The defense is growing up: A lot of key guys like cornerback Jerraud Powers, defensive tackles Dan Muir and Antonio Johnson, and linebacker Philip Wheeler now qualify as experienced veterans. And while it's hard to predict a full season out of Bob Sanders, he's a game changer likely to blitz more than he ever has before. Another key person who will be more comfortable is second-year coordinator Larry Coyer. All of it means the Colts might have one of their best defenses in recent memory.
2. The biggest difference in the run game could come from a tight end: Rookie Brody Eldridge played some as an offensive lineman at Oklahoma. While the Colts aren't going to ask him to hold down a spot on the line, he should be an upgrade over Gijon Robinson as the blocking tight end and is going to be a big help to the tackles and running backs. If the Colts can spring Joseph Addai around the corner a couple of times a game, it could really help with the offensive balance and ensure a run defense has to cover the whole field.
3. Peyton Manning expects to be better: He dedicates himself to a theme or two every offseason after breaking down every snap from the season before. With Anthony Gonzalez back from injury and Eldridge as a new option, his stable of targets borders on ridiculous. With Reggie Wayne, Dallas Clark, Pierre Garcon, Gonzalez, Austin Collie, Joseph Addai and Eldridge, odds are Manning will have someone he can find at all times. He will get rid of the ball as quickly as he needs to, but it would be great for him if the line allowed the time for a few more deep balls.
4. Fili Moala and/or John Chick will contribute: Moala, a second-rounder in his second year, is far better equipped to make a contribution than he was as a rookie swimming in the details of the system. And while the Colts got an edge pass-rusher with their first pick in the draft (Jerry Hughes), it's the former CFLer Chick who could be the primary supplement to Dwight Freeney and Robert Mathis early in the season. The Colts have some quality options in their D-line depth.
5. Special teams might have more resources: In his second season coaching Indy's special teams, Ray Rychleski should be better able to get his message through. He's surely tortured by the onside kick fiasco at the start of the third quarter of the Super Bowl loss. Now he's got some more dangerous return possibilities in Brandon James, Devin Moore and Ray Fisher, and a couple of rookie linebackers who could be coverage studs in Pat Angerer and Kavell Conner.
-- Paul Kuharsky, ESPN.com
Scouts Inc.'s Fabulous Five
Scouts Inc. has evaluated and graded more than 2,500 NFL players heading into the season, giving Insiders a leg up on the competition with exclusive grades and scouting reports.

TOP FIVE PLAYERS
ANALYSIS
1. Peyton Manning
Quarterback
6-5 | 230
(Grade: 95) He is not a scrambling quarterback but has enough foot quickness and agility to step up to avoid the rush or to extend the pocket when flushed.
2. Reggie Wayne
Wide receiver
6-0 | 198
(89) He has good size for the position with excellent deep speed, quickness, agility and body control.
3. Dwight Freeney
Defensive end
6-1 | 268
(87) He has rare initial quickness and good acceleration around the corner, developing a nice variety of counter moves for when blockers anticipate his upfield speed.
4. Robert Mathis
Defensive end
6-2 | 245
(87) He plays bigger than he measures but still will get engulfed by big offensive linemen when he allows them to get their hands on his pads.
5. Dallas Clark
Tight end
6-3 | 252
(85) He is a versatile tight end who will line up at h-back, or split out wide like a receiver or in tight as a traditional tight end.
Grading scale: Elite (90-100), outstanding (80-89), solid starter (75-79), good starter (70-74)
Draft Class Watch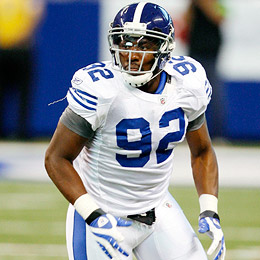 (Alan Maglaque/US Presswire)
Jerry Hughes: Low expectations.
Summary: The Colts didn't have a lot of lineup holes to fill, which is a beautiful way to draft. Bill Polian shopped for system fits and speed in the form of players who can provide depth and start in a year or two. Third-round draft pick Kevin Thomas, a cornerback, suffered a knee injury at rookie orientation and will be on injured reserve. The Colts spent only one pick on an offensive lineman, the one spot where they might have needed the most help -- and fourth-round guard Jacques McClendon doesn't appear to be an early-impact addition.
What to expect: The biggest contribution might come from Brody Eldridge, who can be an effective run-blocker and a more dangerous receiver than many expect. The team has worked to lower expectations of first-round defensive end Jerry Hughes, who might need some time but could be a contributor behind Dwight Freeney and Robert Mathis. Pat Angerer could wind up a special teams demon at the start of his career.
Return boosters: Seventh-rounder Ray Fisher was drafted largely because of his return skills, but early preseason work made it appear hometown guy Devin Moore, an undrafted running back, or Florida's Brandon James, undrafted as a returner, could win the job and provide an explosiveness the team has been lacking in the return games.
-- Paul Kuharsky, ESPN.com