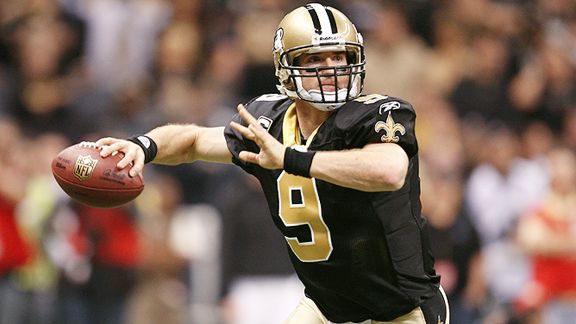 John David Mercer/US Presswire
JOHN CLAYTON QB RANKING (3)
: Drew Brees capped a sensational 2009 season (4,388 yards, 34 touchdowns) by earning Super Bowl MVP honors. What will he do for an encore in 2010?
Expert Picks (Consensus: 2nd)
The Saints finished first in the NFC South last season with a 13-3 record. For more Saints coverage, visit: Pat Yasinskas' NFC South blog ... on Twitter | Clubhouse | More predictions
ANALYST
PREDICTION
Pat
Yasinskas
ESPN.com

DIVISION FINISH: 1 You still have to start with the Saints when you talk about the NFC South. Unlike a lot of recent Super Bowl teams, they didn't get wiped out by free agency or have their coaching staff raided. And any team that has Drew Brees at quarterback starts off as a legit contender.
John
Clayton
ESPN.com

DIVISION FINISH: 2 The Saints will make the playoffs and be one of the most dangerous teams in the postseason, but they won't have the break of going against every rookie or inexperienced starting signal-caller in the league as they did last season. Drew Brees only gets better.

Adam
Schefter
ESPN

DIVISION FINISH: 2 If the Saints can force all the turnovers they did last season, they'll be able to go just as far as they did when they made history.
Matt
Williamson
Scouts Inc.

DIVISION FINISH: 2 The Saints are still formidable -- no doubt. But I don't see any area where they are better than in 2009. And it's doubtful they can maintain their torrid pace of creating turnovers and getting into the end zone on defense. A hangover in New Orleans? Exactly.
Seth
Wickersham
ESPN The Magazine

DIVISION FINISH: 1 The Saints' leadership -- especially Drew Brees and Sean Payton -- is too committed to allow the team to fall victim to the power-of-me syndrome that afflicts so many defending champs.
Intelligence Report
Five things you need to know about the Saints:
1. Core still intact: This is the same team that won the Super Bowl. Aside from letting linebacker Scott Fujita and running back Mike Bell walk and showing defensive end Charles Grant the door, the Saints have pretty much everyone back from last year's magical season. It's fair to say they've upgraded on Grant by bringing in Alex Brown and Jimmy Wilkerson, and they're confident they have some talented young linebackers to take over Fujita's spot. This is a team that knows how to win, and there's a lot to be said for continuity, especially if it doesn't cross the line into complacency.
2. Secondary is solid: The secondary just might be the most talented in the NFL. Yes, what was considered a major weakness just two seasons ago might be the team's biggest strength (besides Drew Brees). The world hasn't realized how good cornerbacks Jabari Greer and Tracy Porter are yet, but scouts and coaches around the league will tell you there aren't many better duos in the NFL. Greer and Porter each missed significant time with injuries last season. But when they were healthy, they were close to dominant. Backup Randall Gay could start for a lot of teams, and first-round pick Patrick Robinson will work his way gradually into the rotation. The Saints feel good about second-year pro Malcolm Jenkins taking over for Darren Sharper at free safety, and strong safety Roman Harper is underrated. If Sharper can get healthy as the season goes on, the Saints will have incredible depth in the secondary.
3. Bush in top form: Reggie Bush is healthier than he's been in a long time. Think back to the way Bush ran in the preseason. At times, he put his shoulder down and ran straight at defenders, and it worked nicely. That could be a sign of things to come. Bush is never going to be a 25-carry-a-game power runner, and his biggest strength is in the open field. For the moment at least, Bush has put his history of nagging injuries behind him, and you might see a little more from him this season than in the past. He'll share carries with Pierre Thomas, and that's not a bad combination, but Bush is the one guy on this offense who's a home run threat every time he touches the ball.
4. Ellis poised to emerge: Sedrick Ellis might be ready for a breakout season. The defensive tackle has been pretty good when he's been on the field in his first two seasons. The run defense is noticeably better when Ellis is on the field. The problem, however, is Ellis has been slowed by a series of nagging injuries and hasn't truly become a dominant force. That could change simply if Ellis stays healthy. He's as talented as any defensive tackle in the league. Last year's emergence of Anthony Hargrove should help. The Saints can use Hargrove in a rotation that will limit Ellis' playing time a bit and help keep him fresh.
5. Evans a key: Don't underestimate the importance of fullback Heath Evans. The Saints brought him in last season because they felt he was a jack-of-all-trades, and he started off very nicely. But Evans got hurt and missed the second half of the season and the postseason. That forced the Saints to do a lot of shuffling on offense, and the coaching staff did a masterful job of that. Having a healthy Evans this season will make things a lot easier for the offense. He's a big-time blocker, and that will help the running game. He also is capable of handling a few short-yardage carries and catching some passes out of the backfield. When the Saints say their offense can be better than last season, a healthy Evans is one of the reasons they believe that.
-- Pat Yasinskas, ESPN.com
Scouts Inc.'s Fabulous Five
Scouts Inc. has evaluated and graded more than 2,500 NFL players heading into the season, giving Insiders a leg up on the competition with exclusive grades and scouting reports.

TOP FIVE PLAYERS
ANALYSIS
1. Drew Brees
Quarterback
6-0 | 209
(Grade: 93) Brees has developed into one of the game's elite quarterbacks. He is slightly undersized for the position but has a great feel for finding passing lanes and reading coverages.
2. Jahri Evans
Guard
6-4 | 318
(86) Evans has excellent size with initial quickness and body control. He is quick to get a fit with his hands and is a natural knee bender who can leverage his blocks.
3. Jabari Greer
Cornerback
5-11 | 180
(85) Greer is athletic with a good feel for route reading and knows how to maintain a proper cushion with his pedal. He lacks top-end speed, though, and can be exposed when matched up with faster receivers.
4. Will Smith
Defensive end
6-3 | 282
(85) Smith has developed into a quality all-around player who not only brings an excellent pass rush but also can be a force versus the run.
5. Darren Sharper
Safety
6-2 | 210
(84) Sharper is a crafty veteran who is effective with great reactions and technique from his safety position. He has excellent size but has lost some quickness and speed the past few years.
Grading scale: Elite (90-100), outstanding (80-89), solid starter (75-79), good starter (70-74)
Draft Class Watch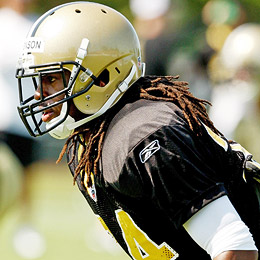 (Photo by Derick E. Hingle/US Presswire)
Patrick Robinson: Low on the depth chart.
Summary: The Saints didn't do anything flashy in this draft. They simply went for depth and landed a few guys they think can be starters down the road.
What to expect: The Saints probably won't open the season with any of their rookies starting or even getting a lot of playing time. Patrick Robinson is stuck behind some talented cornerbacks and will have time to adjust to the NFL game. He probably will be used early on special teams simply because of his athletic ability.
Offensive tackle Charles Brown is the guy to keep an eye on. The Saints traded away left tackle Jammal Brown and likely will open the season with Jermon Bushrod in that spot. Bushrod did an adequate job there last season, but he has limited upside. Brown has the tools to become better than Bushrod, but he needs some fine-tuning to get there. But don't be surprised if Brown starts getting playing time around midseason if he continues to progress.
Sleeper pick: The Saints took a bit of a leap on tight end Jimmy Graham in the third round. He played only one year of college football and played basketball before that. The Saints knew Graham was athletic, but he's already shown more polish than they expected. With Jeremy Shockey and David Thomas around, Graham is not a candidate to start. But he's shown enough pass-catching talent that the Saints probably will include him in some packages.
-- Pat Yasinskas, ESPN.com