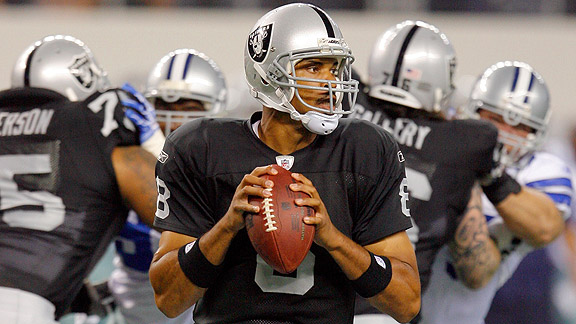 Tom Pennington/Getty Images
JOHN CLAYTON QB RANKING (19)
: After five up-and-down years in Washington, Jason Campbell has been given a fresh start in Oakland. He's a career 61.2 percent passer.
Expert Picks (Consensus: 2nd)
The Raiders finished third in the AFC West last season with a 5-11 record. For more Raiders coverage, visit: Bill Williamson's AFC West blog … on Twitter | Clubhouse | More predictions
ANALYST
PREDICTION
Bill
Williamson
ESPN.com

DIVISION FINISH: 2 I'm giving this a try for the third straight year. It has to happen sometime, right? Jason Campbell will give the Raiders stability at QB. He's not great, but he's a legitimate QB, something Oakland hasn't had recently. The defense should be improved.
John
Clayton
ESPN.com

DIVISION FINISH: 2 No team west of the Mississippi did better than Oakland in improving its run-stopping ability with additions to the defensive front seven. Jason Campbell gives the Raiders an accurate quarterback with good leadership who won't cost them games.

Adam
Schefter
ESPN

DIVISION FINISH: 2 This is when Raiders fans will realize how much difference a quarterback can make -- this team has some good talent.
Matt
Williamson
Scouts Inc.

DIVISION FINISH: 3 It looks as though strides are being made in the right direction, but these are still the Raiders and until proved otherwise, I expect a lot of losses. Plus, the offensive line is atrocious.
Seth
Wickersham
ESPN The Magazine

DIVISION FINISH: 4 The defense is ready. The passing game isn't -- despite the emergence of TE Zach Miller, who should make his first Pro Bowl in 2010.
Intelligence Report
Five things you need to know about the Raiders:
1. Jason Campbell will help: The biggest positive about Campbell is that he is not JaMarcus Russell. That will go a long way in Oakland. Russell was cut in May after three disastrous seasons. Campbell is not an elite player by any stretch, but he is a legitimate, competent NFL quarterback. That alone will help Oakland improve on offense. The Raiders scored only 17 offensive touchdowns in 2009. Expect that number to increase fairly dramatically this season.
2. Michael Bush will be dependable: The Raiders want Bush or third-year running back Darren McFadden to become a legitimate No. 1 back. The Raiders really don't care which one it is, but they want to see these players reach their potential. I think Bush is the man for the job. McFadden is talented, but he has been hampered by injuries in his short NFL career. Bush is a bigger back who has the ability to wear down defenses. Don't expect the thumb injury he suffered in the preseason to have an impact on his long-term effectiveness. Bush will establish himself as a reliable runner.
3. The receivers need time: The Raiders will be improved on offense, but the receiving crew could betray the team on occasion. In three years, this unit may become a strength because it has so much potential. But it has to prove itself. Top receiver Chaz Schilens has big-league ability, but he has been bothered by a foot injury for more than year. Second-year players Darrius Heyward-Bey and Louis Murphy both have potential, but they haven't shown they can be reliable on a weekly basis.
4. The run defense should be improved: One of the Raiders' biggest problems the past few seasons was the run defense. It was ravaged last season. Improving the run defense was Oakland's top priority in the offseason. The Raiders drafted linebacker Rolando McClain and defensive end Lamarr Houston in the first two rounds with the design of stopping the run. They are two stout players who are not afraid to close gaps. Richard Seymour has been moved from end to tackle and he can be a dominant run-stopper at times. While the Raiders' run defense still faltered at times in the preseason, it shouldn't be a colossal issue as it has been in the past.
5. Hue Jackson will have a major role: Get used to hearing and reading Jackson's name as he will have a gigantic role on this team. The longtime successful assistant was handpicked to ignite Oakland's offense as its coordinator. He will call the plays and be in charge of the team's passing game. Raiders owner Al Davis is a huge fan of Jackson's. If the Raiders falter early and Davis gets the itch to make a head-coaching change, Jackson could replace Tom Cable.
-- Bill Williamson, ESPN.com
Scouts Inc.'s Fabulous Five
Scouts Inc. has evaluated and graded more than 2,500 NFL players heading into the season, giving Insiders a leg up on the competition with exclusive grades and scouting reports.

TOP FIVE PLAYERS
ANALYSIS
1. Nnamdi Asomugha
Cornerback
6-2 | 210
(Grade: 93) Asomugha is strong enough to press receivers or reroute them after the release. He gives the Raiders a shutdown corner who allows them to roll coverage to the other side.
2. Richard Seymour
Defensive end
6-6 | 310
(84) He provides the defense with a much-needed spark and needs to be accounted for in the game plan. He showed the ability to play both outside as a defensive end and inside as a defensive tackle.
3. Shane Lechler
Punter
6-2 | 225
(78) He has the kind of leg that can pin opponents back at their goal line. He has solid mechanics, as he gets the ball off quickly and shows excellent follow-through on his kicks.
4. Zach Miller
Tight end
6-5 | 255
(78) He has the speed to stretch the secondary down the seam and also has the size to go across the middle and catch the ball in traffic.
5. Robert Gallery
Guard
6-7 | 325
(76) He is not a natural knee bender and really needs to work on keeping his pad level down to leverage his blocks. He has improved his hand use and can control and steer opponents.
Grading scale: Elite (90-100), outstanding (80-89), solid starter (75-79), good starter (70-74)
Draft Class Watch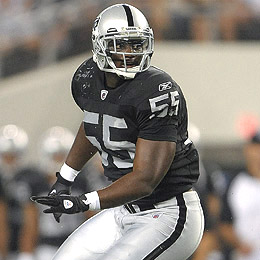 (Photo by Kirby Lee/Image of Sport/US Presswire)
Rolando McClain: Improves run defense.
Summary: After making some colossal mistakes and big reaches the past few drafts, the Raiders received universal kudos for playing it straight this year. It appears Oakland has added very nice pieces. The Raiders addressed their need for run defense with their first two picks, linebacker Rolando McClain and defensive end Lamarr Houston. The team also added two pieces for the offensive line, potential future starters Jared Veldheer and Bruce Campbell.
What to expect: The Raiders are expecting a lot of McClain and Houston. Both players will be instant starters. If the two rookies can adjust quickly to the NFL game, the Raiders' defense should be improved. I don't expect either player to have trouble adjusting. McClain is smart and already is a vocal leader. He will make a difference on first and second downs. Houston has been outstanding and he should give the unit toughness. Veldheer and/or Campbell might earn some playing time on a line that desperately needs help. Receiver/returner Jacoby Ford, cornerback Walter McFadden and linebacker Travis Goethel should vie for significant playing time.
Class MVP: I'm going with Houston. McClain is going to have a fine rookie season. But Houston has a chance to be dominant player immediately. I wouldn't be surprised if he has double-digit sacks and becomes a dynamic run-stopper. This feisty second-round pick may prove to be one of the steals of the draft.
-- Bill Williamson, ESPN.com