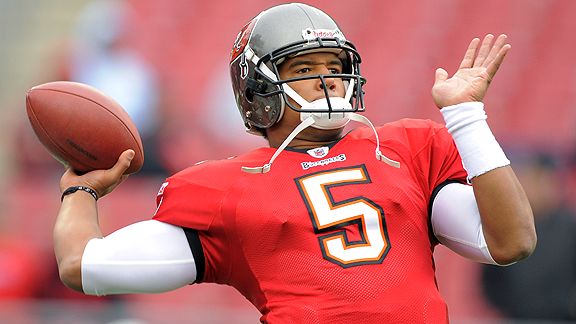 Scott A. Miller/US Presswires
JOHN CLAYTON QB RANKING (29)
: The Buccaneers are trying to build around Josh Freeman, who threw 10 TD passes and 18 interceptions as a rookie in 2009.
Expert Picks (Consensus: 4th)
The Buccaneers finished fourth in the NFC South last season with a 3-13 record. For more Buccaneers coverage, visit: Pat Yasinskas' NFC South blog ... on Twitter | Clubhouse | More predictions
ANALYST
PREDICTION
Pat
Yasinskas
ESPN.com

DIVISION FINISH: 4 The Bucs are going to be better than last year. But they were starting with a very low bar. You'll see some growth this season. But the Bucs might need one more offseason to get their talent level to a point where they truly can compete in the NFC South.
John
Clayton
ESPN.com

DIVISION FINISH: 4 A great draft and a developing Josh Freeman offer plenty of hope for Buccaneers fans. Unfortunately, the team is another draft or two from getting to the .500 mark.

Adam
Schefter
ESPN

DIVISION FINISH: 4 People discount the Bucs, but they have as many young building blocks -- Josh Freeman, Mike Williams, Donald Penn, Gerald McCoy, Aqib Talib, Tanard Jackson -- as any team in the division.
Matt
Williamson
Scouts Inc.

DIVISION FINISH: 4 This past draft class will pay off immediately, but this team still lacks enough difference-makers to get out of the cellar. The Bucs will be far more competitive this year than they were in 2009.
Seth
Wickersham
ESPN The Magazine

DIVISION FINISH: 3 The Bucs, who for the longest time seemed to lead the NFL in locker-room leaders (Derrick Brooks, Warrick Dunn), face a dearth of them now for the second year in a row. Will Geno Hayes and Josh Freeman step up?
Intelligence Report
Five things you need to know about the Buccaneers:
1. Freeman the focus: This is Josh Freeman's team. The Buccaneers declared Freeman a franchise quarterback on the day they drafted him. They spent almost all their offseason efforts on solidifying the parts around Freeman. They signed left tackle Donald Penn to a big contract, mainly because they wanted to make sure Freeman had adequate protection from the blind side. They booted Antonio Bryant, who wasn't a favorite of Freeman or the coaching staff, and drafted receivers Arrelious Benn and Mike Williams while also trading for Reggie Brown. Freeman had some bright moments when he got to play at the end of last season and he did that with tight end Kellen Winslow as his only true weapon. With a supporting cast better-suited to his skills, Freeman is expected to take a huge leap forward.
2. Tranquil times: Coach Raheem Morris is starting to get "it." It wouldn't be inaccurate to say Morris looked clueless early last year. He was firing coordinators and not even sure what schemes his team was running. But give Morris and general manager Mark Dominik credit for admitting their mistakes and learning from them. Morris has taken over the defense and gone back to the Tampa 2 scheme, and offensive coordinator Greg Olson had an entire offseason to install his system while new quarterbacks coach Alex Van Pelt worked intensely with Freeman. There's been a calm and quiet atmosphere around One Buccaneer Place all throughout the preseason and that's great news. It's a lot better than last year, when Morris was starting off surrounded by constant controversy.
3. Defense making progress: The defense might not be that bad. We'll get to the front four in a minute. But let's start with the back seven. The Bucs believe cornerback Aqib Talib, always a physical talent, has matured to the point where he has a chance to become a Pro Bowler. Ronde Barber can be solid for another year in the Tampa 2 scheme and free safety Tanard Jackson is more than solid. It looks as though the Bucs will go with Sean Jones over Sabby Piscitelli at strong safety and that makes for a decent secondary. The linebacker corps is similar. Barrett Ruud already is established in the middle, and the Bucs believe Geno Hayes and Quincy Black are on the verge of truly emerging.
4. D-line the weakest link? Yeah, but what about the defensive line? That might be the biggest question facing the Buccaneers. But seriously, even with a bunch of young faces, this line can't be any worse than it was last season. The Bucs used to get blown off the ball in the running game and there wasn't much of a pass rush. Tampa Bay used its first two draft picks on defensive tackles Gerald McCoy and Brian Price, and the Bucs also have second-year pro Roy Miller. Those three should help the run defense and they might be able to generate some interior pass rush. But there are no real signs the Bucs have much of pass-rush threat in any of their defensive ends.
5. Cadillac revving up: Watch out for Cadillac. Throughout his career, Cadillac Williams has been star-crossed by injuries. He's made some remarkable comebacks and the Bucs love his heart. But they're even more excited by the fact that this is the first time in several years Williams didn't spend his entire offseason recovering from a major injury. He's been able to focus on football, and the Bucs believe he can provide them with a strong running game.
-- Pat Yasinskas, ESPN.com
Scouts Inc.'s Fabulous Five
Scouts Inc. has evaluated and graded more than 2,500 NFL players heading into the season, giving Insiders a leg up on the competition with exclusive grades and scouting reports.

TOP FIVE PLAYERS
ANALYSIS
1. Kellen Winslow
Tight end
6-0 | 242
(Grade: 83) Winslow is a former first-round pick who can be a franchise tight end when healthy. He is a big matchup problem as he is generally too fast and too athletic for linebackers to cover and can overpower most safeties.
2. Barrett Ruud
Linebacker
6-2 | 241
(79) Ruud continues to be one of the most productive linebackers in the league. He is an above-average athlete who has good lateral quickness. He is quick to locate the ball in traffic and takes good angles.
3. Davin Joseph
Guard
6-3 | 313
(78) Joseph is a powerful drive blocker who has the upper-body strength to control and steer opponents, and enough initial quickness and agility to get out on the pull or to climb to the second level.
4. Tanard Jackson
Safety
6-0 | 200
(77) Jackson continued to produce at a high level as an active safety in 2009. He is a physical run defender and shows strength to ward off blockers and work through traffic.
5. Aqib Talib
Cornerback
6-1 | 205
(76) Talib had a breakout season in his second year in the league, securing 15 starts in 2009. Talib has an excellent combination of size, strength and athleticism.
Grading scale: Elite (90-100), outstanding (80-89), solid starter (75-79), good starter (70-74)
Draft Class Watch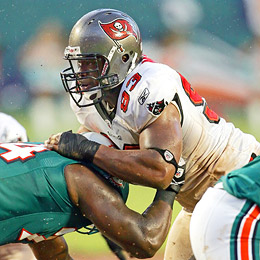 (Photo by Cliff Welch/Icon SMI)
Gerald McCoy: Opportunity knocking early.
Summary: As they were staying pretty much out of the free-agent market in the offseason, the Bucs kept saying that this draft class would be crucial to the foundation of the team. The implication there is that the Bucs need some instant contributions from their rookies. That shouldn't be a problem because many of them are stepping into holes that were waiting to be filled.
What to expect: Gerald McCoy is going to start from day one and Brian Price also could start or, at worst, be the third man in the defensive tackle rotation. Skeptics can point back and say Warren Sapp didn't have much impact as a rookie in Tampa Bay and that's true. But McCoy and Price will be thrown onto the field immediately because the Bucs don't have any other options.
With a very strong camp and preseason, Mike Williams appears to have locked up a starting receiver job. Arrelious Benn hasn't been as dynamic and probably will open the season behind Reggie Brown and Sammie Stroughter on the depth chart. But Benn has good physical tools and the Bucs believe he'll be contributing a lot by midseason.
The unknown: The Bucs still have high hopes for cornerback Myron Lewis, but they really don't know what they've got. Lewis missed most of training camp with an injury and that's set him back. The Bucs had hoped to open the season with Lewis as their nickelback. But they'll probably have to start off using Elbert Mack or E.J. Biggers in that role. The team isn't all that high on Mack or Biggers, so Lewis will have a chance to jump ahead of them as soon as he gets comfortable. The Bucs think he's a guy who could be starting in Ronde Barber's spot in a year or two.
-- Pat Yasinskas, ESPN.com