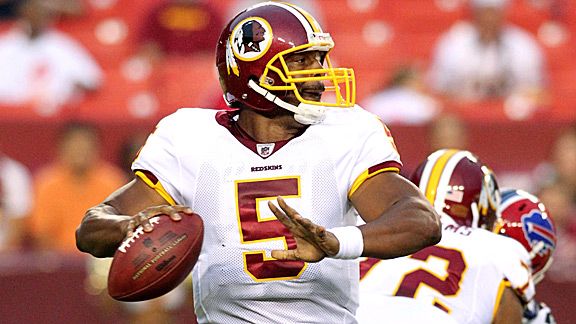 Jeff Fishbein/Icon SMI
JOHN CLAYTON QB RANKING (9)
: After several productive seasons in Philadelphia, Donovan McNabb brings big-game experience and an 86.5 career passer rating to Washington.
Expert Picks (Consensus: 4th)
The Redskins finished fourth in the NFC East last season with a 4-12 record. For more Redskins coverage, visit: Matt Mosley's NFC East blog ... on Twitter | Clubhouse | More predictions
ANALYST
PREDICTION
Matt
Mosley
ESPN.com

DIVISION FINISH: 4 Too bad the Redskins play in the most competitive division in the league. They could improve by five wins this season and still miss the playoffs.
John
Clayton
ESPN.com

DIVISION FINISH: 2 The union of Mike Shanahan's mind and Donovan McNabb's arm should give the Redskins a legitimate chance to jump to eight or nine wins. What would be nice is if they could trade for Vincent Jackson to give McNabb a full arsenal of passing weapons.

Adam
Schefter
ESPN

DIVISION FINISH: 4 Mike Shanahan is putting his imprint on his organization, and it will show from the moment the Redskins take the field.
Matt
Williamson
Scouts Inc.

DIVISION FINISH: 4 The Redskins will be the best team in the NFL to finish last in its division. They are improved on both sides of the ball, but in the end they have the fourth-best offense and fourth-best defense in the NFC East.
Seth
Wickersham
ESPN The Magazine

DIVISION FINISH: 4 Hard to see a significant turnaround unless Trent Williams and Artis Hicks fix a lousy O-line. Too bad, because with a good line, Donovan McNabb and Kyle Shanahan could do some damage.
Intelligence Report
Five things you need to know about the Redskins:
1. This defense will cause more turnovers under Jim Haslett: There's been a lot more emphasis on stripping the ball in training camp. Brian Orakpo will still get his sacks, but this season he'll also be looking to separate quarterbacks from the ball. The loss of safety Kareem Moore for four to six weeks hurts, but the Redskins should be able to cover for him with Reed Doughty or Chris Horton. I think LaRon Landry is going to be a different player at strong safety under Haslett because he'll be able to play closer to the line of scrimmage. It always looked ridiculous to see him about 30 yards off the ball. It's time for him to make good on all that potential.
2. This will not go smoothly for Donovan McNabb -- at first: If McNabb was missing preseason games with the Eagles, I wouldn't be worried. But he needs more repetitions with Mike Shanahan's version of the West Coast offense. He never really found a great rhythm in training camp, so I'm not sure he'll be able to flip the switch against the Cowboys on Sept. 12. The Redskins are thin at receiver and talented at tight end. They have a lot of running backs, but most of them peaked about four or five years ago. It will take McNabb a little while to ignite this offense, but it will eventually happen.
3. Albert Haynesworth's not going to make it through the season: Hey, at least I waited until the third item. I don't think this is going to end well with Haynesworth and Shanahan -- and it's not as if I'm going out on a limb. This is a stubborn player whose ego exceeds his talent level. Shanahan will have to send him home (suspension) at some point in this season. I really believe that. And the Redskins won't miss him that much on the field. His constant complaining and desire to wear a baseball cap during practice will become too much of a distraction. I think some players would just as soon get it over with before the season begins.
4. It's put up-or-shut up time for Devin Thomas and Malcolm Kelly: Vinny Cerrato, the man who drafted these two wide receivers in the second round, isn't around to make excuses for them anymore. Kelly was placed on injured reserve after pulling his left hamstring and Thomas hasn't been consistent enough to move up the depth chart. When Anthony Armstrong is keeping you off the field, there's a problem. Shanahan doesn't owe these guys anything. They have talent, but they will no longer be coddled. It's ridiculous that Joey Galloway is starting for an NFL team at age 38. What, was Michael Westbrook not available?
5. Trent Williams will struggle, but he'll be fine eventually: Offensive coordinator Kyle Shanahan will have to help McNabb in a lot of ways. He'll need to call plays that get the ball out quickly because Trent Williams and Jammal Brown are going to be slow out of the gates at left and right tackle. McNabb has never known what it's like to have a consistent running game, but he's about to find out how much it can help. No matter which of the geezers Shanahan keeps on the roster, at least one of them will put up respectable numbers. We learned that from Shanahan's time in Denver.
-- Matt Mosley, ESPN.com
Scouts Inc.'s Fabulous Five
Scouts Inc. has evaluated and graded more than 2,500 NFL players heading into the season, giving Insiders a leg up on the competition with exclusive grades and scouting reports.

TOP FIVE PLAYERS
ANALYSIS
1. Albert Haynesworth
Defensive tackle
6-6 | 350
(Grade: 89) He can beat blockers off the snap and play on the other side of the line of scrimmage. He is a disruptive force. He shows a nice club move as a pass-rusher.
2. Brian Orakpo
Linebacker
6-4 | 260
(85) He shows the quickness to turn the corner as a pass-rusher. He has an excellent closing burst to get to the quarterback. He is effective against the run as well.
3. Chris Cooley
Tight end
6-3 | 255
(80) He is a versatile player who can line up all over the field. He is an excellent route runner, and understands how to use his body to separate from defenders.
4. London Fletcher
Linebacker
5-10 | 245
(80) He shows excellent vision in sniffing out run plays. He is an excellent technician, taking on blocks with the correct shoulder and using his hands well to push away from blockers and make plays in the hole.
5. Donovan McNabb
Quarterback
6-2 | 240
(79) He can still make all of the throws that any offensive system would ask of him. He is still an above-average athlete who can occasionally beat you with his feet.
Grading scale: Elite (90-100), outstanding (80-89), solid starter (75-79), good starter (70-74)
Draft Class Watch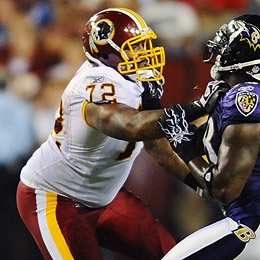 (Photo by Jeff Fishbein/Icon SMI)
Trent Williams: A fixture at LT?
Summary: This draft was all about nailing the first-round pick. Trent Williams from Oklahoma should start at left tackle for several years. Swapping fifth-round picks with the Rams to land DE Adam Carriker was also a good move. The former first-rounder should be a better fit in a 3-4 scheme.
What to expect: The Redskins didn't have enough picks to really make a splash. Linebacker Perry Riley is a player who could contribute on special teams and it will be interesting to see what wide receiver Terrence Austin does.
Biggest disappointment: Nothing jumps out at you. I suppose you could pick out offensive tackle Selvish Capers, but he'll still be given some latitude. The third-round pick was used for Jeremy Jarmon last year and it will be interesting to see how he looks in Jim Hasett's defense. If Williams and Donovan McNabb have excellent careers in Washington, this will end up being an excellent draft.
-- Matt Mosley, ESPN.com