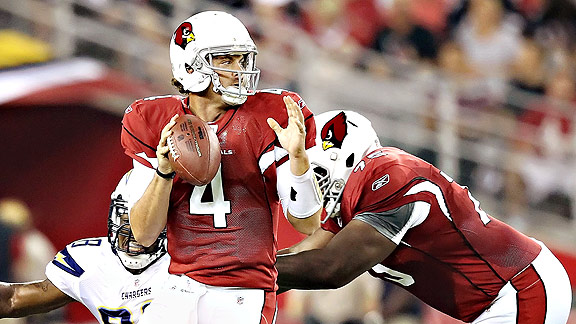 Christian Petersen/Getty Images
JOHN CLAYTON QB RANKING (18)
: Upside: Kevin Kolb's career completion percentage is 60.8 percent. Downside: He has 14 interceptions against 11 TD) in 319 attempts, and has started only seven games.
Expert Picks (Consensus: second)
The Cardinals finished fourth in the NFC West last season with a 5-11 record. For more Cardinals coverage, visit: Mike Sando's NFC West blog ... on Twitter | Clubhouse | More predictions
ANALYST
PREDICTION
Mike
Sando
ESPN.com

DIVISION FINISH: 2 Kevin Kolb upgrades the offense significantly because the Cardinals were so down at QB in 2010. Keeping him upright and healthy could be a challenge given their situation at OT. But as long as he's in the lineup, they have a good shot in the division.
John
Clayton
ESPN.com

DIVISION FINISH: 2 The Cardinals made the best acquisition in the division by getting quarterback Kevin Kolb in a trade. The improved passing game could get Arizona to eight wins.

Adam
Schefter
ESPN.com

DIVISION FINISH: 2 Arizona got the quarterback it needed in Kevin Kolb; now Kolb needs to prove he can be one of the game's elite.
Jeffri
Chadiha
ESPN.com

DIVISION FINISH: 1 They would have won this division last season if they had decent quarterback play. Kevin Kolb will help.
Ashley
Fox
ESPN.com

DIVISION FINISH: 2 Now we will see if Kevin Kolb is truly a starter in this league. He will benefit from having wide receiver Larry Fitzgerald. The offensive line will need to give him plenty of time, because Kolb is not very mobile.
Intelligence Report
Five things you need to know about the Cardinals:
1. Kolb has to be the guy: The Cardinals are paying Kevin Kolb about what Sam Bradford will receive for the next five years. That puts Arizona's commitment level in perspective. Coach Ken Whisenhunt is all-in on this one. The team should know this season whether Kolb is going to be the answer. Early returns are encouraging. Kolb has shown a dynamic personality that lends itself to leadership. He has shown a clear understanding of the No. 1 rule in Arizona: Throw the ball to Larry Fitzgerald when he's open, and throw it to him anyway when he's not.
2. Ray Horton is not a magician: The Cardinals' new defensive coordinator has the right pedigree. He learned under Dick LeBeau in Pittsburgh. It doesn't get much better than that. Unfortunately for the Cardinals, Horton could not bring with him from Pittsburgh the outside pass-rushers who have helped the Steelers field such a strong defense. Neither can Horton wave a magic wand to make Joey Porter, Clark Haggans, O'Brien Schofield and Sam Acho turn into elite edge rushers. Look for the Cardinals to get creative with their inside linebackers. They also need to generate pressure with their safeties. Adrian Wilson can be a formidable blitzer, but he's dealing with a biceps injury.
3. Kolb's health is in focus: Kolb left the Eagles' 2010 regular-season opener with a concussion. He's now joining a Cardinals team without elite pass protectors at either tackle spot. Running back Beanie Wells hasn't been consistent in protection, either. It's important for Kolb to keep his competitive nature in check when scrambling or deciding what to do with the ball. Fitzgerald has praised Kolb for getting rid of the football quickly. Kurt Warner set the standard in that area. Kolb must follow suit. He's not the sturdiest or most physical quarterback. He needs to be smart with his body because the Cardinals don't have a backup with nearly the same abilities.
4. The schedule sets up favorably: The Cardinals face some tough stretches, but they begin and end the season with games that appear quite manageable. Carolina (home) and Washington (road) are first on the schedule. Arizona plays four of its final five games at home. None of the Cardinals' final five opponents even had a winning record last season. Arizona struggled late last season despite playing a cushy schedule. The addition of Kolb gives the Cardinals a better chance to beat the teams they're supposed to beat. Even average play from Kolb could be enough to challenge for a division title.
5. Make-or-break year for Beanie Wells: The third-year back finds himself in position to become the week-to-week starter now that Tim Hightower (traded) and Ryan Williams (injured) aren't options. Wells remains an intriguing prospect. He has 292 carries for 1,190 yards and nine touchdowns during his first two seasons, with only two starts. Wells has the ability to double his career production in a single season as the full-time starter. Backs starting every game last season averaged 288 carries. It's just tough to trust Wells over the course of a full season. He has been hurt too much and running back is a brutal position. Steven Jackson, Rashard Mendenhall, Cedric Benson, Chris Johnson, Matt Forte and Ronnie Brown were the only running backs to start all 16 games last season.
-- Mike Sando, ESPN.com
Inside The Numbers
With the departure of quarterback Kurt Warner and wide receiver Anquan Boldin before last season, the Cardinals took a major hit in their passing game. Four quarterbacks attempted at least 25 passes for the Cardinals, making them the only team to have that many passers in a season since 2008. Arizona finished 31st in passing yards per game, touchdown passes, passer rating and sacks against.
The team struggled most often in the face of the blitz, finishing with a 45.6 passer rating when facing five or more pass-rushers, the worst mark in the NFL last season. The Cardinals' struggles prompted a trade for Eagles backup Kevin Kolb. Although he received limited playing time last season, Kolb fared much better against added pressure, completing 61 percent of his passes with a 91.5 passer rating.
Kolb's presence also should mean a boost for wide receiver Larry Fitzgerald. Fitzgerald was overthrown 34 times and underthrown 18 others last season, both league-worst totals. Only 35.1 percent of Kolb's incompletions last year were scouted as overthrown or underthrown, compared with 53.6 percent of the Cardinals quarterbacks' incomplete passes.
• Runing back Beanie Wells will carry the bulk of the load for the Cardinals this season, especially after Ryan Williams' season-ending injury. Wells would like to repeat his success from 2009, when he averaged 5.1 yards per rush up the middle. Last season, that number dropped to 2.9 yards per rush.
-- ESPN Stats & Information
Mel Kiper's Draft Class Watch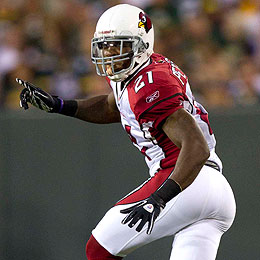 (Photo by Jeff Hanisch/US Presswire)
Patrick Peterson: Immediate impact?
Second-round pick Ryan Williams was drafted by a team that, at the time, seemed overtstuffed at running back. Now Arizona is thin, with Williams out for the season after suffering a devastating knee injury during the preseason.
But that doesn't mean the end of contributions from the rookie class. While many assumed Patrick Peterson would be an immediate impact given his skill set, the Cardinals and Ken Whisenhunt may bring him along slowly. That's nothing against Peterson; becoming even a competent corner in this league won't happen overnight. Look around the league and try to find a corner that dominated early. It's just far too tricky a position to master.
Elsewhere, keep an eye on rookie tight end Rob Housler, who has a lot of athleticism for the position and can stretch the middle of the field. Housler had a lot of scouts digging back through the tape when he ran a 4.53 40 at the combine, a number that plenty of running backs and wide receivers would take if they had a chance to do it again. At 250 pounds, he can be a difficult matchup for linebackers.
-- Mel Kiper, ESPN NFL Draft Insider